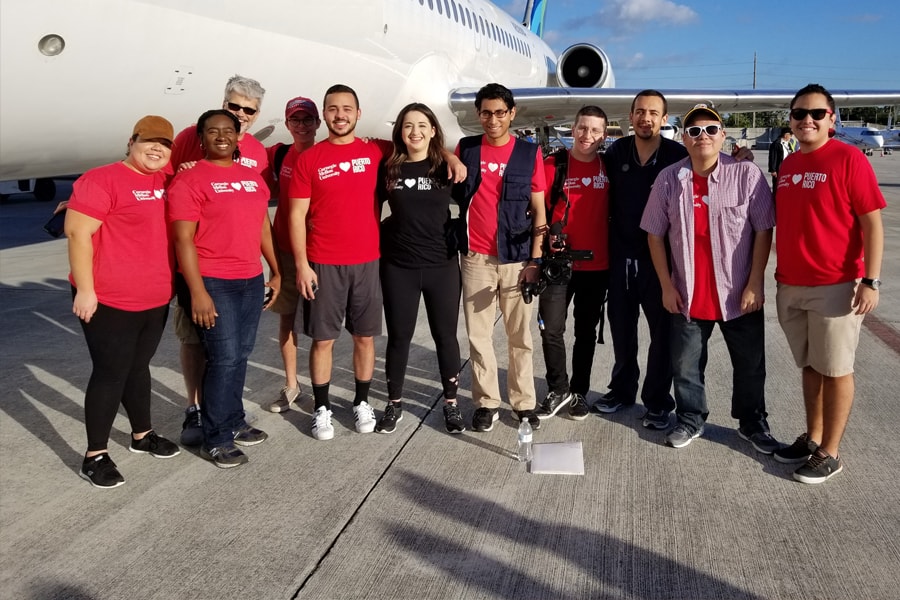 November 22, 2017
CMU Student's Flights Have Evacuated More Than 200 Following Hurricane Maria
By Julianne Mattera jmattera(through)cmu.ed
Media Inquiries
Julianne Mattera
Marketing & Communications
Over the past two months, hurricane relief efforts led by a Carnegie Mellon University student have changed the lives of 211 evacuees from Puerto Rico.
Countless other people living in Puerto Rico have benefitted from the roughly 46,000 pounds of supplies Rosana Guernica's chartered flights have delivered to the island ravaged by Hurricane Maria.
On Saturday, Guernica, a Puerto Rican native and third-year student majoring in decision science and minoring in innovation and entrepreneurship at CMU's Dietrich College of Humanities and Social Sciences, wrapped up her fourth and largest relief flight, delivering 28,000 pounds of supplies and evacuating 127 people to the U.S. mainland. Like the evacuees on her three prior chartered flights, many were in need of medical attention.
Through crowdfunding efforts, Guernica and other volunteers have raised more than $174,000 for her missions.
Prior to Saturday's flight, Guernica spoke with CBS News Correspondent David Begnaud about her humanitarian efforts.
"It's made me realize that any one person can make a difference," Guernica told Begnaud during an interview Nov. 17. "I, by no means, did this independently. I've worked with so many groups of people who've helped me along the way. But it's shown me that one person can set things in motion."
Meet Rosana Guernica, 22, a junior at @carnegiemellon - Tomorrow, she'll deliver 28,000lbs of medicine & supplies, in her 4th humanitarian trip, to Puero Rico. She's raised the money, chartered the private flights & become an unsung hero
(Full interview) https://t.co/6BbVtPpujT pic.twitter.com/diYwQv7I3S

— David Begnaud (@DavidBegnaud) November 18, 2017
Guernica has accomplished her work with the help of a team of volunteers from CMU led by Gabriel Ostolaza, a master's degree student in electrical and computer engineering; medical professionals; and foundations like Global Links, which donated supplies for the most recent flight, and the Fundacion Stefano, which has helped identify patients in need of evacuation.
Guernica and Ostolaza plan to create a nonprofit organization to continue their work in Puerto Rico.
Update as of Dec. 13, 2017:
Guernica made her fifth relief flight to Puerto Rico on Sunday, Dec. 10. Volunteers from CMU partnered with the Los Angeles-based Warrior Angles Rescue and Chicago area-based Hope Heroes NFP for the humanitarian mission, which delivered 30,000 pounds of supplies and evacuated 85 people.