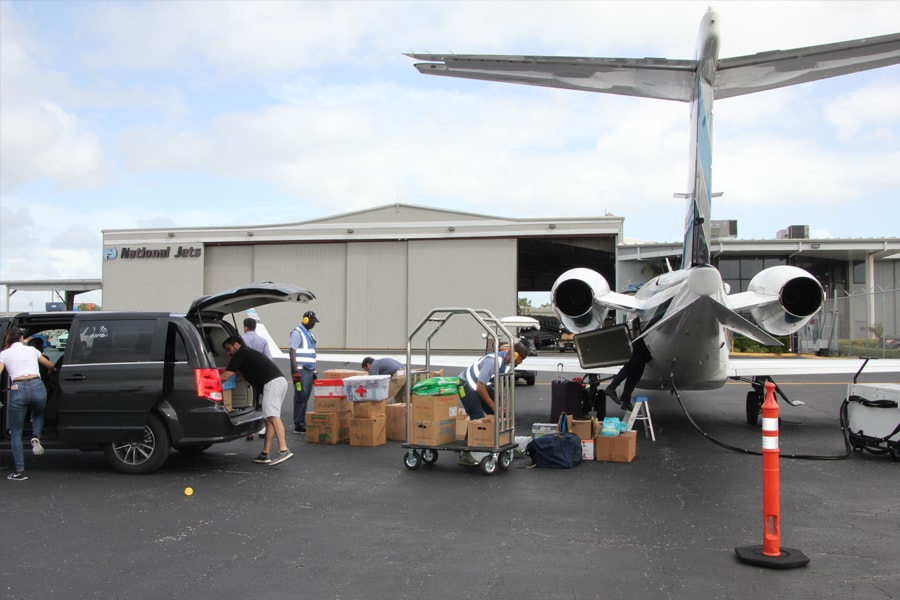 October 25, 2017
CMU Student To Charter Third Plane To Deliver Aid to Puerto Rico
By Julianne Mattera jmattera(through)cmu.edu
Media Inquiries
Julianne Mattera
Marketing & Communications
In the wake of a hurricane that devastated Puerto Rico, a Carnegie Mellon University student and Puerto Rican native has chartered two planes and delivered roughly 3,000 pounds of supplies to the island. On the first trip, the plane brought back six people to the U.S. mainland for medical care. On the second trip, Oct. 14, 22 people were evacuated.
Rosana Guernica is raising an additional $25,000 for two more relief trips. On Saturday, Guernica will make her third trip. She is chartering a 70-passenger plane that will deliver 16,000 pounds of supplies to Puerto Rico and evacuate roughly 60 people needing medical attention.
Guernica, a third-year student majoring in decision science and minoring in innovation and entrepreneurship at CMU's Dietrich College of Humanities and Social Sciences, has completed each round trip each in one day. Her crowdfunding campaign for the humanitarian mission has so far raised more than $125,000.
Guernica's team for the second flight included Ivan Cao-Berg, Mellon College of Science alumnus and a senior research programmer in the Computational Biology Department at the School of Computer Science; Javier Spivey, College of Fine Arts student; Gabriel Ostolaza, master's degree student in Electrical and Computer Engineering; José López Sánchez, program coordinator for pre-college summer studies and master's degree student in International Relations and Politics at Dietrich College; and Dr. Yasdet Maldonado of Allegheny Health Network, who is also a student in the Heinz College of information Systems and Public Policy. 
On Oct. 4, Guernica made her first relief trip along with a medical resident from Allegheny Health Network. They flew from Pittsburgh to Fort Lauderdale, Florida, where they filled a plane with nearly 1,000 pounds of medical supplies for the University Pediatric Hospital in San Juan and Hospital UPR in Carolina, Puerto Rico.
"Helping them has been one of the most meaningful things I've ever done," Guernica said shortly after the trip. "I'm so grateful that I was able to do so."
Guernica said her time at CMU, an institution that teaches students to think outside of the box and pursue creative solutions, helped her complete her first humanitarian mission.
"It helped me come up with the idea and believe that I could do it," Guernica said. "What's really special about Carnegie Mellon and the people who make up the university is that they're not people who go down the beaten path. They find their own way. They find their own solutions to problems. They really are out-of-the-box thinkers, and I think that's one of the main reasons I was able to come up with this plan. And so many people supported me in doing it."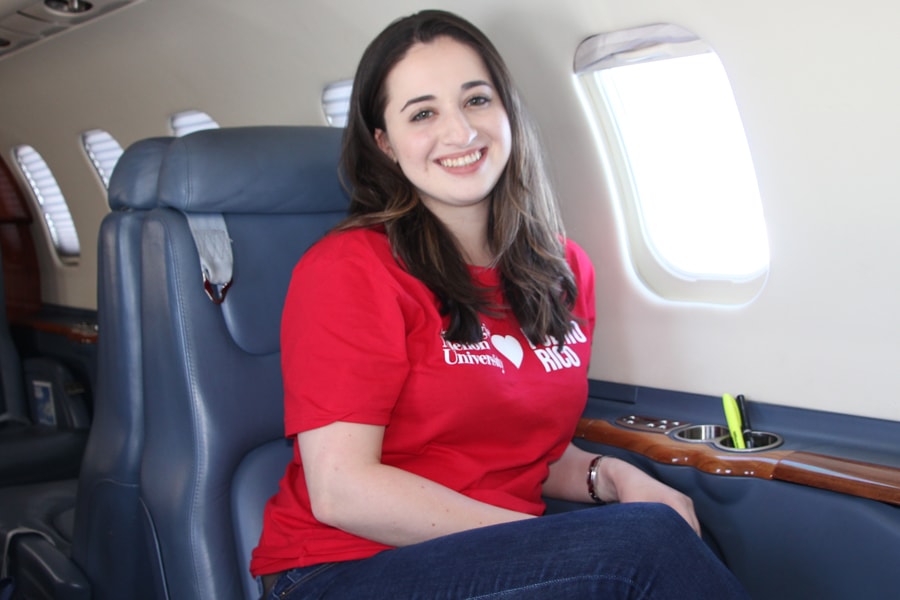 Guernica's effort has received support from Heinz College, which sent a message in early October calling on their alumni, students and faculty to contribute to Guernica's effort. Mayor of San Juan Carmen Yulín Cruz is a Heinz College alumna, and the college has separately raised more than $5,000 for the American Red Cross to help victims in Puerto Rico and the earthquake in Mexico.
Ann English, Heinz College associate dean for finance and operation, said Heinz Dean Ramayya Krishnan and the college community were moved to action after hearing Cruz's pleas for help. English said the Heinz community helped Guernica raise about $20,000 in the three days before Guernica left for her first relief trip to Puerto Rico.
The Dietrich College, led by Dean Richard Scheines, also jumped at the chance to help Guernica raise awareness of of her efforts by emailing students and sharing her campaign on social media.
"I am in awe of Rosana's compassion and determination. She decided last week that she must help, and seven days later she was on a plane to San Juan," English said following Guernica's first relief trip. "Rosana found a charter company in Fort Lauderdale, made contact with doctors in San Juan and in Florida to arrange for nearly 1,000 pounds of supplies to be delivered to the airport in Fort Lauderdale, found patients in need of evacuation, and ensured that they had family who could meet them in Fort Lauderdale. She did all of this while attending classes, doing homework and preparing for an internship interview the day before she left."
In other recent fundraising efforts, CMU students raised $4,000 during an event called "Together We Rise," which collected funds to aid communities in Mexico, Puerto Rico and the Caribbean.
Manuel Casasnovas, a Puerto Rico native and CMU student involved in Together We Rise, said the ongoing effort is not only about collecting donations but about raising awareness and bringing students together.
"We're trying to create an environment where we support each other regardless of where you're from," he said.
This story originally ran on Oct. 10 and was updated Oct. 25.