May 02, 2017
Baruch Fischhoff Elected to National Academy of Sciences
By Shilo Rea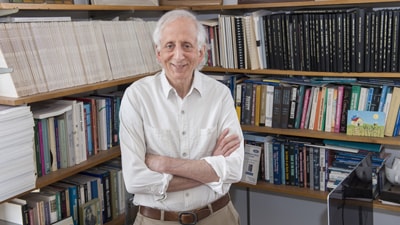 Carnegie Mellon University's Baruch Fischhoff, a renowned expert in decision science and risk analysis, has been elected to the National Academy of Sciences. NAS membership is one of the highest honors a scientist can receive and recognizes distinguished and continuing achievements in original research.
Fischhoff, the Howard Heinz University Professor in the Dietrich College of Humanities and Social Sciences' Institute for Politics and Strategy (IPS) and the College of Engineering's Department of Engineering and Public Policy, is also an elected member of the National Academy of Medicine.
"Baruch is not only a highly original and productive interdisciplinary scholar, he is also an incredibly effective teacher and mentor," said Richard Scheines, dean of the Dietrich College. "Over the last three years, I have met dozens of Dietrich College alumni around the country, and it seems like over half of them say he was the most important professor they had at CMU! Baruch is an amazing force for the good in research and education at Carnegie Mellon and scientific service for our nation."
A cognitive psychologist by training, Fischhoff joined the CMU faculty in 1987 and has spent his career trying to understand and aid the decision-making of individuals and organizations. He is one of the founders of the field of decision science and has written seminal papers on decision-making in areas ranging from health to the environment to national security.
In 2016, Fischhoff joined IPS, which serves as a center for research, undergraduate and graduate education and university-wide initiatives in political science, international relations, national security policy and grand strategy. Fischhoff's addition made IPS the first international relations program at a top research university with decision science as a core part of the discipline.
"Professor Baruch Fischhoff is an outstanding exemplar of the Carnegie Mellon faculty in several important ways. He is a tireless public servant, he is relentless in bringing science to bear upon policy problems and he is committed to working intensely on specific issues while making important contributions across multiple disciplines," said Kiron Skinner, IPS director.
Beyond his research contributions, Fischhoff led the development of the Dietrich College's decision science major, the first of its kind. He has served as an adviser to many governmental agencies, including as the founding chair of the Food and Drug Administration Risk Communication Advisory Committee and the Environmental Protection Agency Homeland Security Advisory Committee. Recently, he chaired the National Research Council Committee on Behavioral and Social Science Research to Improve Intelligence Analysis for National Security and co-chaired two National Academy of Sciences Sackler Colloquia on the Science of Science Communication.
Fischhoff is a past president of the Society for Judgment and Decision Making and of the Society for Risk Analysis. He is a Fellow of the American Psychological Association, the Association for Psychological Science, the Society of Experimental Psychologists and the Society for Risk Analysis. He has published many articles and books, including "Risk: A Very Short Introduction."
"We in EPP are thrilled that Baruch received this well deserved recognition with his election into the NAS," said Douglas Sicker, head of the Department of Engineering and Public Policy. "Baruch is well known for his many contributions to the field of behavioral decision making, but less known and possibly more important are his contributions to applying decision making to better informing public policy choices."
Overall, CMU has been home to 17 NAS members. This is the third straight year that the Dietrich College has had a faculty member elected into NAS: Marlene Behrmann, the Cowan University Professor of Cognitive Neuroscience, in 2015, and Larry Wasserman, professor of statistics and machine learning, in 2016. John Anderson, the R.K. Mellon University Professor of Psychology and Computer Science, is also a NAS member.
The College of Engineering's other NAS members are M. Granger Morgan, University and Hamerschlag Professor of Engineering, and CMU President Subra Suresh.
Fischhoff joins 84 new members and 21 foreign associates elected into NAS this year.