June 26, 2017
CMU Delegation at World Economic Forum in China
By Heidi Opdyke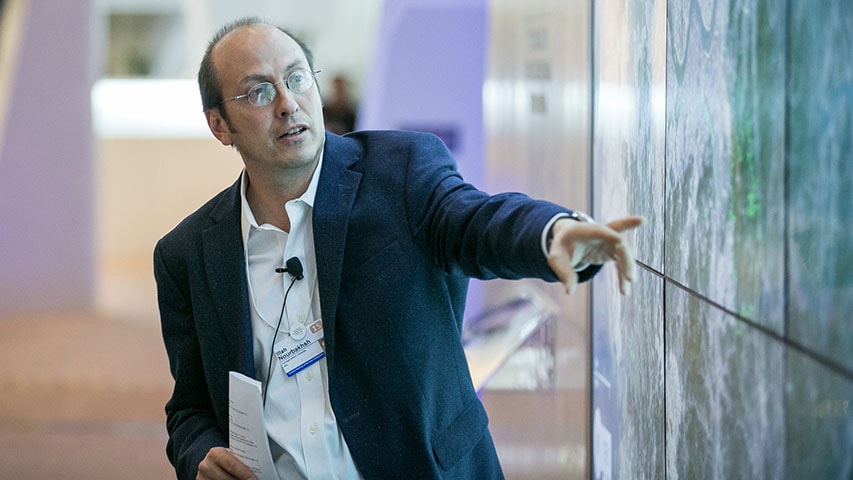 Robotics Professor Illah Nourbakhsh leads a discussion on Asia's Industrialization using visualizations created by his CREATE Lab from Landsat imagery in 2015 at the World Economic Forum's Annual Meeting of the New Champions.
Carnegie Mellon University researchers and scientists will play an important role in global discussions at the World Economic Forum's Annual Meeting of the New Champions, June 27-29, in Dalian, China.
Often called "Summer Davos," to differentiate it from the forum's annual winter meeting in Switzerland, the meeting brings together world leaders in business science, technology, innovation and politics. This year's theme is "Achieving Inclusive Growth in the Fourth Industrial Revolution."
CMU experts have since 2011 led conversations at the World Economic Forum in fields ranging from robotics to artificial intelligence. CMU scientists often lead discussions, give talks, demonstrate technology and provide their distinctive expertise.
This year's CMU delegation includes:
Erica Fuchs, professor of engineering and public policy;
Madeline Gannon, a research fellow with the Frank-Ratchye STUDIO for Creative Inquiry;
James McCann, assistant professor in the Robotics Institute;
Tom Mitchell, the E. Fredkin University Professor in the Machine Learning Department;
Illah Nourbakhsh, professor of robotics; and
Gabriel O'Donnell, principal research programmer and analyst in the Robotics Institute.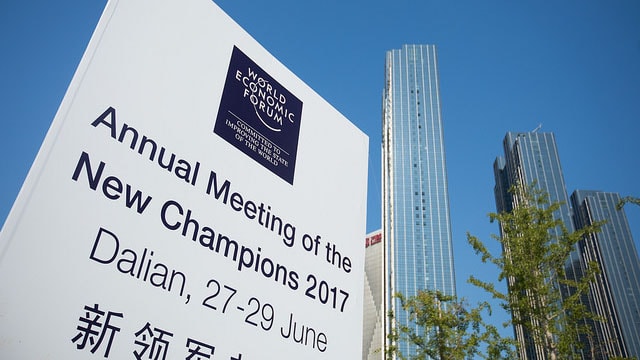 CMU will host a panel discussion called "The Future of Production with Carnegie Mellon University," in which Fuchs, Gannon and McCann will discuss rethinking behavior and purpose of industrial robots beyond factory floors, reimagining how large companies can integrate disruption themselves, and reconfiguring how automation collides with human skills.
Nourbakhsh and O'Donnell will make multiple presentations at the Global Situation Space exhibition. The presentations combine NASA time-lapse satellite imagery and geospatial and econometric data with predictive modelling to explore issues such as emerging megacities, man-made changes to the oceans and trade with China.
Nourbakhsh's CREATE Lab and its spinoff BirdBrain Technologies will be part of a workshop on building interactive sculptural robots. He will contribute to sessions on the fourth industrial revolution, the digital economy, the creative economy and platforms for artificial intelligence.
Mitchell will participate in a panel discussion about how the social safety net can respond to the fourth industrial revolution. He recently co-chaired a study of the future work for the National Academies of Sciences, Engineering and Medicine. He will present a session on how big data can affect policymaking.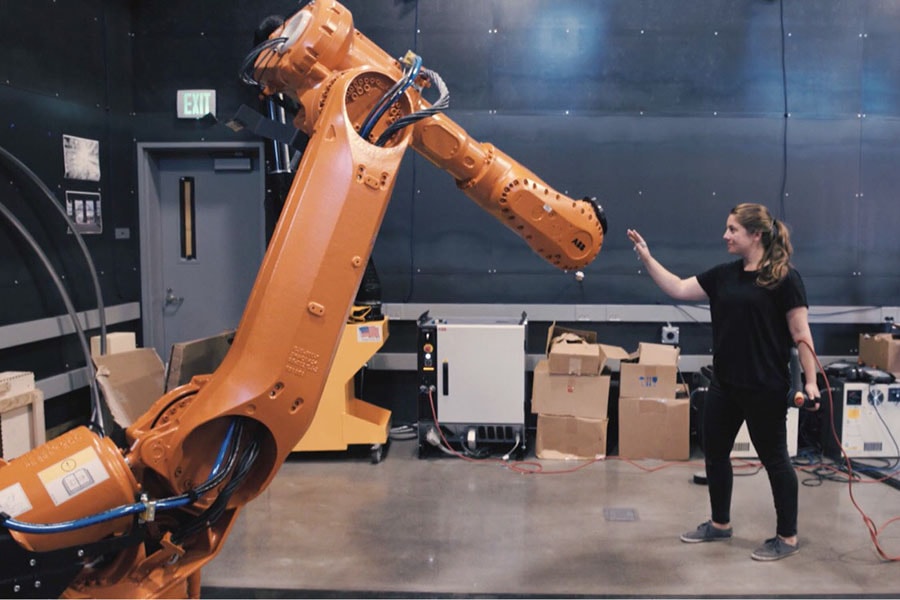 Madelyn Gannon works with industrial robots and is working to invent better ways to communicate with machines.
Gannon was one of 20 researchers selected to the World Economic Forum's Cultural Leaders advisory community. As part of the programming, she will be participating in sessions that discuss the impact of human-centered robotics on the future of work.
Three Named Young Scientists
CMU faculty members Laura Dabbish, an associate professor in the Human-Computer Interaction Institute with a joint appointment in the Heinz College of Information Systems and Public Policy; Louis-Philippe Morency, an assistant professor in the Language Technology Institute; and Tim Verstynen, an assistant professor of psychology, have been named 2017 Young Scientists by the World Economic Forum.
Fifty-two scientists under the age of 40 are recognized this year for exhibiting exceptional creativity, thought leadership and high growth potential, and will be at the Dalian conference.
CMU is one of only 27 universities in the world, 12 in the U.S., that make up the Global University Leaders Forum (GULF), which provides a unique platform for the world's top universities to discuss higher education and research while helping to shape the World Economic Forum agenda. GULF fosters discussion on global policy issues between member universities, the business community and a broad range of stakeholders.