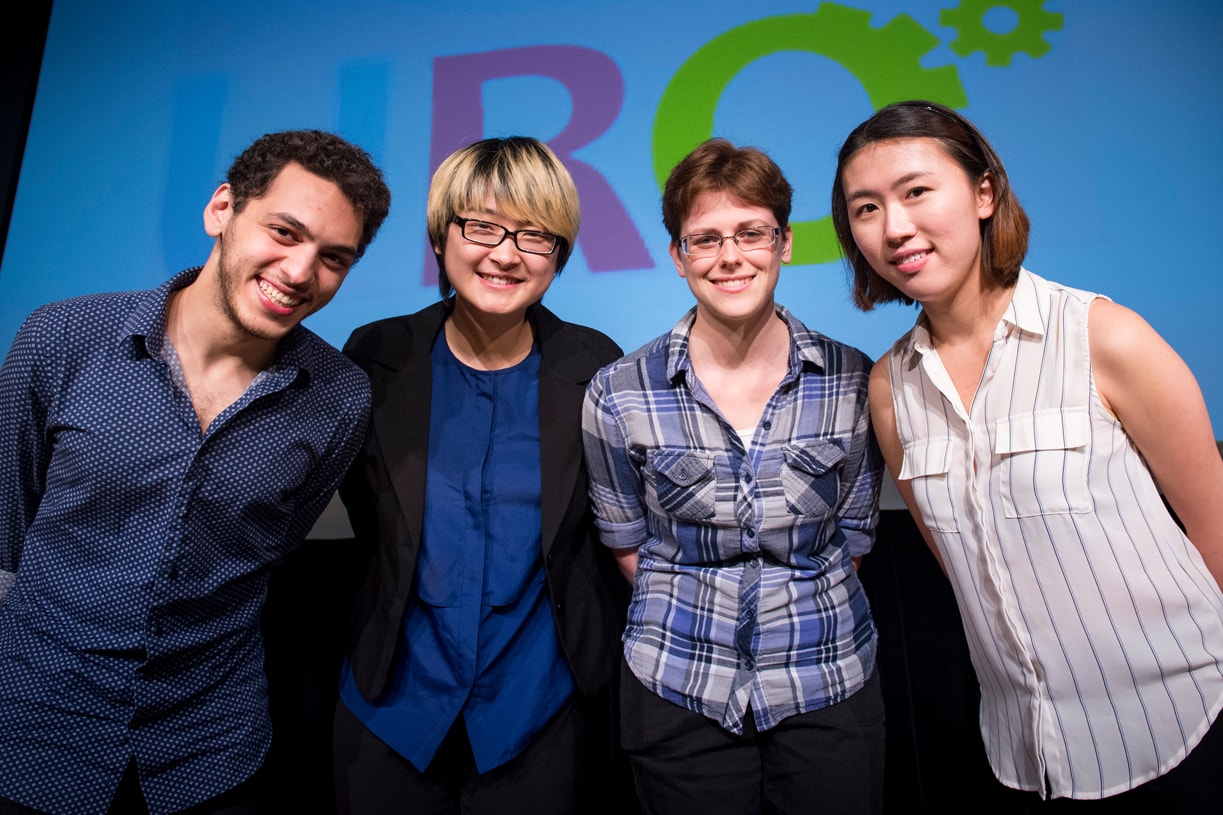 July 28, 2017
Students "Speak Up!" About Undergraduate Research
By Hanna Jang
Media Inquiries
Abby Simmons
Marketing and Communications
Discuss weeks of research in three minutes or less. That is the challenge 75 undergraduate Carnegie Mellon University students accepted for the Speak Up! presentation on July 12.
Conceived as a cross-disciplinary communication skills seminar for the Summer Undergraduate Research Fellowships (SURF) program, Speak Up! coaches and supports students as they learn how to effectively communicate the importance of their ideas and work to a variety of audiences.
Stephanie Wallach, assistant vice provost for Undergraduate Education, and her team in the Undergraduate Research Office (URO) partnered with colleagues from the College of Engineering, the Dietrich College of Humanities and Social Sciences, the Global Communications Center, and the Career and Professional Development Center, to organize the competition. Now in its second year, Speak Up! is modeled after the Three Minute Thesis (3MT) Competition for graduate students.
"We felt there was a gap in our talented undergraduate students' abilities to communicate their research to a variety of people, in a variety of settings, in a variety of ways," Wallach said. "Summer was an especially good opportunity — when students have dedicated time — to focus on those ever-important communication skills and strategies."
Students engaged in summer research participated in four weekly workshops led by faculty and staff members that covered topics such as how to communicate about research in sound bites and the importance of highlighting the novelty of the research.
"Summer research is a true immersive experience and plays an especially important role in the undergraduate education at Carnegie Mellon, enabling students to build depth in a field and deepen faculty ties," Wallach said.
CMU students have the opportunity to apply for funding for summer research from a variety of university programs such the URO's SURF, the Dietrich College Honors Fellowship program, the Provost's Summer Undergraduate Research Apprenticeship program, the College of Engineering's Jennings Fund for Summer Undergraduate Research Experience and the Math Department's Jennings Family Summer Undergraduate Research Fellowships.
Necia Werner, associate teaching professor of English, played a lead role in organizing the workshops.
"Now more than ever, it is vital for students to communicate about their research clearly and concisely to a wide variety of audiences," Werner said.
Jamei Wang, a fifth-year senior studying chemical engineering and biomedical engineering, took first place in the competition. She is developing a synthetic membrane to reset broken bones with Mechanical Engineering Professor Kenji Shimada and Ying Ying Wu, a computational engineering and robotics lab postdoctoral research associate.
"I learned how to more effectively communicate my research findings to the everyday person by using techniques such as metaphors and diagrams," Wang said.
Meredith Schmehl, a senior majoring in neuroscience and cognitive psychology, took second place by presenting research she conducted on the different parts of the brain that change when speaking.
"I now feel more confident about my ability to convey the main idea of my research to others," said Schmehl, who works with Assistant Biological Sciences Professor Sandra Kuhlman.
Jenny Gao, a senior chemistry major, took third place with her novel approach to bone regeneration. She is conducting her research with Assistant Professor of Chemistry Stefanie Sydlik.
Yousuf Soliman, a senior computer science and mathematical sciences major, received the People's Choice Award. Soliman's research is on optimal placement of cone singularities. He is working with Assistant Professor of Computer Science and Robotics Keenan Crane.