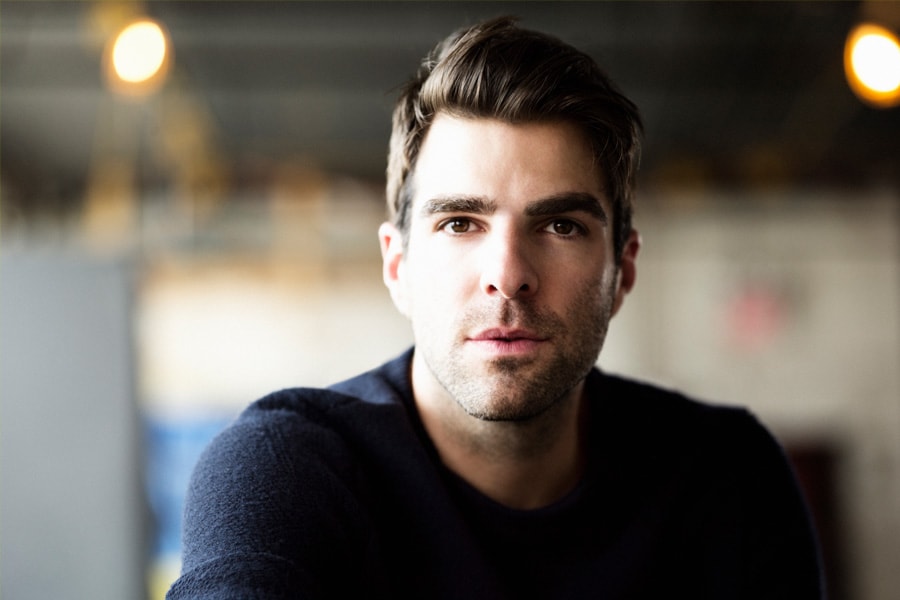 December 06, 2017
Submissions Now Being Accepted for 2018 Theatre Education Award Presented by Tony Awards and Carnegie Mellon University
CMU alumnus Zachary Quinto announced as national ambassador
By Pam Wigley pwigley(through)andrew.cmu.edu
Media Inquiries
Pam Wigley
Abby Simmons
Marketing & Communication
The Tony Awards and Carnegie Mellon University (CMU) will once again recognize an exemplary teacher with the "Excellence in Theatre Education Award," to be presented at the 2018 Tony Awards on Sunday, June 10, 2018. CMU alumnus, actor and producer, Zachary Quinto, will serve as the award's official ambassador and will take part in the selection committee.
Now through February 16, 2018, submissions will be accepted online for K-12 theatre educators at an accredited institution or recognized community theatre organization. Anyone — from students and school administrators, to friends, neighbors and family — can submit a worthy teacher for consideration. He or she must be a teacher whose position is dedicated to and/or includes aspects of theatre education. Submissions can be made at www.TonyAwards.com/EducationAward.
Since 2014, the Excellence in Theatre Education Award has been bestowed annually at the Tony Awards. Last year's honor was presented to Rachel Harry of Hood River, Oregon, where she has been teaching drama for 30 years. She built the program and created performances that frequently sell out at the high school and a larger middle school theater with 1,100 seats.
After earning his drama degree at CMU, Zachary Quinto went on to star in several popular TV series, including "Heroes" and "American Horror Story," along with a memorable turn as Spock in the recent "Star Trek" feature films. In spring 2018, Quinto will share the stage with another CMU alumnus, Matt Bomer, alongside Andrew Rannells and Jim Parsons in Broadway's "The Boys in the Band." Quinto is a staunch supporter of arts education and its positive effects on young people.
"The teacher who inspired me and supported my foray into theatre arts was Jill Wadsworth from CLO (Civic Light Opera) Academy in Pittsburgh," Quinto said. "Arts education is an essential part of both creative and personal development, giving young people an opportunity to know themselves on a deeper level and celebrate the limitless possibility of their uniqueness. Whether or not they end up pursuing a career in the arts, it is the foundation for a more integrated acceptance of self, and a springboard for a wide range of educational and professional opportunities as they mature."
"We see the effects of great teachers every time we attend a performance and watch a skilled actor capture the audience," said Charlotte St. Martin, President of The Broadway League and Heather Hitchens, President of the American Theatre Wing. "We are honored to recognize theatre education professionals through the Excellence in Theatre Education Award, especially at a time in our nation when the arts are so vitally important."
"Teachers change lives, and presenting this annual award is one of the greatest ways to recognize that," said Dan Martin, Dean of CMU's College of Fine Arts. "Together with the League and the Wing, giving a nod to a deserving teacher helps us to support the ongoing platform of arts education and reinforces how very important it is in our society today."
A panel of judges comprised of the American Theatre Wing, The Broadway League, Carnegie Mellon University and other leaders from the theatre industry will select the winner. The winner will receive a cash grant for his or her school, flights to New York City, hotel accommodations and a pair of tickets to the 2018 Tony Awards Ceremony and Gala.
This year, the person/persons who submit the entry that wins also will receive recognition, including a master class presentation at their school from professionals at Carnegie Mellon. Carnegie Mellon's School of Drama is the oldest drama degree-granting program in the United States and celebrated its centennial in 2014. In the past century, CMU has produced hundreds of Tony nominees, and its alumni have won more than 40 Tony Awards to date.
The 2018 Tony Awards, presented by The Broadway League and the American Theatre Wing, will air live on CBS on Sunday, June 10. For more information on the Tony Awards, visit TonyAwards.com and Facebook.com/TheTonyAwards and follow @TheTonyAwards on Instagram, Twitter and Snapchat.
Press releases and high-res images are available at www.TonyAwards.com/presskit.