March 04, 2016
Simon Lecturer: Keep Patients First as Tech Changes Medicine
By: Shilo Rea / 412-268-6094 / shilo@cmu.edu 

The medical industry has a patient care problem.

The National Academy of Medicine estimates that anywhere from 44,000 to 98,000 people die annually in the United States due to preventable medical errors. Patients undergoing treatments can see numerous specialists — who all have access to different information and do not communicate with each other. And, technology advances like robotic surgery seem promising, but they progressively distance patients from their doctors.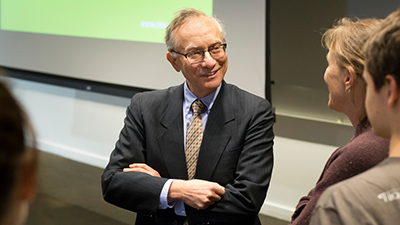 Harvey Fineberg, president of the Gordon and Betty Moore Foundation and former president of the National Academy of Medicine, understands the medical industry's struggles. A physician who also holds a Ph.D. in government, Fineberg has devoted his career to improving health policy, medical decision-making and education.

Fineberg recently visited Carnegie Mellon University to deliver a Simon Distinguished Lecture on "Technology, Information and Learning: Medical Education for the Sake of Patients."

"As somebody who is an expert in medicine, public health and policy, as an academic leader, as leader of one of the three major national academies, Harvey has had a huge impact on policy issues on a national and international level," said CMU President Subra Suresh.

Fineberg opened his talk by quoting Herbert A. Simon, the late CMU Nobel Laureate professor for whom the university's Simon Initiative is named for, on how "a wealth of information is associated with a poverty of attention."

"It's a great backdrop," Fineberg said, "In this world of technology and abundant information — especially for those in the healthcare business — how do we keep the patient and the needs of the patient central and foremost and constantly in mind?"

Fineberg said he believes that the common explanations for medical mistakes, which range from sloppy care and inadequate education to doctors in high-stressed situations with financial incentives to do more work instead of high-quality work, have a point but do not fully address the issue.

"The heart of the problem is actually an engineering problem," he said. "It's about the process of care. It's about having a medical care delivery capacity which, not only is capable of delivering safe care, but is virtually incapable of delivering unsafe care."

While at CMU, Fineberg met with researchers working in areas such as data-driven discovery, patient care, machine learning, predictive analytics and health decision-making. He immersed himself in work within the Simon Initiative, which harnesses CMU's cross-disciplinary learning engineering ecosystem to improve learning outcomes.

Reflecting on the challenges of training and teaching medical professionals, Fineberg commented that the concept of medical education should not just be about medical school but a lifelong commitment to the acquisition of knowledge.

"What I've seen at CMU over the last day and a half of the interest and commitment to educational excellence — in the way in which it is teaching, in addition to what it is teaching, and in the initiatives that are here," Fineberg said. "You don't have a School of Education — the entire university is a school of education."

Students in the Health Professions Program and related health fields also met with Fineberg.

Emily Lindsay, a Ph.D. student in psychology who studies how the mind-body connection influences health, valued hearing his broad understanding of the complex system of health research, policy and politics.

"He knows both the big picture of healthcare, as well as a lot of subtleties," Lindsay said. "One thing that stood out to me were his thoughts on preventative medicine, which he thinks can be boosted by community efforts. ... It got me thinking more about community interventions for promoting healthy lifestyles."


Related: