June 13, 2016
Athletes Rally, Shoot to Head of the Class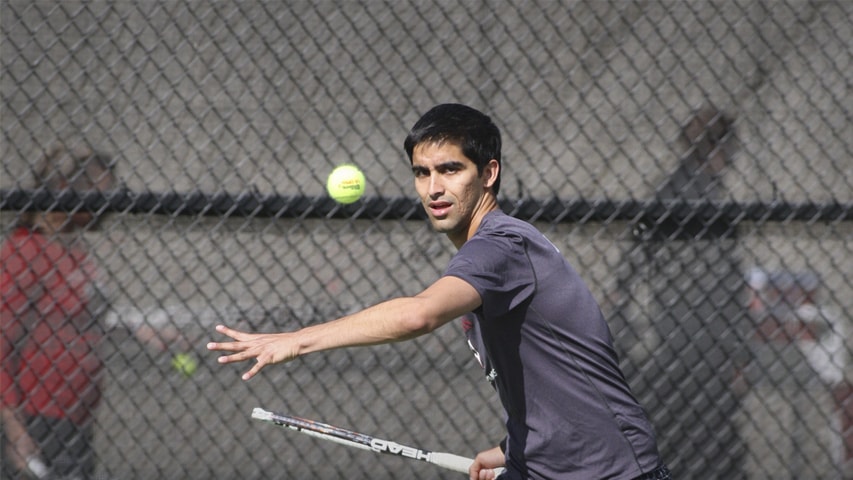 Tennis team captain Yuvraj Kumar is one of 80 CMU student-athletes who earned 4.0 GPAs this spring.
A dynamic doubles team and a determined, sharpshooting 1,000-point scorer were among the exceptional student-athletes this spring who brought distinction to Carnegie Mellon University athletics on the court and in the classroom.
Eighty of them recorded a 4.0 grade-point average (GPA) for the semester, while 33 of them earned a 4.0 for the academic year. Nine upperclassmen maintained cumulative 4.0 GPAs.
CMU's 441 student-athletes posted a 3.39 GPA for the spring semester and a 3.37 for the entire school year.
Men's tennis team captain Yuvraj Kumar and his doubles partner, Abhishek Alla, were CMU's No. 3 tandem and led the Tartans to a No. 7 national ranking.
Kumar, who earned a 4.0 GPA for the spring semester and graduated with a degree in social and decision sciences, said he entered college with a goal of finding a balance between academics and sports.
He had no regrets.
"I believe that the coaches and professors both helped me stay on track but also made sure that I went out of my comfort zone and tested myself both on the court and in the classroom," he said. "Being able to seek their advice and sometimes their criticism helped me stay focused to achieve my own goals."
Alla, who posted a 3.8 GPA for the semester, earned his bachelor's degree in civil and environmental engineering. He was the 2013 USTA/ITA singles champion, was named an All-American in singles three times and ended his career with an appearance in the semifinals of the NCAA championships in May.
He credits his athletic and academic success to a "tight knit athletic community," time management and discipline.
Lindsay Poss was a starting guard on the women's basketball team that helped the Tartans reach the Sweet 16 round of the NCAA Division III Women's Basketball Championships for the first time in history.
"It was unbelievable that I was part of that experience, and I'm still in shock that it happened," said Poss, who graduated with a degree in social and decision sciences. "That is absolutely above and beyond any expectation I ever had for my college career."
Poss, who endured a personal tragedy when her mother died in February, is the 12th player to score more than 1,000 career points for the Tartans. She did it along with teammate and friend, Liza Otto.
Overall, the 18 varsity athletic programs achieved a 3.2 or better while football led the way with 17 perfect GPAs. The women's swimming and women's tennis teams earned GPAs above 3.6, while the women's soccer team was just behind with a 3.53.The men's tennis team, which advanced to the third round of the NCAA championships, earned a 3.59 GPA, and three athletes finished with 4.0s.
The success was widespread among the colleges, as 33 students with perfect GPAs were enrolled in the College of Engineering, 15 in the Dietrich College of Humanities and Social Sciences, 14 in the Mellon College of Science, 13 in the Tepper School of Business, three in the School of Computer Science, and one in the College of Fine Arts and in the Science and Humanities Scholars program.
"It has been quite a year for our athletics program. Our student-athletes continue to demonstrate that they can compete at the highest level academically and athletically," said Director of Athletics Josh Centor. "I am grateful for the way our student-athletes represent the university, both on and off the playing fields."