January 21, 2016
National Academy of Sciences To Honor John R. Anderson For Revolutionizing How We Learn
By Shilo Rea / 412-268-6094 /
shilo@cmu.edu
and Byron Spice / 412-268-9068 /
bspice@cs.cmu.edu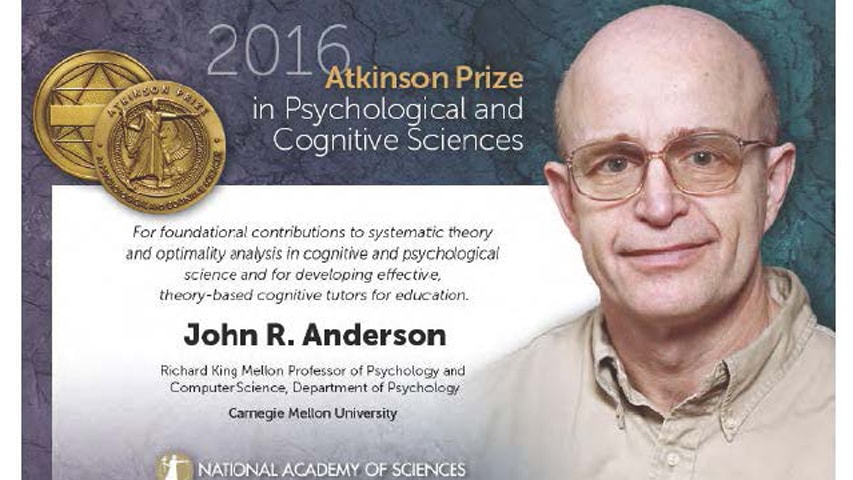 If the field of cognitive science is to truly understand how the mind works, researchers need to integrate the many theories about memory, language, problem-solving and other mental functions. Carnegie Mellon University's
John R. Anderson
has spent decades doing this — developing a unified theory of cognition and using it to create successful cognitive-based tutors that have revolutionized education.
For these accomplishments, the National Academy of Sciences will award Anderson with the 2016 Atkinson Prize in Psychological and Cognitive Sciences for his "foundational contributions to systematic theory and optimality analysis in cognitive and psychological science and for developing effective, theory-based cognitive tutors for education."
Anderson will receive the prize — a gold-plated bronze medal and $100,000 — at the academy's annual meeting on Sunday, May 1, in Washington, D.C. The Atkinson Prize is awarded to two recipients biennially. Stanford University's Carol S. Dweck is this year's other winner.
"The fields of cognitive sciences and psychology have been fundamentally changed by John Anderson's incredible body of theoretical work. The impact of his research on cognitive tutors is now creating similar change in student learning. Scientists and society are indebted to John for his contributions, and I am gratified that the academy is honoring him with this award," said Michael J. Tarr, head of the Department of Psychology in the Dietrich College of Humanities and Social Sciences.
Anderson, the R. K. Mellon University Professor of Psychology and Computer Science, is best known for creating the Adaptive Control of Thought (ACT) cognitive models. Using the models, Anderson led a team that built an intelligent computer tutor to teach algebra to high school students. The program solved mathematical problems like students did and was so successful that a spinoff company, Carnegie Learning, developed computer tutors as a commercial product. To date, hundreds of thousands of students have benefited from these interactive systems.
Anderson's current research is focused on using neural imaging to track brain processes to further guide the development of the ACT-R theory.
"John's work on the ACT cognitive model is at the heart of intelligent tutoring systems, an innovation that is benefiting hundreds of thousands of students and continues to be a major area of research at Carnegie Mellon," said Anind Dey, director of the Human-Computer Interaction Institute. "This latest and very significant honor for John is fitting and well-deserved."
Anderson's work at the intersection of cognitive psychology and computer science to find better ways for students to learn is a major reason that Carnegie Mellon has been a longtime leader in the study of brain and behavior and in educational research. His legacy is a critical part of the foundation of two university-wide initiatives: BrainHub, which focuses on how the structure and activity of the brain give rise to complex behaviors; and the Simon Initiative, which aims to measurably improve student learning outcomes by harnessing a learning engineering ecosystem that has developed over several decades at CMU.
Learn more about the Atkinson Prize.
Related Articles:
CMU's Legendary John R. Anderson Named Franklin Institute Laureate
John Anderson Earns Highest Honor From Association for Psychological Science
Video: John R. Anderson's Legacy of Finding Better Ways to Learn