February 08, 2016
Harvey Fineberg To Discuss Technology, Information and Learning
By Shilo Rea / 412-268-6094 / 
shilo@cmu.edu
Carnegie Mellon University's Simon Initiative Distinguished Lecture Series will present a talk by renowned public health and education expert Harvey V. Fineberg at 4:30 p.m., Thursday, Feb. 25 in the Gates Hillman Center's Rashid Auditorium (GHC 4401). Fineberg, president of the Gordon and Betty Moore Foundation and former president of the Institute of Medicine (IOM), will discuss "Technology, Information and Learning: Medical Education for the Sake of Patients."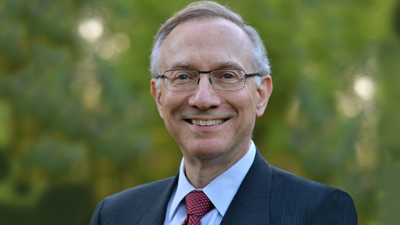 Harvey Fineberg is a recognized leader in public health, policy development, technology and higher education.
A physician who also holds a Ph.D. in government, Fineberg has devoted his career to health policy and medical decision-making. He is a recognized leader in public health, policy development, technology and higher education. He has played an influential role in the areas of vaccine use, AIDS prevention, clinical decision-making, the use of medical technology and the dissemination of medical innovations.
"I had the great honor to serve on several IOM committees when Dr. Fineberg was its president and got to see first hand his amazing breadth of abilities. Not only has he had a distinguished career as a health scientist, but he has also been a phenomenally effective educator, administrator, public leader, and now philanthropist. We are very fortunate to have him as a Simon Distinguished speaker, and I am very excited about his visit," said Richard Scheines, dean of the Dietrich College of Humanities and Social Sciences and faculty lead for the Simon Initiative.
Fineberg leads the Gordon and Betty Moore Foundation, which fosters path-breaking scientific discovery, environmental conservation, improvements in patient care and preservation of the special character of the San Francisco Bay Area.
From 2002-2014, Fineberg was president of the Institute of Medicine — now the National Academy of Medicine — a constituent of the National Academies of Sciences, Engineering and Medicine. He served as provost of Harvard University from 1997-2001, following 13 years as dean of the Harvard School of Public Health.
Fineberg has authored several books on health care and has published numerous articles in professional journals. He is the recipient of several honorary degrees and other prestigious awards, including the Frank A. Calderone Prize in Public Health; the Henry G. Friesen International Prize in Health Research; the Steven Smith Medal for Lifetime Achievement in Public Health; and the Harvard Medal.
Named for the late CMU Nobel Laureate Professor Herbert A. Simon, the Simon Initiative aims to measurably improve student learning outcomes by harnessing a learning engineering ecosystem that has developed at CMU.
Fineberg's talk is free and open to the public. Seating is on a first-come, first-served basis.