April 29, 2016
Carnegie Science Awards Honor CMU Faculty and Spinoffs
By Leigh Kish / 412-268-2900 /
lkish@andrew.cmu.edu
Five Carnegie Science Awards will be presented to Carnegie Mellon University faculty members and university entrepreneurs at a banquet, May 6, at Carnegie Music Hall in Oakland. Three additional members of the CMU community will receive honorable mentions.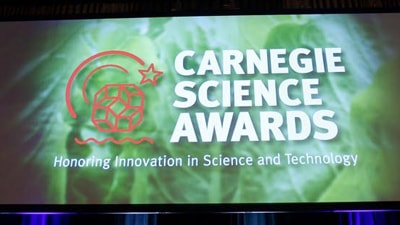 The Carnegie Science Awards, presented annually by the Carnegie Science Center, recognize and promote outstanding science and technology achievements in western Pennsylvania. Since 1997, they have honored the accomplishments of more than 400 individuals and organizations whose contributions in the fields of science, technology and education have impacted the region's industrial, academic and environmental vitality.
Award Winners
Bioinformatics Education Team
of Pittsburgh Supercomputing Center, Leadership in STEM Education Award
The award recognized three PSC staff members: Pallavi Ishwad, Hugh Nicholas and Alexander Ropelewski. Since 1987, the Pittsburgh Supercomputing Center's (PSC) team has been training researchers and students in bioinformatics — using computational methods to analyze biological data. The team has developed a multidisciplinary high school curriculum that is being used in local schools. The PSC is a joint effort of Carnegie Mellon and the University of Pittsburgh.
Craig Markovitz of Blue Belt Technologies, Entrepreneur Award
Craig Markovitz is a former CMU guest lecturer and COO of the CMU spinoff Blue Belt Technologies. Founded in 2003, Blue Belt produces the Navio system, a "smart drill" used in robotics-assisted knee surgeries. In 2015, Blue Belt Technologies was acquired by Smith & Nephew, one of the largest manufacturers of artificial hips and knees.
Jorgen Pedersen of RE2 Robotics, Startup Entrepreneur Award
CMU graduate Jorgen Pedersen founded Carnegie Mellon spinoff RE2 Robotics in 2001. RE2 develops mobile robotics technologies including manipulators — robotic dual-arm systems — and unmanned ground vehicles that can be used in defense. RE2 Robotics strives to make its interfaces intuitive to humans, while creating robotic systems that mimic human movement.
Albert Presto, Environmental Award
Albert Presto is an assistant research professor in mechanical engineering and member of CMU's Center for Atmospheric Particle Studies. He researches air pollution from energy production and consumption. Presto is working with local medical professionals to develop a way to track pollution at a neighborhood level, which can then be analyzed to see if there are relationships between pollution and adverse health effects.
Deborah Stine, Science Communicator Award
Deborah Stine, professor of the practice of engineering and public policy and associate director for policy outreach for the Wilton E. Scott Institute for Energy Innovation, orchestrated CMU's inaugural Energy Week, which was held March 14–18. Her role at the Scott Institute is to relate energy research to policy, education and decision-making. Under her leadership, the institute has developed a series of policymaker guides and educational videos helping to explain complex energy information.
Honorable Mentions
Ines Azevedo, Emerging Female Scientist
Ines Azevedo is an associate professor of engineering and public policy and co-director of the Center for Climate and Energy Decision Making. Her research looks at how future energy systems are shaped by technology, decision-making and policy. Some of her recent studies look critically at different types of vehicles, their locations and the effect on greenhouse emissions.
Guy Berry, Leadership in Career and Technical Education Category
Guy Berry is an emeritus University Professor of Chemistry. University Professor is the highest academic distinction for CMU faculty. Berry specializes in physical chemistry and physics of polymers, light scattering and rheology (the flow of matter). He's credited with developing the polymer science curriculum used at the university.
Jessica Trybus of Simcoach Games, Corporate Innovation Category
Jessica Trybus, a CMU graduate and special faculty member at Carnegie Mellon's Entertainment Technology Center, is leading the way in combining education and gaming technology. She is founder of the CMU spinoff company Simcoach Games, which develops game-based software for workforce training. Simcoach Games software is being used by Fortune 500 companies.