August 14, 2015
Ana Maria Ulloa To Join Dietrich College as Assistant Dean, Academic Advisory Center Director
By Shilo Rea / 412-268-6094 / 
shilo@cmu.edu
Ana Maria Ulloa, senior associate dean of students in Columbia University's School of General Studies, will join Carnegie Mellon University's Dietrich College of Humanities and Social Sciences as assistant dean and director of the Academic Advisory Center (AAC).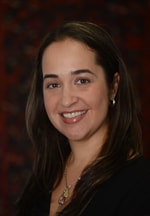 The AAC is the "home base" for all Dietrich College students before they declare a major. The second largest academic unit at CMU, Dietrich College offers more than 60 majors and minors, ranging from creative writing and cognitive science to philosophy and decision sciences.
Ulloa will work with the AAC staff to provide information, advice and counsel about scheduling the General Education Program requirements in the college and the available degree options. She also will encourage and aid students in developing realistic goals and objectives for the start of their CMU academic careers. Under her leadership, she hopes the AAC will continue to be an important resource for Dietrich College students throughout their time at CMU.
"There will be a lot of change in our educational programs over the next few years. The university is doing strategic planning, our college will revise the general education requirements and the role of advising will probably expand," said Richard Scheines, dean of the Dietrich College. "Ana Maria will be central to many of these changes, and before she has even started, I am highly confident that she will be enormously helpful. She has wonderful energy, intellectual vitality, down-to-earth competence and the sort of empathetic talent that will make her an excellent colleague, leader and adviser." 
As assistant dean, Ulloa will be responsible for administering college and university academic policies and procedures, maintaining student records and ensuring a high quality of advising throughout Dietrich College.
"From among well over 100 applications received for this position, Ana Maria's credentials and experience jumped off the page as soon as we saw her resume and application," said Joseph E. Devine, associate dean of the Dietrich College. "When combined with the combination of enthusiasm, energy and charm that she brought to her day-long visit with us, it was not at all surprising that accolades poured in from every college and university constituent group — advisers, faculty, students and student support services representatives — who had the opportunity to meet Ana Maria. We are extremely pleased and excited about Ana Maria's impending arrival and anticipate that she will be a tremendous asset to the college and university's undergraduate enterprise."
Ulloa has spent the last five and a half years at Columbia overseeing all programming in the Dean of Students Office related to student life, retention initiatives, international programs and academic support services, while playing a key supervisory role in academic advising.
Prior to arriving at Columbia, Ulloa served as the academic coordinator for the Accelerated Study in Associate Programs at Hostos Community College, where she led the advising and academic support services for all students in the program. Through her team's efforts, the associate degree completion rate nearly doubled. 
"I am thrilled to join the team at Dietrich College and to work to ensure that all of our students are able to find the resources they need to achieve all they had hoped upon accepting our offer of admission," Ulloa said.
Ulloa received her bachelor of science degree from New York University's Stern School of Business and a master of arts and master of education in higher and post-secondary education from Columbia's Teachers College.
Ulloa succeeds Gloria Hill, who retired at the end of July. Her appointment is effective October 1.