August 20, 2015
Simon Initiative Hires Learning Engineer
By Shilo Rea / 412-268-6094 /
shilo@cmu.edu
Carnegie Mellon University's Simon Initiative has hired Kimberly P. Law as a learning engineer.
Law joins CMU as part of the university's efforts to better understand and develop strategies to overcome the roadblocks to using technology-enhanced learning (TEL) resources. This work and new position is supported by a two-year, $1 million grant from the Carnegie Corporation of New York, the organization's largest award to CMU.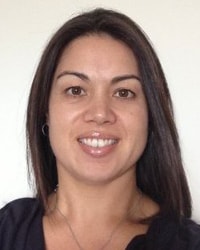 Kim Law previously worked at the National STEM Consortium.
"We have several decades of research in how to build and use TEL effectively, and this research has been extremely successful. But it is clear that there are sizable barriers to wide adoption of effective TEL, some rational and some not. This grant gives us the opportunity to take this work to the next level, making these breakthrough techniques available to more students here at CMU and to learners everywhere," said Richard Scheines, dean of the Dietrich College of Humanities and Social Sciences and the faculty lead of the Simon Initiative, which aims to harness this cross-disciplinary ecosystem of learning science at CMU to measurably improve student learning outcomes.
Law, who previously served as the cyber technology coordinator and STEM bridge director at the National STEM Consortium, will lead the development of new and innovative TEL courses and support materials in statistics and computer science. She also will explore best practices and barriers to the creation and adoption to these tools. The courseware will be developed by taking advantage of Open Learning Initiative (OLI) processes and resources and will use a science and team-based approach to improve interactive higher education online courses.
"Kim brings a wealth of experience in improving technology education," said Norman Bier, OLI director and executive director of the Simon Initiative. "Her experience, along with key collaboration with faculty, will allow us to appropriately determine how to overcome typical obstacles to TEL adoption, which is the first, crucial step in making this work more broadly available."
Law earned her bachelor's degree in civil engineering from the University of Virginia and a master's degree in business administration from Boston University. Over her career, she has taught high school math and science, and business and mathematics at the collegiate level; edited and created online math models from basic arithmetic to algebra; and led the design and development of curriculum development, implementation and dissemination through the OLI platform. Law started at CMU on July 13.
Carnegie Mellon researchers have spent decades advancing learning engineering to improve outcomes for their students. They also have taken that work and created tools and methods so that any person or institution can adopt them.
The Simon Initiative is named for the late CMU Nobel Laureate professor and co-founder of artificial intelligence Herbert Simon, and bridges the university's vast expertise in the learning sciences.