October 28, 2013
Press Release: Carnegie Mellon's James H. Garrett Jr. To Discuss Importance of Technology Leadership and Innovation at African Summit in Rwanda
CMU Recognizes Importance of Training Future Technology Leaders
Contact: Chriss Swaney / 412-268-5776 / swaney@andrew.cmu.edu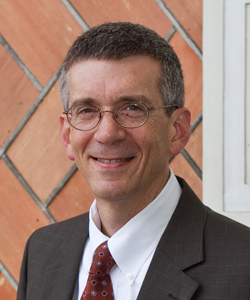 PITTSBURGH—Sub-Saharan Africa is home to 650 million mobile phone subscribers, 50 million Facebook users and an increasing number of technology and entrepreneurial hubs. With that growth comes a demand for highly skilled workers, and that need is being addressed by Carnegie Mellon University's graduate programs in Rwanda.
James H. Garrett Jr., dean of CMU's College of Engineering and the Thomas Lord Professor of Civil and Environmental Engineering, will discuss the importance of educating the next generation of African technology leaders and the role entrepreneurship plays in boosting local economies at the Transform Africa Summit, Oct. 28-31, in Kigali, Rwanda.
"This summit is a wonderful opportunity to showcase CMU's multidisciplinary graduate programs designed to produce Africa's next generation of technology leaders and innovators," Garrett said. "Our 16-month programs deliver both theory and practice to students, including successful summer internships at global tech companies."
CMU extended its global academic footprint in 2011 as the first major U.S. higher education institution to offer graduate engineering degree programs in Rwanda, a tech-savvy East African country building a knowledge-based economy. At present, CMU offers a master's degree in information technology, and will begin offering a second master's degree in electrical and computer engineering in August 2014.
In addition to the academic program, CMU-Rwanda is collaborating with the government of Rwanda to develop an innovation incubator, advanced practical training programs, executive education programs and a mobility research center.
"It's inspiring to work with world-class faculty, creating a new center of innovation and mentoring students who will ultimately be leaders in the technological revolution sweeping Africa," said Bruce Krogh, a summit attendee, director of the CMU-Rwanda program and a professor of electrical and computer engineering.
The summit, co-organized by the government of Rwanda and the Swiss-based International Telecommunications Union (ITU), will feature four key events: Leaders' Summit; Youth Entrepreneurship and Innovation Extravaganza; Exhibition; and Awards. It is designed to serve as a platform for dialogue between government and the private sector on technologies and content for socioeconomic transformation opportunities in Africa.
Jendayi Frazer, Distinguished Public Service Professor and director of the Center for International Policy and Innovation, will join Garrett as a panelist for "Plenary Session: Connect. Innovate. Transform" on Oct. 29. They will discuss the foundations that need to be in place for the success of the SMART Africa agenda.
Other summit attendees from CMU include: Romayne Botti, associate dean for Finance and Operations at the College of Engineering; Michel Bezy, associate director of the CMU-Rwanda program and a distinguished service professor in the Department of Engineering and Public Policy; Timothy Brown, a visiting professor in electrical, computer and energy engineering at CMU-Rwanda; Philip Miller, a project scientist from the School of Computer Science and head of the Software Developers Exam project, a collaboration between computer science and the people of Kenya;  Hedda Schmidtke, an assistant professor at CMU-Rwanda; and Crystal Rugege, director of Business Strategy and Operations at CMU-Rwanda.
For additional information, see http://www.youtube.com/channel/UCaV7RVhhBHYE2aYrKcS6zBQ
###
College of Engineering Dean James Garrett Jr. (pictured above) says the summit in Rwanda is a wonderful opportunity to showcase CMU's multidisciplinary graduate programs designed to produce Africa's next generation of technology leaders and innovators.