November 11, 2013
Press Release: Carnegie Mellon Creates Simon Initiative To Drive Better Understanding of Student Learning Using Emerging Educational Technology Platforms
University Provides Open Access to World's Largest Bank of Educational Technology Data; Forms Global Learning Council with Academic, Industry and Technology Leaders
Contact: Ken Walters  / 412-268-1151 / walters1@andrew.cmu.edu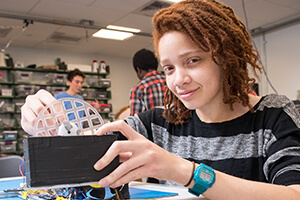 PITTSBURGH—Carnegie Mellon University today launched the Simon Initiative to accelerate the use of learning science and technology to improve student learning.
Named to honor the work of the late Nobel Laureate and CMU Professor Herbert Simon, the initiative will harness CMU's decades of learning data and research to improve educational outcomes for students everywhere.
In an email message to the campus community this morning, Carnegie Mellon President Subra Suresh announced the launch of the faculty-led Simon Initiative, the formation of the Global Learning Council (GLC) and the associated public data-sharing activities. He noted that CMU has called on experts from academia, industry and foundations to form the Global Learning Council. The new consortium of education and technology research leaders will share a commitment to develop standards, identify best practices and encourage engagement through the use of science and technology. The GLC is dedicated to open sharing of data and best practices among institutions and across sectors to improve learning outcomes for all.
As part of the initiative, CMU will provide open access to the world's largest bank of educational technology data — detailed data about how people learn and how effective learning software can be designed and deployed. CMU learning scientists have been performing research into every student interaction with learning software to reflect learners' activities for decades. This wealth of data will now be shared more broadly. Additionally, CMU will be providing seed funding to support the work of this initiative on campus.
"This council and the Simon Initiative arrive at a critical time for educators and students alike," said President Suresh. "The world is experiencing an educational revolution, but there has not been sufficient effort to date to address the fundamental question: are students using these technology platforms really learning successfully? Carnegie Mellon has been studying how people learn with technology since the 1950s; working together with our council colleagues, our goal is to create guidelines and best practices that ensure academic rigor and successful learning for students worldwide."
"Advances in learning science and technology offer transformative potential in education and training nationwide, supporting the work of excellent educators to address longstanding issues of equity and accelerating the country's return to educational leadership," said U.S. Secretary of Education Arne Duncan. "We as a country need to implement more proactive approaches to realizing that potential in education, as we have in other sectors. Providing a platform that can attract world-class talent and significant public and private resources is a critical step forward. Efforts like this new one from Carnegie Mellon will advance this vital conversation."
President Suresh, former director of the National Science Foundation, will chair the Global Learning Council. Other GLC members include leaders from academia, industry and technology. They are:
Anant Agarwal, President, edX;
Tan Chorh Chuan, President, National University of Singapore and Chair, Global University Leaders Forum of the World Economic Forum;
Anoop Gupta, Distinguished Scientist, Microsoft Research;
Sal Khan, Founder and Executive Director, Khan Academy;
Daphne Koller, Co-founder, Coursera;
Alan Leshner, Chief Executive Officer, American Association for the Advancement of Science and member, National Science Board;
Peter McPherson, President, Association of Public and Land-grant Universities;
Mark Nordenberg, Chancellor, University of Pittsburgh;
Hunter Rawlings, President, Association of American Universities;
Andrew Rosen, Chairman and CEO, Kaplan;
Alfred Spector, Vice President of Research, Google;
Suzanne Walsh, Deputy Director, Postsecondary Success, Bill & Melinda Gates Foundation and member, World Economic Forum, Global Agenda Council on the Future of Universities; and
Carl Wieman, Nobel Laureate and Professor of Physics and Education, Stanford University.
"The current global conversation on technology-enhanced learning is missing a key element: what are the most useful metrics, standards, and methods for ensuring that modes of education using technology have a positive effect on learning outcomes? As a world-renowned leader in the development of technologies and methodologies to improve student learning, Carnegie Mellon is ideally suited to assemble a Global Learning Council to help establish the standards and metrics we need," said Hunter Rawlings, president of the Association of American Universities, an association of 62 preeminent public and private research universities.
"An important step in the use of technology in online education is to develop rigorous methods and standards for learning outcomes," said Anant Agarwal, president of edX. "The Global Learning Council created by Carnegie Mellon University is made up of thought leaders in technology-enabled learning. At edX, we are committed to fostering quality education, and I am honored to work with the council to develop innovative approaches to improving learning outcomes."
"CMU is a true pioneer in the development and assessment of new technologies and approaches for learning," said Dr. Tan Chorh Chuan, president of National University of Singapore. "CMU has a remarkable record of making the exciting and important connections between innovative pedagogy, cutting-edge technology and quantifiable learning outcomes, which are critically needed in conceiving the role that technology can and will play in the education of the future."
CMU's history in the learning sciences began in the 1950s, when Simon and CMU colleagues, including Allen Newell, advanced the fields of cognitive psychology and artificial intelligence and developed one of the first computer-based theories of learning. Since then, the university has been at the forefront of understanding how people learn, through such activities as the development of computer tutors based on cognitive learning technology, learning games and courses in CMU's Open Learning Initiative. Numerous controlled studies have found these courses to be as or more effective than traditional instruction. Students at six U.S. public universities using CMU's blended approach — which combines technology and teacher interaction — found that CMU's statistics courseware (combined with some classroom instruction) is just as effective in meeting learning goals as traditional lecture classes. A CMU study of the same statistics course found that students using this courseware master content just as well as students in traditional lecture classes, but in half the time — a much accelerated pace.
"We are honored that CMU has invited Microsoft to join the GLC as a member," said Peter Lee, corporate vice president and head of Microsoft Research. "Microsoft and CMU share a common, longstanding commitment to advancing the state of the art in learning technologies, and we are convinced that the Simon Initiative and the GLC will help accelerate this important mission."
The Simon Initiative will focus on several areas where technology impacts education, ranging from data-rich research solutions to improving the residential experience of students at CMU campuses. The goals of the project include:
Together, the Simon Initiative, the Global Learning Council and the databank will accelerate the use of learning science and technology to improve student success and help unlock the mystery and potential of human learning.
###