March 21, 2013
Press Release: Carnegie Mellon's Carmel Majidi Wins Air Force Research Award for Work in "Soft Robotics"
Contact: Chriss Swaney / 412-268-5776 / swaney@andrew.cmu.edu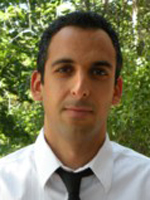 PITTSBURGH—Carnegie Mellon University's Carmel Majidi was awarded a three-year, $360,000 grant through the Air Force Office of Scientific Research Young (AFOSR) Investigator Program to improve electronic power sources and sensors for air vehicles and flight suits.
"I'm extremely grateful for this award as I continue my research into producing 'soft matter' electronics that are elastically deformable and extend these technologies for harvesting electricity from their environment," said Majidi, an assistant professor of mechanical engineering.
Majidi, a principal researcher in CMU's Soft Machines Lab who works on soft electronics and sensors, reports that the next generation of autonomous robots, medical devices and electronics will include systems that are not rigid and can adapt their functions to the changing demands of their operator and the environment.
Soft robotics is a relatively new domain in the field of robotics where researchers are focused on creating new robotic structures, blending together organic chemistry, soft materials science and robotics.
"Ultimately, this new domain of field robotics will help us focus on elastic and multifunctional materials. These types of new materials will be the building blocks for a new generation of devices and robots composed entirely of soft material and fluids," Majidi said.
Prior to joining the CMU faculty, Majidi was a postdoctoral fellow in the Harvard Microrobotics Laboratory (2009-2011) and the Princeton Institute for the Science and Technology of Materials (2007-2009).
###