September 13, 2012
News Brief: Harvard Appoints Carnegie Mellon Vice President
Contact:
Teresa Thomas / 412-268-2900 /
thomas@cmu.edu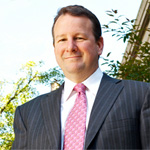 PITTSBURGH—Harvard University announced today (Sept. 13) that Rick McCullough will join the university as vice provost for research, effective Oct. 15.
McCullough, vice president for research at Carnegie Mellon since 2007, played a key role in advancing the university's entrepreneurial culture.
"As our vice president of research, Rick has helped to speed university innovations from the research lab to the marketplace, increasing the annual number of CMU startups significantly," said Carnegie Mellon President
Jared L. Cohon.
"He was essential in launching our
Greenlighting Startups
initiative, creating a university-wide infrastructure to support campus incubator groups in their startup efforts."
McCullough joined the faculty of CMU's
Chemistry Department
in 1990 and became head of the department in 1998. He was appointed dean of CMU's
Mellon College of Science
in 2001.
Read the Harvard announcement
.