November 21, 2022
Openings and Endgames with Ashritha Eswaran
Media Inquiries
Peter Kerwin
University Communications & Marketing
Jocelyn Duffy
Mellon College of Science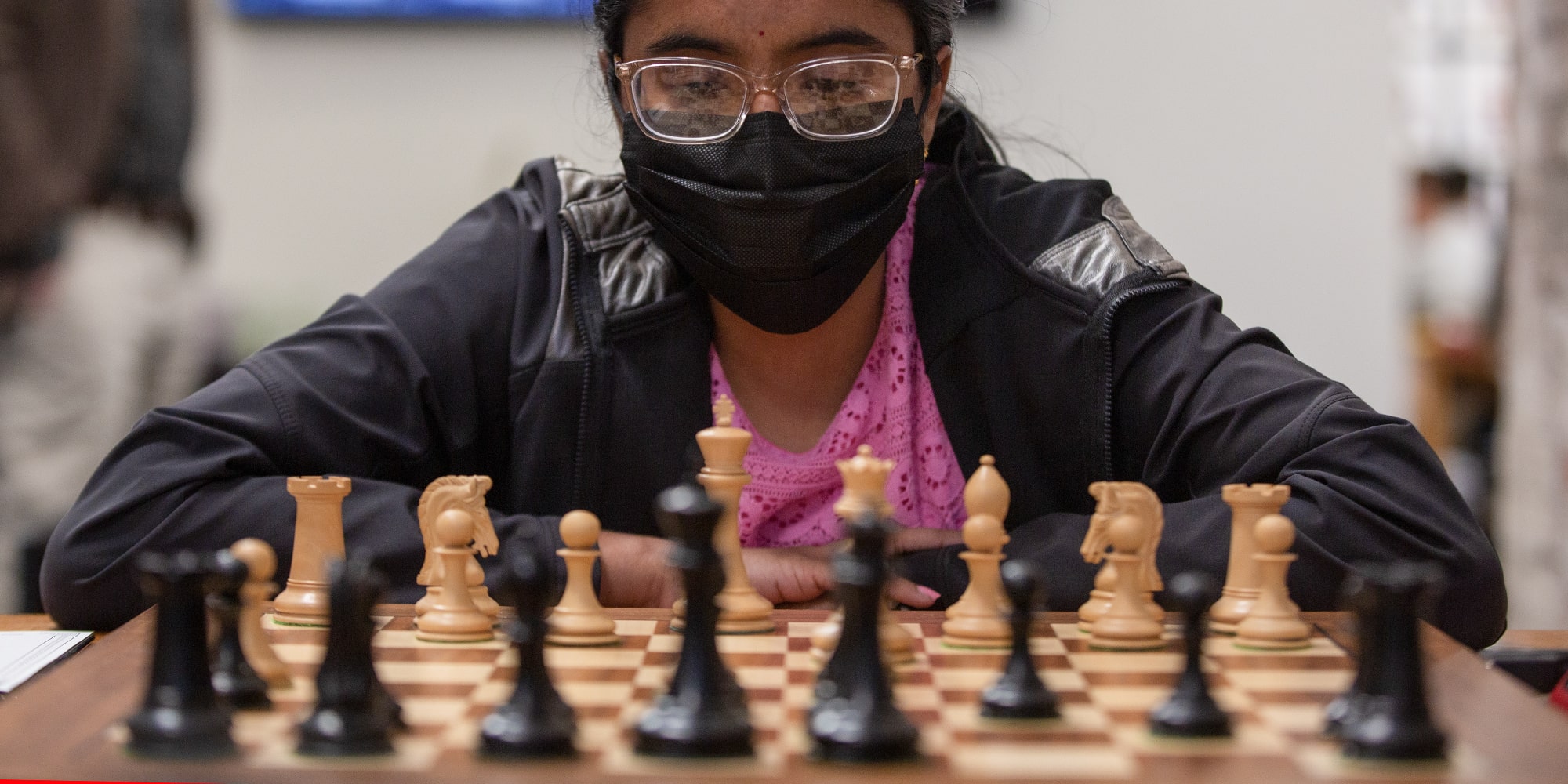 "Playing chess has helped me in my academics, and being a data analyst has helped me be a better chess player." — Ashritha Eswaran
Ashritha Eswaran thinks 20 moves ahead.
Eswaran plays chess at the highest level. A women's international master, the Carnegie Mellon University graduate student recently competed in the 2022 U.S. Women's Chess Championship, an invitational tournament she first encountered at age 13.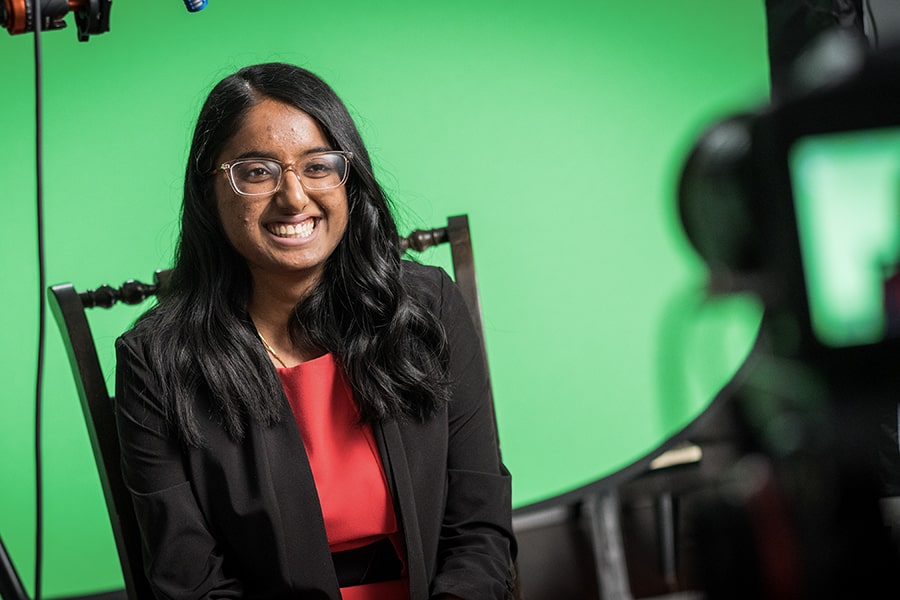 The competition, held in St. Louis, invited 14 top-ranked players to compete in daily matches over the course of two weeks — a potentially daunting absence for Eswaran (pictured during the tournament's media day) from her M.S. in Data Analytics for Science (MS-DAS) program in CMU's Mellon College of Science (MCS). Not surprising, she had that planned out, too.
"I knew Carnegie Mellon had an amazing data analytics program. When I told Gwen Stanczak (the MCS director of graduate programs) about the championship, she was very accommodating and actually encouraged me to go," Eswaran said. "That encouragement was a big part of the reason I chose CMU."
The MS-DAS program is designed for students with an undergraduate degree in the sciences who want to apply modern machine learning and artificial intelligence tools to advance scientific research. The program utilizes the Pittsburgh Supercomputing Center (PSC) as a crucial resource in instruction.
"I really enjoy the storytelling aspect of data science. I like looking at numbers and making sense of them," Eswaran said. "And then, what can we do with it? How can data science help in situations, like business decisions?"
Manfred Paulini, a professor of physics, MCS associate dean for faculty and graduate affairs and MS-DAS adviser, said Eswaran's chess ability was an inspiration to her fellow students.
"The broad range of talent that students bring to CMU always amazes me. In particular, Ashritha is not only an extraordinary chess player, but also an excellent student in our program," Paulini said. "Ashritha is a bright example, especially for other women in science and data science, and her ability to balance coursework even when competing in an intense chess competition is an inspiration for both current and future students who we want to attract to the MS-DAS program."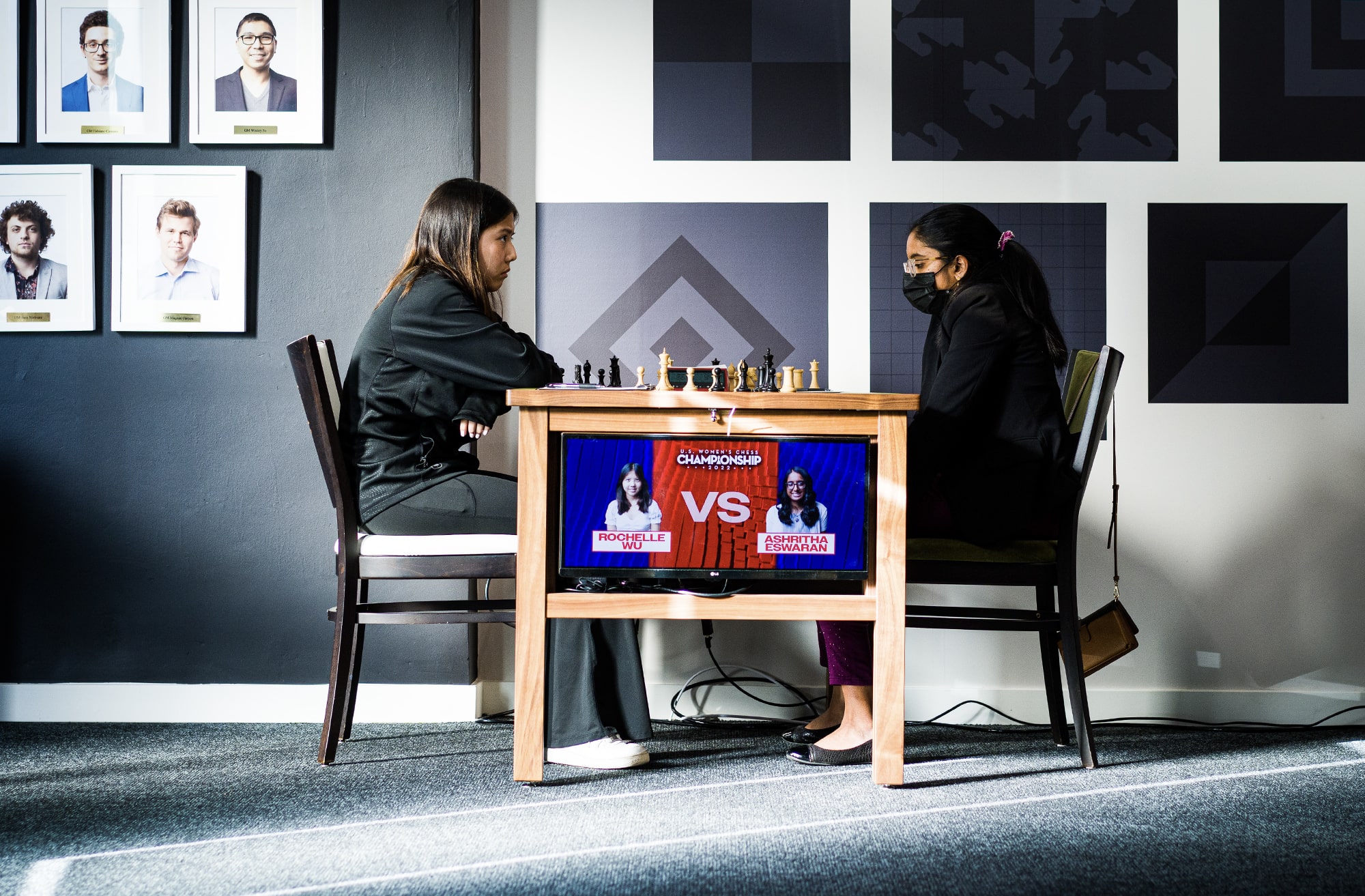 Eswaran (right) plays Rochelle Wu in round 2 of the tournament. 
The MS-DAS support continued once Eswaran was in St. Louis. During the tournament, Stanczak organized a watch party at CMU's Pittsburgh campus for MS-DAS students to view Eswaran's 7th round match, which she won.
"I already had a plan with my professors. For the tournament, there's a lot of work to be done with my coaches, like trying to analyze and find new strategies I haven't played before," Eswaran said. "That's at least three hours per day, which is tough to do on top of school."
This begs the question, is Eswaran a professional chess player attending grad school? Or a graduate student playing professional chess?
"I get asked this question, and I never really know how to answer. Balancing chess and student life has been a challenge growing up," Eswaran said. "It's somewhere in between. Once I graduate, I can decide if I want to pursue chess, or do something with my degree. It's nice to have an option to go both ways."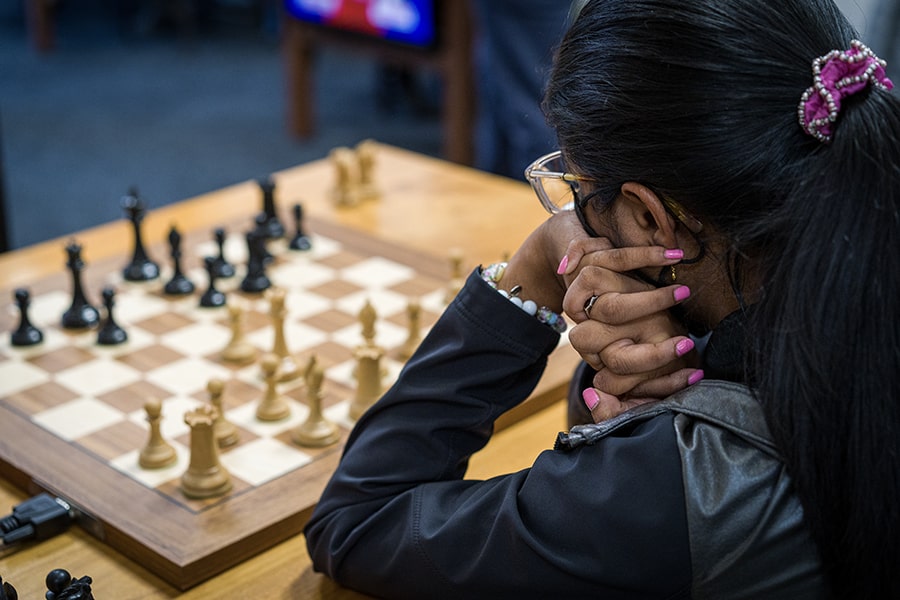 As she competes on the board and excels in the classroom, Eswaran finds her education is influencing her game, and vice versa.
"Sometimes I'm dealing with data and I don't have domain knowledge. I'm in a new situation and I need to navigate unknown territory," she said. "Chess is similar, because sometimes, no matter how much you prepare, you have to work yourself out of a situation. There's a lot of parallelisms between the two. Playing chess has helped me in my academics, and being a data analyst has helped me in be a better chess player."
Eswaran grew up in California and started playing chess casually in first grade in an after-school club. At 10, her parents encouraged her to take chess more seriously by practicing and competing tournaments. She first played for the U.S. Women's Chess Championship at 13. She's played chess on five continents and recorded her best showing in the U.S. championship in 2021 when she tied for fourth place.
"I've played so many games, and no two games have been the same," she said. "I'm sure even if I play for another 10, 15 years, every single game would still be different, because there's so many possibilities in a chess game. I think that's what really intrigues me."
Photographs in this story courtesy of the St. Louis Chess Club, Lennart Ootes and Crystal Fuller.