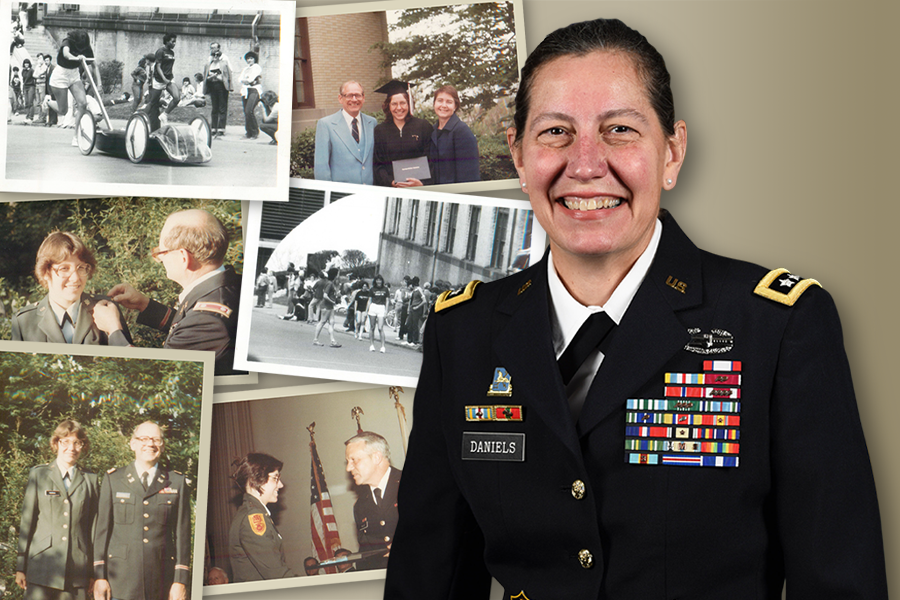 May 06, 2022
Mathematical Sciences Alumna Jody Daniels to Receive Honorary Degree
Media Inquiries
Jocelyn Duffy
Associate Dean for Communications, MCS
Lieutenant General Jody J. Daniels a 1983 graduate of the Department of Mathematical Sciences and Chief of Army Reserve and Commanding General, US Army Reserve has been chosen to receive an honorary doctor of science and technology at Carnegie Mellon University's 2022 Commencement. 
With over 38 years of active and reserve service, Daniels currently serves as Chief of Army Reserve and Commanding General, U.S. Army Reserve Command.
She leads a community-based force of more than 200,000 Soldiers and civilians with a footprint that encompasses all 50 states and five territories, and more than 23 countries across the globe. While serving in the US, Korea, Kosovo, Iraq, and Germany, her principle military roles have been in intelligence, civil affairs, and training. She has commanded at all levels and served on several strategic advisory boards.
During her civilian career, Daniels served as the Director of Advanced Programs for Lockheed Martin's Advanced Technology Laboratories. Prior to that, she served as the Director of the Contextual Systems Laboratory where she led 30 engineers in two software technology areas. Her principal areas of research are in artificial intelligence and information retrieval, including spoken language understanding, information extraction, case-based reasoning and human-computer interfaces.
She holds a B.S. in Applied Mathematics (Computer Science) from Carnegie Mellon University, a M.S. and Ph.D. in Computer Science from the University of Massachusetts (Amherst), and a M.S. in Strategic Studies from the U.S. Army War College.
Her awards and decorations include the Distinguished Service Medal, Defense Superior Service Medal, three Legions of Merit, Bronze Star Medal, five Meritorious Service Medals, Joint Service Commendation Medal, four Army Commendation Medals, Combat Action Badge, and Knowlton Award.
An honorary degree is one of the highest distinctions Carnegie Mellon bestows upon an individual, and awarding them is a long-standing tradition. Honorary degree recipients are an inspiration to the Carnegie Mellon community. The tradition reinforces the significance of the university in the world and honors those who have made an impact in the arts, business, computer science, engineering, humanities, policy, sciences or social sciences.
Daniels will receive her honorary degree alongside Nobel Laureate Frances Arnold, Portuguese Minister for Science Technology and Higher Education Manuel Heitor, Harvard Professor of History and African and African American Studies Evelyn Higginbotham, Emmy, Grammy and Tony Award winning artist Billy Porter, Carnegie Mellon Computer Science Professor Raj Reddy and retired Executive Chairman and former CEO of PNC Financial Services Group Jim Rohr.