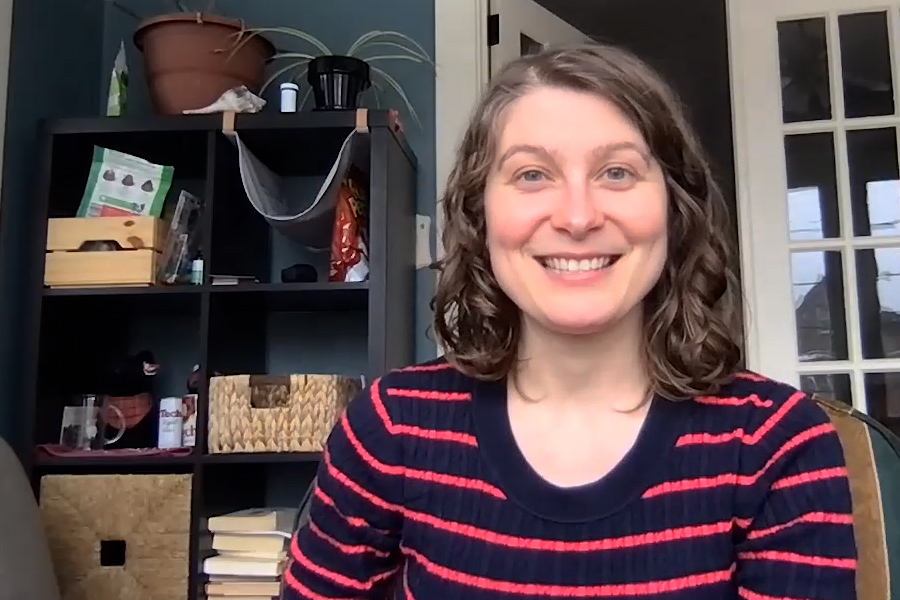 April 08, 2021
An Informed Decision
MCS alumna shares her journey on getting the COVID-19 vaccine during her third trimester
By Emily Payne epayne(through)andrew.cmu.edu
Media Inquiries
Jocelyn Duffy
Associate Dean for Communications, MCS
Ashley Godisart received her first dose of the Pfizer COVID-19 vaccine at 39 weeks pregnant. And her second shot two weeks after the birth of her son.
Initially, Godisart was going to be excluded from being eligible for the vaccine. Many health care providers were wary of vaccinating pregnant staff and patients due to a lack of data on the effect of COVID-19 vaccines on this population.
Godisart, an emergency medicine physician in Pennsylvania, decided to pour through the research literature for herself to see if she could come to an informed conclusion on the safety of the vaccine in her case.
Understanding the science was important not only for Godisart personally but also as a medical professional. She wanted to have an informed answer for herself and for pregnant or breastfeeding patients who might question whether or not they should vaccinate. 
"There's so much misinformation out there, I felt like I needed to be a voice of more accurate information."
The answer did not come easily. There was no strong data to land on because pregnant populations were not included in the research — a stance that is not uncommon in clinical research and early testing.
She also turned to position papers from professional societies such as the American College of Obstetricians and Gynecologists and the Society for Maternal Fetal Medicine and talked to her own heath care team to see if she could arrive at a conclusion.
After a calculated risk analysis, Godisart said, "I had landed on the side of getting the vaccine. 
"Yes, we don't have specific data on pregnancy, but looking at the mechanism of how a mRNA vaccine works, it seemed like it was lower risk," she concluded, noting that the risks of COVID-19, especially in pregnant populations, are significant.
Godisart also supplied her research to her employer in hopes of helping them in their own decision-making process. And she shared her message on social media, elucidating what data exists, what data is missing, how she used that information to make her decision and how she understands others may come to a different risk versus risk calculation for their own situation.
"There's so much misinformation out there, I felt like I needed to be a voice of more accurate information," said Godisart. "I had done all this research and I knew that it was a difficult decision for me — someone who has comfort looking at this data and making these decisions — I felt obligated to share that with others who might not be able to sift through the data in the same way."
After posting, she received multiple direct messages from friends thanking her for explaining how she made her decision to get the vaccine.
Throughout her career, Godisart has learned many times over the importance of being able to communicate technical information to all audiences.
In the ER, Godisart often has to change communication tactics at the drop of a hat, be it effectively communicating a treatment plan with nurses and medical staff, consulting with surgeons and other specialists, or translating pertinent and sensitive information to patients — all against a backdrop of the busy and high-stakes circumstances of emergency medicine.
"You're not going to be a good doctor unless you're able to communicate well with all of those stakeholders," Godisart said. 
Mastering technical and scientific communication is a lesson the biological sciences alumna learned long ago, starting at Carnegie Mellon University and continuing all the way through medical school and her residency.
It's like learning a language, she noted. "You have to keep flexing that muscle — keep learning, reading and critically attacking the scientific literature — or that muscle is going to atrophy."