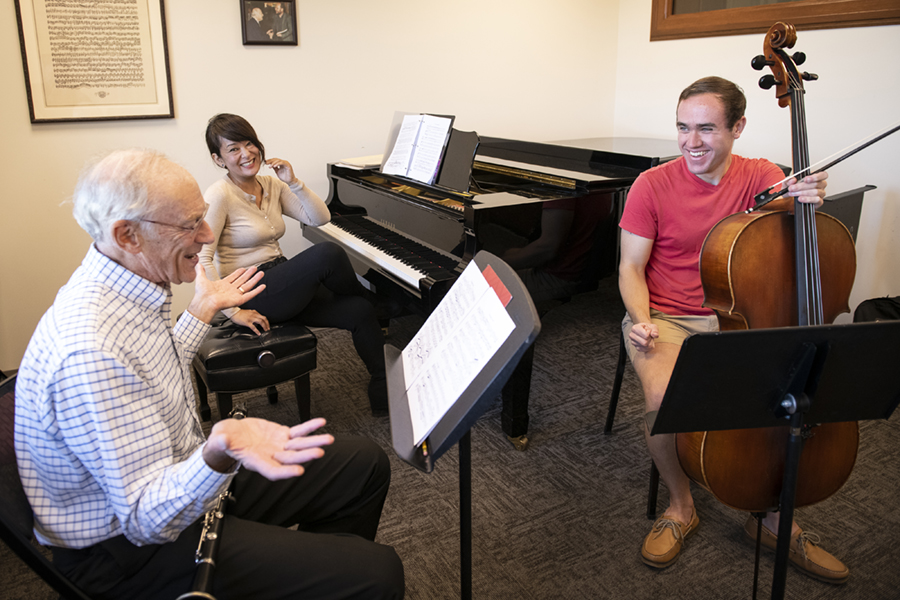 July 06, 2020
Two Generations of Musical Passion
ACS Legacy Scholarship recipient Kyle Johnson shares a unique bond with the donor who is helping him realize his aspirations of excellence
The complex music of Vincent D'Indy's "Trio for Piano, Clarinet and Cello, Op. 29" recently filled a College of Fine Arts practice room to create an unusual session. It was the first performance together for these instrumentalists, and the first meeting between cellist and School of Music student Kyle Johnson and clarinetist Bruce Gelin (S 1967). Kyle is a senior music major and an Andrew Carnegie Society Legacy Scholarship recipient, and Bruce is his scholarship's donor. They share a kinship based on their love of music and the power of philanthropy.

Bruce made his first trip to campus in a decade to meet Kyle in person before he graduates, and Kyle welcomed the chance to spend time with Bruce, with whom he has exchanged emails during his undergraduate years.

Kyle was excited to collaborate musically with his benefactor, whose generosity to Carnegie Mellon began during his graduate school years. "This scholarship made my CMU education more affordable for me. I'm very happy to be here," Kyle says.

Making education accessible is one of the motivations behind Bruce's history of giving. He is a committed supporter of ACS Legacy Scholarships, with the goal of creating educational opportunities for more students and ensuring that financial constraints don't prevent them from graduating.
"Students who are admitted to CMU have the ability to finish, but sometimes not the finances. Anything I can do to help is a great thing. The next generation is our biggest hope."
Bruce Gelin (S 1967)
"Students who are admitted to CMU have the ability to finish, but sometimes not the finances. Anything I can do to help is a great thing," he says. "The next generation is our biggest hope." A chemistry major and Kiltie Symphony Band member at CMU, Bruce established his first two ACS Legacy Scholarships for science students. He designated his third scholarship for a music student to reflect his own return to his avocation, which he pursues by participating in community orchestras in the Boston area.

Both artists were drawn to music early in their lives. For Bruce, the fourth grade marked a musical turning point, when a teacher introduced him to the clarinet. The fourth grade was also pivotal for Kyle: He discovered he was mesmerized by the "warm, lush sound" and "great range" of the cello, launching his years of musical education.

Kyle's hard work secured his admission to the School of Music, where he has savored the opportunity to continue studying with David Premo, associate principal cellist of the Pittsburgh Symphony Orchestra and Kyle's instructor since his junior year of high school.

His passion for music continues to be fed by the CMU education that his scholarship has helped to provide. He appreciates studying in an environment that musically challenges him and builds his self-confidence.

"The School of Music motivates me to get better every day," Kyle says. "I love all the opportunities I have here for lessons and playing in the orchestra and some wonderful chamber groups. I learn from all different sorts of people and make great connections."