June 24, 2020
New Physics Faculty Member Left in Limbo Overseas by COVID-19
By Ben Panko bpanko(through)cmu.edu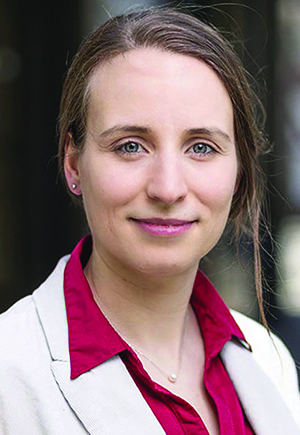 After months of preparation and packing, Ulrike Endesfelder was on track this spring to move her entire lab and life from Europe to Pittsburgh. Then, COVID-19 got in the way.
Endesfelder was in the process of leaving her position as a research group leader at the Max-Planck-Institute for Terrestrial Microbiology in Marburg, Germany, to join the Mellon College of Science's Department of Physics.
The move had been in the works on both sides since soon after she accepted CMU's offer last year, Endesfelder explained. After arranging her visa and move, she and her group were set to start in Pittsburgh on April 1. Endesfelder and her lab signed the paperwork to leave their German jobs, and sent off a container full of equipment and supplies to head across the Atlantic Ocean on March 9.
Then, two days later, the United States government banned all travel from the European Union to the United States.
"Our lab equipment container was already on the water," Endesfelder said.
Endesfelder and the postdoctoral fellows and Ph.D. students who were moving with her to Pittsburgh were suddenly left without jobs or their lab tools.
Fortunately, the Max-Planck Institute was able to reemploy Endesfelder and her research group so they could retain their health insurance (an important thing to have in a pandemic). But that was hardly the only setback.
"We all had canceled our private lives in Germany, such as flats and other contracts," Endesfelder said, noting that she and her group had to move back in with their parents while waiting to emigrate to the U.S.
Meanwhile, Endesfelder's container of lab equipment arrived in Pittsburgh without her there to meet it. Through the magic of video calling, however, Endesfelder was able to supervise Professor of Physics Markus Deserno receiving dozens of boxes of equipment. Among the supplies arriving at her lab were thousands of pairs of gloves, which Endesfelder and Deserno donated to health care workers in the Pittsburgh area.
One upside of being caught in the middle of an international move when a pandemic struck was that Endesfelder was more prepared for her work to be disrupted than many of her coworkers at the Max-Planck Institute.
"We're the experimental group best prepared here because we were already shut down," Endesfelder noted. While her colleagues were in the middle of experimental runs, Endesfelder's group had anticipated the disruption of shipping and setting up a new laboratory and prerecorded lots of extra data that they've been analyzing during this shutdown.
So far, while both countries open up internally, nothing has changed concerning the international travel restrictions.
Endesfelder said she is concerned about new regulations that could bar non-immigrant workers with H1-B or J1 visas. "If researchers and students are not exempt from these, we will not be able to enter the U.S. for a long while — most likely until after the general election," Endesfelder noted. "Both my career, as well as the career of my group members, will be at stake. While we can compensate for all of this for some months, until the end of January 2021 will be quite another dimension."