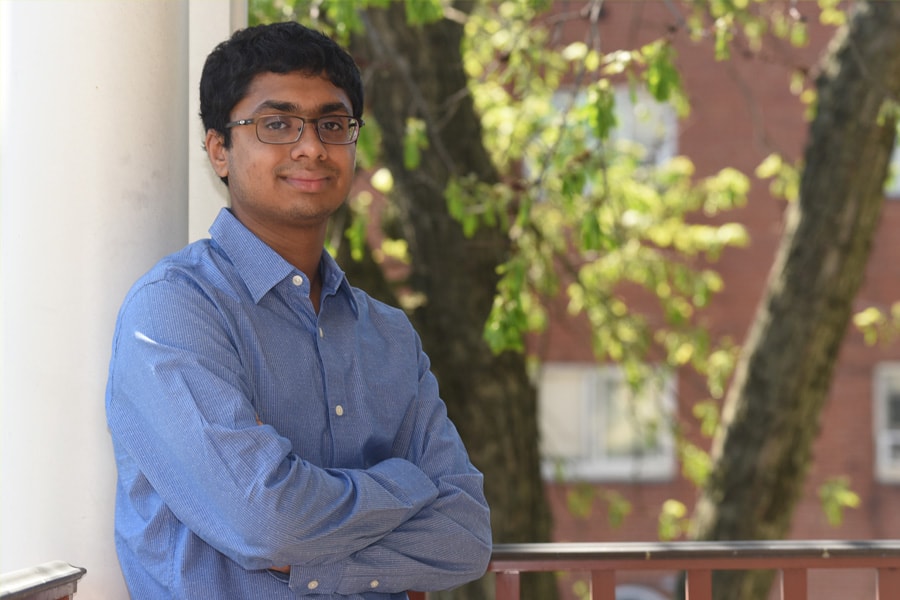 August 08, 2019
Siddharth Annaldasula to Study Genomics in Germany as Fulbright Scholar
By Emily Payne epayne(through)andrew.cmu.edu
Media Inquiries
After nearly a year-long application process, Siddharth Annaldasula received the good news — he will spend the next year conducting research in Germany as a Fulbright Scholar.
Annaldasula will be studying transcriptional regulation in cell differentiation models using computational methods with Andreas Mayer at the Max Planck Institute of Molecular Genetics in Berlin as part of his Fulbright Study/Research Grant.
"I will be looking at mechanisms behind the pausing of transcription in cell developmental models," Annaldasula said. "These results could provide insight into the pausing epigenetic mechanisms that occur in many diseases, including cancer and other disorders."
"I hope to develop myself as a computational biologist in terms of learning newer techniques and making connections for future collaborations."
Annaldasula, who graduated in May with a bachelor of science in computational biology and a minor in neuroscience, chose Germany for his Fulbright proposal because it is a frontrunner for cutting-edge research in fields he is interested in — computational biology, genomics and neuroscience.
"I hope to develop myself as a computational biologist in terms of learning newer techniques and making connections for future collaborations," said Annaldasula, who hopes to pursue his Ph.D. in a combination of those fields.
At Carnegie Mellon University, Annaldasula studied vocal learning behavior — the ability to produce and learn sounds — in Assistant Professor of Computational Biology Andreas Pfenning's lab. He also worked on side projects with Pfenning's collaborators in Germany who were applying computational biology to genomics research.
When Annaldasula expressed that he wanted to apply for a Fulbright to further his research experience in this area, Pfenning helped connect Annaldasula to Mayer; Pfenning and Mayer were postdoctoral fellows together at the Broad Institute, Massachusetts Institute of Technology's and Harvard University's joint biomedical and genomic research center.
While abroad, Annaldasula hopes to pursue some of his other interests outside of the lab. In particular, he would like to continue doing outreach work. In his first-year, Annaldasula joined the Neuroscience Student Advisory Council (NeuroSAC), which promotes awareness of neuroscience-based careers and health issues. As part of NeuroSAC, Annaldasula gave demonstrations at elementary and middle schools throughout the Pittsburgh region.
"I love seeing people have fun on subjects they don't encounter in school or day-to-day life and start thinking about neuroscience and how much we still don't know about the brain and how we need more concentrated efforts to understand such a complex organ," he said.
He is also excited to immerse himself in the culture and customs of his host country. "I love the culture and food, and I'm a fan of the Bundesliga soccer league — Borussia Dortmund are one of my favorite teams!" he said.
While applying for a Fulbright is an arduous process, Annaldasula was grateful to have the support of Carnegie Mellon's Fellowships and Scholarships Office. Richelle Bernazzoli, assistant director of undergraduate research and national fellowships, works closely with students who are interested in applying for nationally competitive fellowships and scholarships like the Fulbright.
"I want to thank Richelle for all her help and advice along the way. She helped me tremendously," said Annaldasula.
The U.S. Department of State's Bureau of Educational and Cultural Affairs sponsors the Fulbright U.S. Student Program to "increase mutual understanding between the people of the United States and the people of other countries."