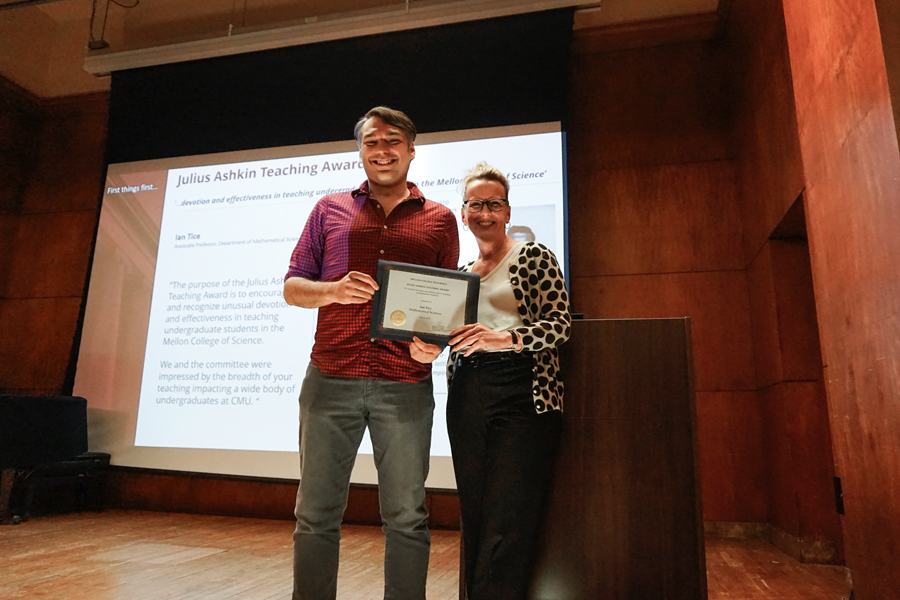 May 15, 2019
Ian Tice Receives Julius Ashkin Teaching Award
By Emily Payne epayne(through)andrew.cmu.edu
Media Inquiries
Assistant Professor of Mathematical Sciences Ian Tice was awarded the Mellon College of Science's 2019 Julius Ashkin Teaching Award for his devotion and effectiveness in teaching.
Tice is an inspiring educator, both challenging and guiding his students to become astute mathematicians equipped with inquisitive minds.
His dedication is most apparent in the work that he puts into all of his classes. Tice has crafted hundreds of homework problems and written over 1,300 pages of notes for his courses. His notes are tailored to each concept he teaches in a course, which frees students from having to spend money on expensive textbooks that do not always follow the course material, and include a tremendous amount of details, examples and applications of the mathematical ideas being studied.
While his homework problems are known for taking hours to complete, by the end, students understand step-by-step how to assemble a proof for a full result; this, Tice says, helps students synthesize mathematical arguments and trains them to think like mathematicians. 
Tice knows he demands a lot of his students, but his door is always open. Students will spend hours in his office, be it to get help on a problem, to revisit a concept from lecture that they didn't understand or to talk more about their interests in math.
"Professor Tice is someone who very clearly loves teaching," wrote former student Jose Arrillaga. After Arrillaga spoke with Tice about his difficulty understanding some results in convergent series, "he made sure to put an additional exercise on that week's problem set, which helped immensely in clarifying my uncertainties," he said.
Additionally, Tice is a strong supporter of undergraduate math research. He advised Knaster-McWilliams Scholars and Putnam winners Thomas Swayze and Sam Zbarsky. Zbarsky wrote an honors thesis with Tice and is now in a top graduate program at Princeton University. Tice's experience as a research advisor inspired him to apply for a National Science Foundation CAREER grant. NSF awarded him $38,500 to fund summer research for 11 students over the next five years.
He mentored three Summer Undergraduate Research Fellowship projects in the summer of 2018 and is currently supervising a second honors masters' thesis. One of Tice's favorite activities is organizing and supervising the Department of Mathematical Sciences' poster competition at Carnegie Mellon's annual undergraduate research symposium, Meeting of the Minds.
Beyond teaching, Tice has been a driving force in developing and modernizing parts of the undergraduate and graduate curriculum in the department. He completely revamped the undergraduate computational and applied mathematics concentration, helped reform the graduate curriculum in analysis and partial differential equations (PDE) and revised courses in the math honors program. He has developed four new courses, restructured the department's mathematical modeling and graduate PDE courses and took on teaching a number of these courses, both new and old.
For all his work, Tice has earned the admiration of his students as well as his colleagues since joining the department in 2012.
"Ian is an enthusiastic and devoted teacher who has demonstrated the ability to create excellent courses, inspire students and train some of the best undergraduates," wrote Professor of Mathematical Sciences Dejan Slepčev in supporting Tice's nomination.