Register for Courses in 4 Easy Steps
This page contains step-by-step instructions for course registration at Carnegie Mellon University, including a pre-registration checklist, how to plan and check your course schedule, share with your advisor, confirm your registration start time, and register for courses. 
Pre-Registration Checklist
Use the Stellic Degree Audit Application

 to monitor your progress and plan your degree. You can search for relevant courses in a number of ways and share your plan with your advisor directly through the application. 

Navigate to the SIO Academic Info tab and select Enrollment Status and the upcoming semester to confirm the following:


Enrollment Status is 'Eligible to Enroll' (if not, email thehub@andrew.cmu.edu)
Maximum units for which you can register (overloads are reviewed and permitted only after registration week)
Class Level, College and Department are correct (if incorrect, please contact your home academic department)

Step 1: Plan Your Course Schedule
Planning Your Schedule
Navigate to the SIO Course Schedule tab and choose 'Plan Course Schedule'
Click

'Plan New Schedule'

, select the upcoming semester, and name your course plan
Browse for courses to add, or type the course number into the box and click 'Add'
To change a course section in your plan, click the multi-colored course boxes on the right side of the page and select a different course section
View more information about a class by clicking on the blue 'i' circle information button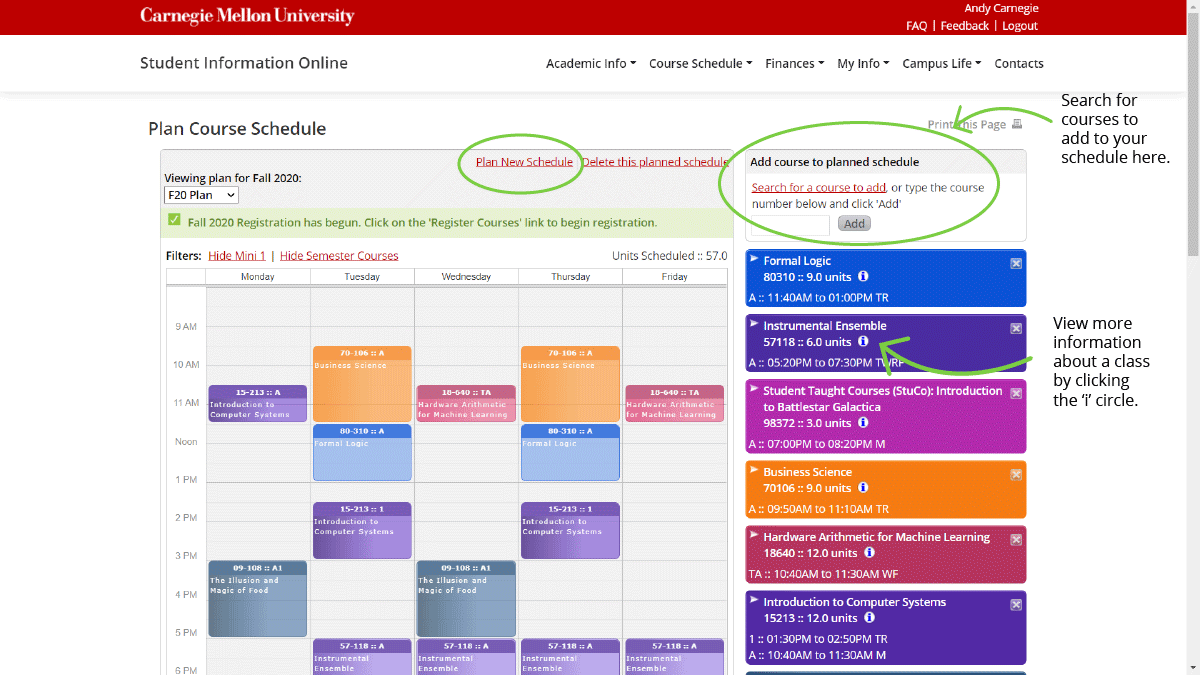 Checking Your Schedule
Once you have planned your schedule, please double-check to ensure that you:
Do not have a registration hold (if you do, please contact your academic advisor)
Have no schedule time conflicts (you are not permitted to register for courses with conflicting times) and that course-section times have not changed
Meet the necessary pre-requisites and intend to register for any necessary co-requisites
Understand any course messages (select the blue 'i' information link for each course)
Meet any course-section reservations
Course Conflicts
While the goal is to plan a schedule in which no time conflicts exist, for exceptional circumstances, you may register for, or add, courses with time conflicts, provided you receive permission from the instructors of the conflicting courses. The process for doing so is as follows:
If one of the conflicting courses is outside of your home department, add this course first
Obtain written permission (via email) for a conflicting course from both instructors with overlapping courses
Provide these permissions to your academic advisor

If your advisor has S3 registration permission, the advisor may register you for a departmental course
If your advisor does not have registration permission, or the course is outside of your home department, the advisor should email cmuregistrar@andrew.cmu.edu to have the course section entered, overriding the conflict
Stellic Degree Audit
In addition to planning a course schedule in SIO, you may also use the Stellic Degree Audit application, a collaborative tool that assists with schedule planning, retaining past course plans, and meeting degree requirements. All students should still create a course plan and register in SIO. It is not possible to register for classes using Stellic.
Incoming Students & Stellic
Incoming students joining us in the fall semester will gain access to Stellic in early July. Incoming students joining us in the spring semester will gain access in early January. 
Step 2: Review Schedule with Your Advisor
Navigate to the SIO Contacts page to find your advisor's email address and phone number. You can send your advisor the name of your planned schedule and review it together. 

Step 3: Check Your Start Time
Navigate to the SIO Registration page under the Course Schedule tab to view your registration start time.
If you are unable to register because of an academic hold placed by your department or a financial hold placed by Student Accounts, a warning will appear in the highlighted bar that normally displays a start time.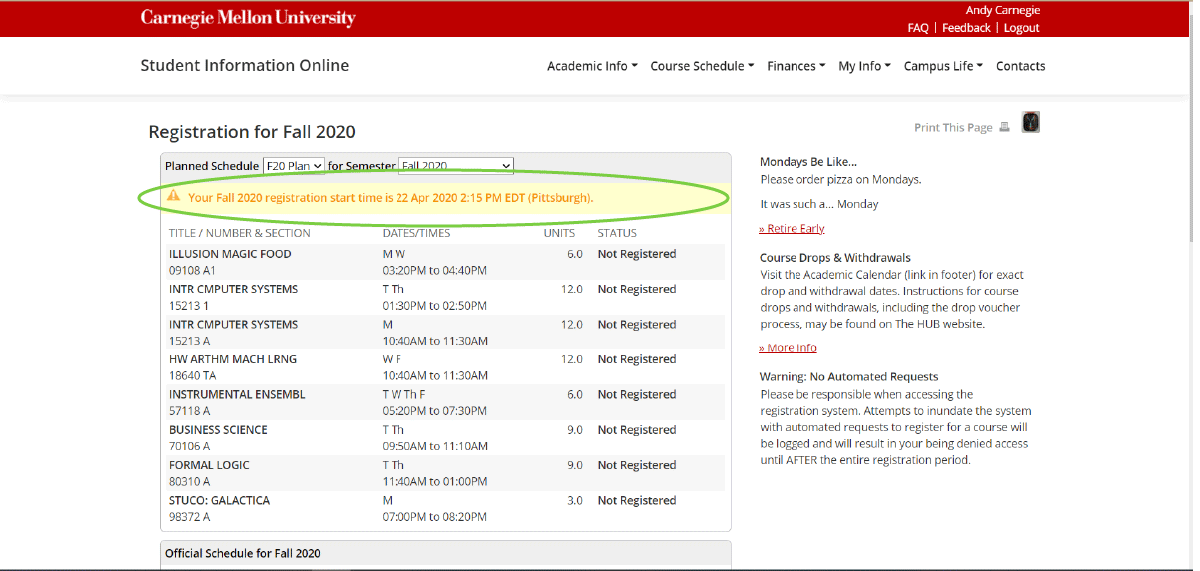 Step 4: Register for Classes
Click the Registration button on your SIO homepage or select Registration from the Course Schedule tab
When it's your time to register for the semester, use the gear wheels to register, drop, switch and manage your waitlist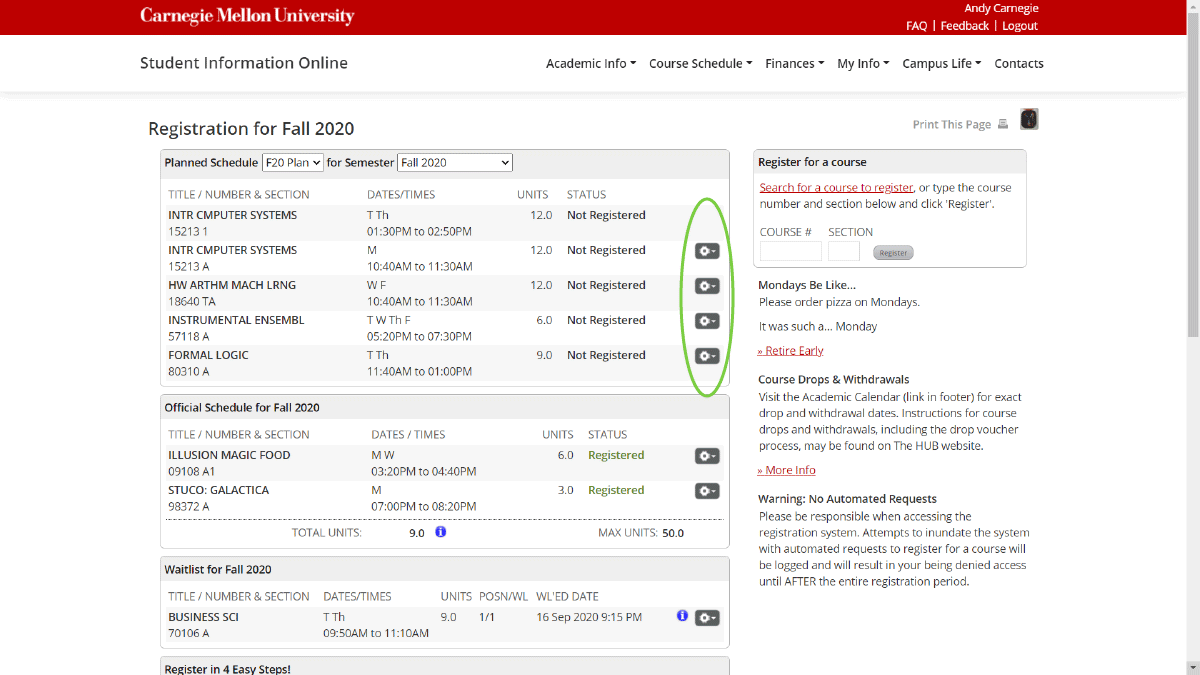 Registration Resources