---
Among the Nation's Best
Carnegie Mellon ranked 23rd and its undergraduate programs in engineering and business are among the 10 best in the country, according to U.S. News & World Report magazine's annual survey of "America's Best Colleges." The 2004 edition hit newsstands Aug. 22.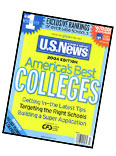 "Carnegie Mellon's showing in national rankings continues to be very strong, and confirms something we know—that Carnegie Mellon and its many graduate and undergraduate programs rank among the best in the nation," said President Jared L. Cohon.
Carnegie Mellon's undergraduate business and engineering programs were ranked seventh and eighth, respectively. U.S. News & World Report ranks engineering and business programs, as well as specialty areas within those disciplines, on an annual basis.
In business specialty offerings, Carnegie Mellon ranked second in management information systems, productions and operations management, and quantitative analysis. In engineering specialties, it ranked fourth in computer engineering.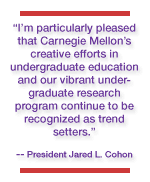 Carnegie Mellon made a strong showing in another magazine "best" category—that of "undergraduate research/creative projects." The magazine lists, but does not rank, universities in this category. Carnegie Mellon has appeared in the "Programs to Look For" in undergraduate research and creative projects since the listing was established last year. "I'm particularly pleased that Carnegie Mellon's creative efforts in undergraduate education and our vibrant undergraduate research program continue to be recognized as trend setters," Cohon added.
The overall rankings were determined by several measures including peer assessment, graduation and retention rates, faculty resources, student selectivity, financial resources, or spending per student, graduation rate performance (described as the difference between actual and predicted graduation rates), and alumni giving rates, which the magazine describes as an indirect measure of satisfaction.
Harvard and Princeton were tied for the top spot in the best national university category. Carnegie Mellon ranked 21st overall in last year's rankings. Its business and engineering programs ranked 7th a year ago.
The university was also named one of 12 "Hot Schools" in Kaplan/Newsweek's "How to Get Into College" Guide. The Kaplan/Newsweek Hot Colleges List is based on admissions trends and interviews with teachers and students. Carnegie Mellon appears on the list as "Most Tech Savvy."