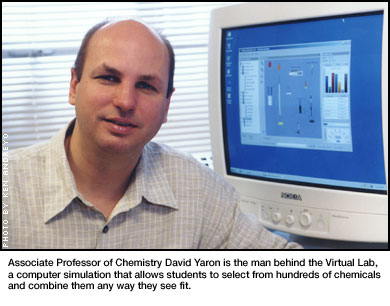 Virtual Chem Lab Honored as Exemplary Model for Education
Carnegie Mellon's Virtual Chemistry Laboratory, a computing environment in which students can mix chemicals for hours without wearing safety goggles, has received the 2003 Multimedia Educational Resource for Learning and Online Teaching (MERLOT) Classic and Editors' Choice Awards for Exemplary Online Learning Resources. The awards recognize the virtual lab as an exemplary model for all educational disciplines.
The Virtual Lab was developed under the leadership of David Yaron, associate professor of chemistry in the Mellon College of Science (MCS). Yaron and his group received the award in August at the MERLOT International Conference in Vancouver, British Columbia.
The Virtual Lab is a networked laboratory computer simulation in which students can select from hundreds of standard chemical reagents and combine them in any way they see fit. Instructors may use this environment in a variety of settings, including student homework, group projects, computer lab activities and pre- and post-lab exercises to support varied approaches to chemical education.
More than 7,000 students in lecture and laboratory courses have entered the Virtual Lab from Carnegie Mellon and at least four other universities (University of British Columbia, Florida Atlantic University, West Virginia University and Monterrey Tech in Mexico).
"The challenge is creating meaningful activities in which students use course concepts to solve problems that motivate their learning and understanding," Yaron said.
The laboratory is just one component of Yaron's educational software development effort, which focuses on designing activities that can be integrated flexibly into introductory courses nationwide. These simulation-based learning environments allow college and high school students to approach chemistry more like practicing scientists and see interesting real-world applications of key concepts. Colleges and universities throughout the U.S. are rapidly adopting the virtual lab.
"This award comes as no surprise to many at Carnegie Mellon who have long known that David is exceptional," said Richard McCullough, dean of MCS. "He is really revolutionizing the way we educate students."
Yaron is also developing CreateStudio, which allows educators with minimal programming expertise to assemble digital library resources such as text, images, movies, visualizations and simulations into interactive student exercises. This work, funded by the National Science Foundation's National SMET Digital Library (NSDL), includes "Mission to Mars," a joint project that pairs students from Carnegie Mellon and Monterrey Tech to test different fuels to launch a virtual rocket to Mars. In collaboration with Carnegie Mellon's School of Drama, the team has used CreateStudio to develop a murder-mystery exercise, "Mixed Reception," which combines an original script and scenes performed by Carnegie Mellon drama students with a problem to be solved using basic chemistry concepts. In this virtual exercise akin to a game of "Clue," students witness a murder, view the testimony of people at the scene and tour suspects' homes. Students then solve the crime — scientifically.
In 2002, Yaron received the Henry Dreyfus Teacher-Scholar Award from the Camille and Henry Dreyfus Foundation in recognition of his leadership in research, teaching and mentorship, particularly with undergraduates. In 2001, Chemical and Engineering News selected Yaron as one of the "New Voices in Chemistry."
Sponsors of the Virtual Lab include the National Science Foundation (Course, Curriculum and Laboratory Improvement and the NSDL), Howard Hughes Medical Institute, and Carnegie Mellon's Office of Technology for Education and Mellon College of Science.
Top
Lauren Ward