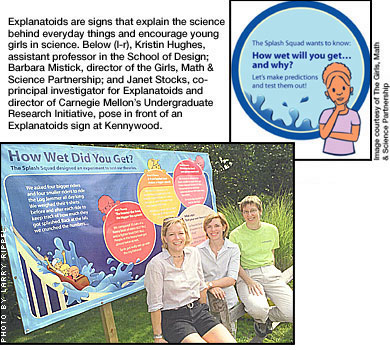 Design Students Encourage Girls in Math and Science
Recent visitors to PNC Park and Kennywood Park have been having a good time while also learning about science—thanks to the Explanatoids program.
A project of the Girls, Math & Science Partnership (GMSP) Explanatoids is developing a new context for community learning through signs and videos—created by students from Carnegie Mellon's School of Design—depicting cartoon characters that explain and simplify complex science and math problems. One such cartoon appears on the Jumbotron at PNC Park, explaining the physics behind a curveball. Another sign, located near a rollercoaster at Kennywood, explains how the ride relies on potential and kinetic energy—not a motor—to thrill riders. Campaigns are also under way at the Schenley Ice Rink and Anderson Playground.
Explanatoids is a collaboration between Carnegie Mellon, Family Communications Inc., and the University of Pittsburgh Learning Research and Development Center designed to illustrate the importance of science, math and technology to the Pittsburgh region while stressing the role girls play in the careers of the future. Although Explanatoids' primary focus is on middle school girls, the project is designed with gender sensitive elements to show that science is fun, relevant to almost everything and full of endless possibilities.
Barbara K. Mistick, director of the GMSP, believes this ongoing campaign will influence the community to encourage students, especially young women, to pursue careers in science and math. "Unfortunately, many girls begin to disassociate themselves from math and science as early as middle school," she said. "Explanatoids is beginning to change that belief and encourage more young people to take complex courses that will ultimately prepare them for their future."
Funded and inspired by the work of The Heinz Endowments and Alcoa Foundation, the GMSP is a unique collaboration of partners from private, public and educational sectors.
Top
Eric Sloss