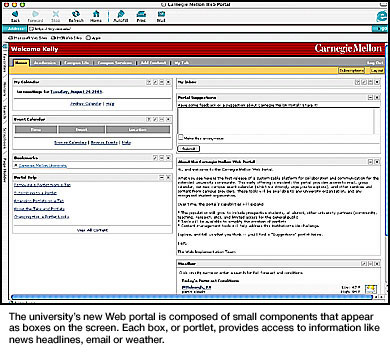 Web Portal a "Digital Dashboard" for Navigating the Internet
Imagine a Web site that gives you up-to-the-minute campus news, access to electronic bulletin boards, the Andrew calendar service, your personal calendar and email inbox at one URL. Now imagine that in the same place you could read headlines from the New York Times, check the local forecast and view the latest stock market numbers. Sound like a pipedream? It's not.
Computing Services' new Web portal offers all of those options and more. It's a customizable "digital dashboard" for navigating the Web that's now available to all students, faculty and staff at my.cmu.edu.
Users of public Web portals like MyYahoo, MyWay or Iwon will immediately feel comfortable when using the Carnegie Mellon Web Portal. Like these commercial services, the university's Web portal is composed of a collection of smaller components, called "portlets," that appear as boxes on the page. Each portlet provides access to a service such as news headlines, email and local weather.
While commercial portals normally provide only one customizable page, the Carnegie Mellon Web Portal provides a number of pages called "tabs" that can be tailored to a user's own interests. These tabs can be used to manage portlets as they relate to various aspects of the university experience, like Academics, Campus Life and Campus Services. In addition to news, weather, and other offerings available on public portals, the Carnegie Mellon Web Portal offers services specific to Carnegie Mellon users.
Access to Cyrus mail and Andrew Calendar accounts, as well as a new, customizable campus event calendar are located on the Home tab. A wide array of other services can be accessed through the Subscriptions button located on the upper-right-hand corner of the portal page.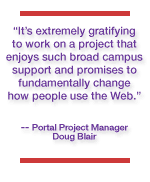 According to Vice Provost for Computing Services and Chief Information Officer Joel Smith, initial portlet offerings were kept modest, but will expand to include more services and users in time.
The Carnegie Mellon Web Portal is the result of more than two years of investigation, planning and implementation. Initial studies observed that the university's Web space was difficult to access and navigate, while those who provided content found it difficult to manage and coordinate. To address these findings, Provost Mark Kamlet and Vice President for University Advancement Robbee Baker Kosak formed the Web Task Force in the fall of 2001. This group further investigated issues related to marketing and communications, student life, business processes, academics and technology. Their primary recommendation was that Carnegie Mellon define, develop and deploy a Web portal.
Another group was formed to turn this strategic recommendation into a reality. Representatives were recruited from virtually every major academic and administrative group on campus to form the Web Implementation Team (WIT). Convened in the summer of 2002 and jointly led by Administrative Computing and Information Services (ACIS) and Computing Services, the roughly 50 members of the WIT collectively spent thousands of hours working both together and within their own organizations to define requirements for the portal.
Once requirements were defined, the WIT faced the task of reviewing nearly 120 commercial products to select the appropriate technology platform for the portal.
Through research, word-of-mouth referrals, conference calls and on-campus presentations, the WIT selected three products for more intensive evaluation. The three "finalists" were installed and configured at Carnegie Mellon and, after months of testing and evaluation, the WIT found Vignette's Application Portal product to be most suitable to the university's needs and environment. Last March, the recommendation was accepted and funding was provided to implement the Carnegie Mellon Web Portal.
With a target for launching the portal by fall 2003, the development team had only a few months for technical designs, acquisition and installation of software and development. This effort fell mainly to Computing Services.
"It was a long but fun summer for the development team," said Doug Blair, project manager for the portal. "Deploying the portal and integrating it with our existing systems was a complex task."
At the same time, people from other departments and groups have been working to develop the content to be presented in the portlets. Earlier in the summer Computing Services built the portlets that allow access to Cyrus email and the Andrew Calendar.
The event calendar portlet, which provides a place for departments and organizations to advertise public events, was designed and developed from scratch.
"We believe the event calendar has the potential to become a killer application if it is widely adopted," Smith said. The system allows event organizers to create their own calendars to which users can subscribe. Staff and faculty will likely want to subscribe to calendars like that of Human Resources, which includes schedules for Learning and Development seminars, as well as deadlines for important events like open enrollment. Any Carnegie Mellon department or organization recognized by student, faculty or staff government can request a calendar to advertise events.
While the Carnegie Mellon Web Portal offers a variety of useful tools today, it is a modest start. The WIT's vision for the portal is that it will become the university's central electronic tool for relationship building and management, creating and sustaining communities among prospective and current students, alumni, faculty, staff and external partners. The WIT and Computing Services continue to forge ahead with the development of the portal and are interested in users' ideas.
"We're anxious to hear what people think of the system," said Blair. "It's extremely gratifying to work on a project that enjoys such broad campus support and promises to fundamentally change how people use the Web."
To see first-hand what the portal holds, visit my.cmu.edu. After entering your User ID and password, you'll be directed to your own portal homepage.
Top
Susan Cribbs with Brian Bennett