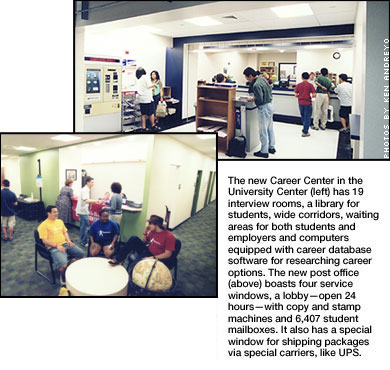 Career Center, Post Office Move to University Center
When the University Center (UC) was originally completed in 1996, the lower level was left mostly unfinished, housing only the textbook portion of the bookstore, the Art Store, WRCT and storage space. After seven years of debate about how the remaining areas could best be used, the university decided to convert the space on the east side of the UC into a new Career Center and centralized post office. The renovations were completed this summer and both organizations are up and running in their new locations.
Career Center Director Paul Fowler said their move was spurred mainly by the expansion of other departments in Warner Hall, where the center was previously located. "We're the beneficiaries of growth in other administrative areas in Warner Hall, and for that I'm very grateful," he said.
But the new expanded space for the Career Center is not without warrant. Nearly five years ago, the center began transforming its program from one that offered general programs for all students to a college-based model. This change involved adding additional counselors to work closely with students in the College of Fine Arts, the College of Humanities and Social Sciences and the College of Engineering. These new staff members joined counselors devoted to students in the Mellon College of Science and School of Computer Science.
To create offices for the new-hires as well as much-needed space for increased employer recruitment efforts, open areas, like the Career Center library, were slowly carved into new offices and interview rooms. The Career Center was bulging at its seams.
The new space in the UC allows the Career Center to be more of what Fowler's aspirations for it have always been-a professional development center that offers more deliberate programming and services directed toward individual students. The space includes 19 interview rooms, five more than were available in Warner Hall, and a library inside the front door that students will see from the hallway. The space also has wide corridors, a waiting area for students and two computers equipped with career database software that students can use to find jobs and research career options.
The benefits of moving to the UC go beyond the physical space it offers. The move takes the Career Center out of what was mainly an administrative building and puts it in the hub of student life on campus.
"Being in the UC every day will give my whole staff a fresh perspective about what's happening on campus," Fowler said.
Fowler also noted that just being in a new environment will allow the Career Center to enhance its programs. "Any time you have a new space it makes everything new," Fowler said. "It will probably force us to change the way we do some things, and it will give us a chance to examine how and why we do things the way we do—and probably give us the chance to do them better."
Perhaps the biggest benefit to moving to the UC is its proximity to the new post office and central student mailroom—home to 6,407 student mailboxes. "To move to the UC is nice," Fowler said, "but putting 6,000 students at my front door every day is a dream come true."
Having those students at her front door is also a dream come true for post office Manager Theresa Mele.
For years, postal operations at the university have been spread out across campus and throughout the city of Pittsburgh, causing university postal employees to retrieve nearly 48,000 pieces of mail each day at three different locations—East Liberty, the North Side and Oakland. That mail was then returned to Carnegie Mellon's postal facility on Penn Avenue, where it was sorted and sent out for distribution. Student mail was delivered to mailboxes in four locations—Donner Hall, Morewood Gardens, Mudge House and West Wing. Often it wasn't possible to pick up the mail, sort it and distribute it all in one day.
The new UC post office unites all postal operations into one large, central facility. "The U.S. Postal Service (USPS) will bring mail to us now," Mele said. "This way, the mail will come to us and we can sort it and get it delivered—in most cases in the same day." The student mailboxes are also just an arm's-reach from the sorting area, making for quick delivery.
Consolidating all postal operations into one area also makes automated sorting a possibility for the future. "Since we're sorting 14 million pieces of mail a year, eventually we could look into automated sorting equipment for our incoming mail," Mele said. "There are a lot of exciting things that we can do."
One exciting thing that the new space has allowed is the expansion of services the post office can offer. While the Carnegie Mellon post office will continue to offer all of the mailing options offered by the USPS, it has added a lobby—open 24 hours a day—that houses a stamp machine, copy machine and mailing supply area. The new post office also has four service windows and a separate window for shipping packages via special carriers, such as UPS or Federal Express. The facility has a designated area for processing international mail, a large area for sorting packages and a window for package pick-up. According to Mele, the biggest development resulting from the move is the creation of a new, unique zip code for Carnegie Mellon student mail—15289.
"When mail is sorted through the automatic equipment at the USPS, all of 15289 will be separated into one sortation. The rest of our addresses will be sent to the Oakland zip code. The 15289 mail will come to us in a separate container so that we will know that all of that mail is student mail," Mele said.
Mele said that the move gives the campus postal service the ability to provide "better service, more products and extended hours of operation," along with helping their processes operate more quickly and efficiently.
When it was originally designed, the goal of the UC was to bring people together. Now, with student mailboxes in the lower level beside the Career Center, Bookstore and Art Store, it's truly become a hub for the campus. It's now a place where you can find a job opening, photocopy your resume and mail it to an employer without even walking up the stairs.
Eatery, Game Room Among UC Additions
A new game room called Scotland Yard and an eatery named Andy's have joined the post office and Career Center in the lower level of the University Center.
Addressing students' needs for healthy dining options on campus, Andy's offers wraps, fresh fruit smoothies, coffee drinks and various grab-and-go items. The dining area also features a flat screen television. Scotland Yard offers recreational facilities for the campus community including ping-pong, foosball, pool and a variety of video games. The area also hosts a
state-of-the-art jukebox.
Both facilities are open from 8 a.m. to 2 a.m. daily.
— Bethany Elder
Top
Susan Cribbs