University News Briefs
Off to the Races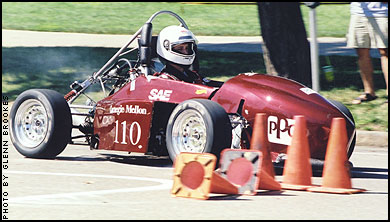 Carnegie Mellon was one of three universities to field a racecar in the Pittsburgh Vintage Grand Prix Caliguiri Collegiate Cup Race this past July. Engineering students from Carnegie Mellon, the University of Pittsburgh and Penn State completed a series of motorcross challenges, like racing the clock while navigating a specially designed course, to test driver skills at high speeds.


Recycling Effort Yields 56 Tons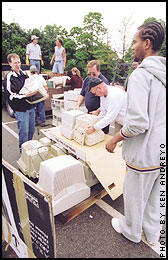 A dedicated corps of volunteers collected more than 56 tons of computers and computer equipment at the computer-recycling event held on campus in June. Old equipment was collected from more than 300 individuals, cars and several school districts and businesses. Barbara Kviz, environmental coordinator for Environmental Health and Safety, said that the event "could not have been pulled off without the dedicated volunteers that worked tirelessly throughout the day." The event was the third largest that Dell Computers, the sponsor, has held nationwide.

President Approves Faculty Title Changes

Based on a recommendation of the Faculty Senate, President Jared L. Cohon has changed the titles for some of the ranks of lecture-track and research-track faculty. Effective this semester, the titles of Senior Lecturer and Principal Lecturer have been changed to Associate Teaching Professor and Teaching Professor, respectively. The title Senior Research Scientist (Engineer) has been changed to Associate Research Professor, and the title Principal Research Scientist (Engineer) has been changed to Research Professor. These are changes in title only. Appointment, review and promotion procedures have not been changed.
Annual Andy Awards Scheduled for Sept. 29

The annual Andy Awards ceremony will be held at noon on Monday, Sept. 29 in McConomy Auditorium, University Center (UC). A reception will follow in Rangos Hall, UC. The Andy Awards reward individual staff members and teams whose outstanding dedication and performance have had a significant impact on the university. Awards are given in five categories: Dedication, Innovation, Enthusiasm, Citizenship and Culture. For more information about the awards, including a list of nominees, visit www.cmu.edu/andyawards/

Professors Awarded NIH Grant for Cryopreservation
Mechanical Engineering professors Yoed Rabin and Paul Steif have received a grant from the National Institutes of Health (NIH) to investigate and reduce the mechanical stresses that occur during cryopreservation, the freezing and storing of tissues and cells at super-cold temperatures during modern medical procedures. The purpose of the research is to characterize the levels of thermo-mechanical stresses in cryopreserved tissues and ultimately improve methods for the long-term storage of both natural and engineered vascular grafts. While their research focuses on the cryopreservation of blood vessels, the results of the four-year study could be expanded to benefit a wide variety of cryopreserved tissues.
Supreme Court Rules on Affirmative Action
The Supreme Court's split-decision this past summer in two cases filed against the University of Michigan supports the use of affirmative action in university and college admissions. The Supreme Court ruled that race could be used as one factor among many in admissions in an effort to increase diversity. The court also ruled that "points" should not be awarded to prospective students based on race alone. University officials said the ruling "profoundly confirms" Carnegie Mellon's belief that diversity benefits education.
"Carnegie Mellon and colleges and universities everywhere will be enriched by this affirmation of the principle that diversity is a compelling state interest which justifies the use of race as one factor in determining admissions," said President Jared L. Cohon. President Cohon said affirmative action principles has been essential to making Carnegie Mellon a diverse university.
Carnegie Mellon was the leader of an amicus curiae, or friend of the court brief, signed by 38 colleges and universities across the country earlier this year in support of the University of Michigan.
Researchers Win Grant for Growing New Bone
Carnegie Mellon's Jeffrey Hollinger and his research team will receive $1.12 million over the next four years from the National Institutes of Health (NIH) to develop a new therapy for regenerating bone.
Hollinger's research team at Carnegie Mellon's Bone Tissue Engineering Center has developed an innovative therapy for growing bone by inserting a non-viral gene into the body to induce cells to grow bone. They plan to use the new bone regeneration process to treat injuries in the jaw, as well as osteoporotic fractures and other parts of the body like the spine, pelvis and thigh bone.
"After blood, bone is the most frequently transplanted tissue. Current therapies for bone grafting fall short of the mark. The Bone Tissue Engineering Center is developing exciting new bone therapeutics that will offer surgeons and their patients much better options," Hollinger said.
Jill Watson Festival Set for September 17 - 18
The annual Jill Watson Festival Across the Arts will be held Wednesday, Sept. 17 and Thursday, Sept. 18. The festival honors the late Jill Watson's commitment to an interdisciplinary approach to art and extends this philosophy to students and faculty within the College of Fine Arts, as well as to the greater Pittsburgh community. The festival features a diverse offering of lectures, performances, master classes and exhibitions with interdisciplinary arts innovators. For the Watson schedule visit the Web site at www.cmu.edu/cfa/watson
Poets Open Adamson Visiting Writer Series
Poets Lisa Fishman and Richard Meier will kick off the 2003-04 Adamson Visiting Writer Series at 8 p.m., Sept. 16 in the Adamson Wing of Baker Hall. Fishman, an assistant professor of English at Beloit College in Wisconsin, is the author of "The Deep Heart's Core is a Suitcase" and "Dear, Read." Meier's first book of poetry, "Terrain Vague," was the winner of the 2000 Verse Prize. He has worked as a poet-in-the-schools in New York City and Pittsburgh and is currently a visiting assistant professor of English at Beloit College.
Other writers scheduled to speak this year are: Oct. 1: Robert Stewart, poet and essayist; Oct. 20: Dan Chaon, short story author; Nov. 12: Virgil Suarez, poet; Jan. 29: Linda Gregerson, poet; Feb. 16: Anthony Butts, poet and assistant professor of creative writing at Carnegie Mellon; March 2: James Hall, poet and author; and March 19: Crystal Williams, poet.
All events in the Adamson Visiting Writer Series are free and open to the public. The series is sponsored by the Creative Writing program in the Department of English and is supported by the Pauline B. Adamson Fund.
New Season for Regina Gouger Miller Gallery
The Regina Gouger Miller Gallery opened its 2003-2004 season last week with an exciting line-up of three exhibitions. Memorial Project Vietnam, by Jun Nguyen-Hatsushiba features two recent films by the artist. Affirmative Actions, by Rudy Shepherd highlights a collection of works culled from the artist's experience of the last three years. The final show, The Paper Sculpture Show, is a fully interactive exhibition in which audiences and artists explore the realm between two- and three-dimensional art in a new and inventive way. Visitors actually construct the paper sculptures from sheets printed with the artists' instructions and designs. The openings are free and open to the public and run through Oct. 12.
Robot Soccer Teams Take Fourth In Italy
Carnegie Mellon's robot soccer teams placed fourth in the small-size league and the Sony legged league competitions at this summer's RoboCup 2003 in Padua, Italy.
Cornell took the title in the small-size league, with the University of New South Wales (Australia) finishing first in the four-legged league. Carnegie Mellon has been involved with the International RoboCup competition since its inception in 1997, winning several world championships along the way. Team members for the university included program leaders Computer Science Professor Manuela Veloso and Robotics Institute Systems Scientist Brett Browning; graduate students Douglas Vail, Sonia Chernova, Scott Lenser, James Bruce and Michael Bowling; and undergraduates Juan Fasola, Jennifer Lin and Michael Sokolsky.
Reaching Out to Young Students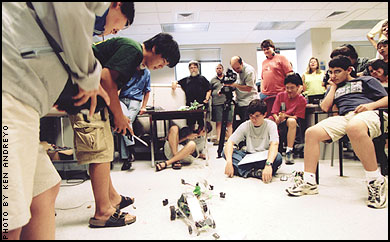 The university was hopping this summer with programs geared toward younger students. RoboCamp, C-MITES, Pre-College, the Pennsylvania Governor's School for the Sciences and the National Urban League Incentives To Excel and Succeed (NULITES) Youth Leadership Summit were just some of the exciting programs on campus. Also among the programs was Andrew's Leap, a six-week program for students ages 12-17 who are mathematically gifted. The students (above) completed advanced work in robotics, computer programming and mathematics and demonstrated their projects at the program's grand finale.
Skinner Edits Book of Reagan's Letters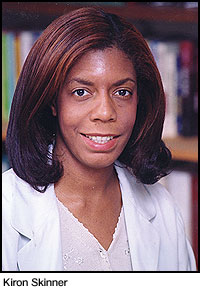 Kiron K. Skinner, assistant professor of history and political science, has co-edited a new book revealing former President Ronald Reagan was a more complex man than many people realized. "Reagan: A Life In Letters," is a collection of letters Reagan wrote over 70 years, as a young boy, a movie star, governor of California, president and elder statesmen. The book was edited by Skinner and Annelise and Martin Anderson, who are fellows at the Hoover Institute at Stanford University. The book is being published this month by Free Press.
The book is a follow-up to the 2001 international bestseller "Reagan, In His Own Hand: The Writings of Ronald Reagan That Reveal His Revolutionary Vision for America," which also was co-edited by Skinner and the Andersons.
Skinner, the director of the university's International Relations program, has been a member of the U.S. Defense Policy Board since 2001.
Faculty Feats
* John R. Anderson, the Richard King Mellon Professor of Psychology and Computer Science, has been named the fourth recipient of the David E. Rumelhart Prize for contributions to the formal analysis of human cognition. The $100,000 prize is given annually to an individual who has contributed to the scientific understanding of the human mind through research using computational or mathematical methods. It honors the outstanding research of David E. Rumelhart, a pioneer in the use of formal methods in cognitive science.
Anderson was selected to receive the prize for research that has given rise to an integrative theory of the computational operations underlying human mental processes. This work has led to the development of computer-based tutoring systems, known as Cognitive Tutors, that are effective in helping students learn mathematics and computer programming. His research is also being used to develop online college-level courses at Carnegie Mellon and other institutions.
* Professor Michael F. Scheier, an expert in health psychology, has been named the new head of the university's nationally ranked Department of Psychology. Among Scheier's ongoing research projects is a study of the impact of psychosocial interventions—such as discussion and education groups—on breast cancer patients. Scheier is co-director of the Pittsburgh Mind-Body Center, a research center operated by Carnegie Mellon and the University of Pittsburgh.
Scheier replaces Psychology Professor Roberta Klatzky as head of the department. Klatzky has led the department for 10 years, raising its stature as a leading center of research and education in fields such as cognitive psychology, health psychology and cognitive neuroscience.
* Irene Fonseca, director of the Center for Nonlinear Analysis (CNA), has been named the first Mellon College of Science (MCS) Professor of Mathematics. Her research is centered on the calculus of variations, geometric measure theory and partial differential equations, and is motivated, in part, by the study of properties of man-made materials and issues in imaging.
* Four members of the Department of Psychology are among the world's most highly cited researchers, according to Thomson ISI, an international scientific information corporation that scours the world's scholarly literature to identify the researchers whose work is referenced most often in scientific articles. The faculty members are John Anderson, the R.K. Mellon University Professor of Psychology and Computer Science; Sheldon Cohen, the Robert E. Doherty Professor of Psychology; James McClelland, the Walter Van Dyke Bingham University Professor of Psychology and Computer Science; and Michael F. Scheier, head of the Psychology Department.
They join nine other Carnegie Mellon professors who have already been named to the list of most highly cited researchers in their fields: Statistics professors Joseph Kadane and Rob Kass, Mathematical Sciences Professor Morton Gurtin, Materials Science and Engineering Professor Emeritus Hubert Aaronson, Computer Science professors Daniel D. Sleator, Randal Bryant and Edmund Clarke, Economics Professor Finn Kydland and Computer Science Professor Takeo Kanade.
* FreeMarkets, Inc., the leading provider of global supply management software, services and information, has elected President Jared L. Cohon to its board of directors. Cohon has more than 25 years of technology, research, policy and management experience. FreeMarkets Founder and Chairman of the Board Glen Meakem is a member of Carnegie Mellon's Board of Trustees.
* Psychology Professor Sheldon Cohen, a trailblazer in health psychology research, has been named the first Robert E. Doherty Professor of Psychology. Cohen is one of the architects of Carnegie Mellon's highly respected health psychology program and has helped turn Pittsburgh into the world's leading center of health psychology research. He is internationally recognized for his groundbreaking scientific contributions toward understanding the effects of social and environmental stress on human behavior and health.
* Astrophysicist Professor Bob Nichol appeared on the Late Show with David Letterman this past July to discuss his discovery of independent physical evidence for the existence of dark energy.
Nichol and collaborators from the University of Pittsburgh found an imprint, or "shadow" of dark energy on the ancient cosmic radiation, a relic of cooled radiation from the Big Bang.
Dark energy, a major component of the universe and one of the greatest conundrums in science, is repulsive rather than attractive like gravity. This causes the universe's expansion to accelerate in contrast to the attraction of ordinary (and dark) matter, which would make the universe decelerate.
"This work provides a new way of looking at the universe and might help us determine the nature of the dark energy," Nichol said.