Can Hydrogen-Fueled Cars Really Save the Environment?
Hydrogen-powered cars became the nation's hot wheels during the State of the Union speech last January, when the Bush administration proposed more research and predicted that the cars could be commercially practical by 2020.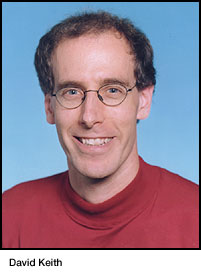 But Carnegie Mellon's David Keith, associate professor of engineering and public policy, has reservations about the impact that hydrogen-fueled automobiles will have on the environment. In an article that appeared in the July 18 issue of Science magazine, Keith and Alexander Farrell, an assistant professor in the Energy and Resources Group at the University of California, argued that hydrogen-fueled automobiles won't offer a cost-effective way to reduce automotive air pollution or reduce emissions of climate-changing carbon dioxide gas for at least several decades.
"Strong air pollutant rules and inspections, for example, could reduce air pollution at a cost roughly 100 times less than the costs associated with using hydrogen cars," Keith said. Similarly, it is much cheaper to reduce carbon dioxide emissions from large stationary sources, such as power plants that burn coal, than it is to reduce such emissions from cars, Keith says.
Keith and Farrell are not opposed to the use of hydrogen. But, they argue, it makes far more sense to first use this fuel in ships, trains and large trucks rather than cars. Such uses could achieve large reductions in air pollution without the need for the extensive hydrogen distribution infrastructure which would be required for refueling automobiles. Such an infrastructure could easily cost as much as $5,000 per vehicle or more, according to the researchers' work.
The Bush administration has announced plans to spend $1.7 billion over five years for two hydrogen car projects: the FreedomCar, which explores making technology work in hydrogen cars, and FreedomFuel, which will study how to store, produce and deliver hydrogen.
"The FreedomCar Initiative is attractive because it's seemingly a magical high-tech solution," Keith said. "But solutions should be problem-driven, and there are more cost-effective solutions for many of these serious environmental and energy security problems we face."
Keith noted that if the administration really wanted to, existing technology could be used to make large improvements in fuel economy and emissions today. While hydrogen may have a place as a transportation fuel many years from now, Keith believes there are other options, and argues that the government would be foolish to pick a winner prematurely.
Keith and Farrell first began working on hydrogen when Farrell was a faculty member in Carnegie Mellon's Department of Engineering and Public Policy.
Top
Chriss Swaney