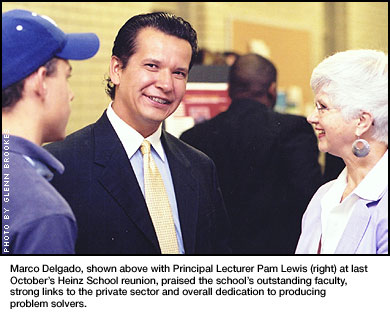 Gift Boosts Hispanic Recruitment at Heinz School
International trade attorney Marco Delgado, a 1990 graduate of the H. John Heinz III School of Public Policy and Management, has given the school $250,000 to establish the Marco Delgado Fellowship for the Advancement of Hispanics in Public Policy and Management. The fellowship will be used to strengthen recruitment efforts and provide scholarship funds to talented Hispanic graduate students in public policy and management. It is the largest gift by an alumnus in the history of the Heinz School, which will match the funds 100 percent.
A senior shareholder and member of the International Practice Group at the law firm of Delgado, Acosta, Braden & Jones, P.C., which has offices in El Paso, Dallas and Austin, Texas, and Mexico City, Delgado is an expert in U.S.-Mexico cross-border trade, investment and international energy law.
"Marco Delgado's generous gift is very exciting and extremely important to the Heinz School, which has had a deep commitment to diversity since its founding in 1968," said Mark Wessel, acting dean of the Heinz School.
"Given the growth of the Hispanic population in the United States and the importance of that constituency, we are seeking ways to reach out and make Pittsburgh and Carnegie Mellon a more accessible place for Hispanic students," Wessel said. "This fellowship will greatly strengthen our ability to do that."
"We're living in an era in which affirmative action and other diversity initiatives are being severely questioned," says Delgado, who is Mexican-American. "I was impressed that the Heinz School was willing to go beyond mere rhetoric to provide matching fund support."
Delgado praised the Heinz School's "outstanding faculty, strong links to the private sector and overall dedication to producing problem-solvers."
Wessel said that building diversity of talents and perspectives is essential to intellectual vitality and strength, and it is a strategic priority for the Heinz School and entire university. The Delgado Fellowship leads intensified fundraising efforts to support the school's minority students and overall diversity.
"The Heinz School has historically been committed to the advancement of people from all segments of our society, and we can do more," said Wessel. "Marco Delgado is helping us to lead this charge."
Top
Cheryl Valyo