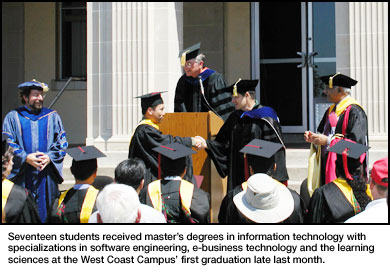 West Coast Campus Celebrates First Graduating Class
Carnegie Mellon's West Coast Campus in Silicon Valley held its first graduation ceremony on Friday, Aug. 29 on the grounds of Building 17 at the NASA Ames Research Park at Moffett Field, Calif. Seventeen students received master's degrees in information technology with specializations in software engineering, e-business technology and the learning sciences.
Established in September 2001, the West Coast Campus is the university's first branch. Its programs stress the importance of learning by doing and are designed to provide an educational experience that closely simulates the real-world work environment for which students are preparing.
All of the programs involve extensive, in-depth projects that students complete as teams. This collaborative approach is one of the defining characteristics of Carnegie Mellon's West Coast Campus and has been touted by students as one of the program's most beneficial aspects.
"What I enjoyed most about my experience at the West Coast Campus were the opportunities to learn with and from my fellow students," said software engineering student Townsend Duong. "I found that being part of a close-working team of intelligent individuals who can take the initiative on accomplishing objectives and work out sound solutions is far more valuable than having industry experience or certification of any kind."
During this past semester, students completed real-world projects in several areas.
One group of software engineering students worked with the SAP Corporate Research Center in Palo Alto to complete two projects—one involving two students who worked collaboratively on a project using animated interface agents for e-commerce applications, the second involving three students who worked as a team to build a next-generation multimodal future store framework and integrated it with SAP's Retail Store backend systems.
"Our project with SAP has been one of the most positive aspects of the program in that it's provided exposure and given us the opportunity to apply what we learned at an established company," said software engineering student Ju-kay Kwek. "It's an example of Carnegie Mellon making the most of its name and industry contacts to provide access and value to its students."
Other software engineering students worked on Carnegie Mellon's NASA-sponsored High-Dependability Computing Project, a $23.3 million program created to address the agency's ability to design and build highly dependable mission-critical computing systems. Here, students focused on testbeds, or collaborative environments that bring researchers together to conduct experiments related to dependability. They worked to develop a technology that will facilitate construction, deployment and use of further testbeds.
In a project with Patroline Air Service, e-business technology students built a prototype of an automated incident reporting system. Consisting of an in-cockpit tablet PC, the system uses digital imaging, real-time GPS/GIS mapping and workflow automation technologies to improve the effectiveness with which pilots report any observed adverse pipeline conditions to Patroline's customers. Students pilot-tested the prototype and presented an implementation plan to Patroline's management.
"The projects I completed in Carnegie Mellon's e-business program have had a direct effect on what I've been doing for Patroline," said e-business technology student Erick Tai. "This is what's so different about Carnegie Mellon's West Coast Campus, and this is what makes this project-based learning so much more fulfilling than the traditional classes that we are used to."
A learning sciences student working with RoboCamp-West, a college-credit course aimed at high school juniors and seniors, observed the activities of the seven-week program and used what she observed to make recommendations on how to translate the curriculum into an online format. A second learning sciences student developed online performance support materials and course content to help master's level students working at a distance.
After graduation from the West Coast Campus program, some students will continue their education in doctoral programs while others plan on entering the workforce.
"I have high hopes for the future, and I think that this program has offered so many options to me," said Tai. "Whereas previously I was just an electrical/computer engineer, I now feel like I can handle just about anything. Carnegie Mellon's West Coast Campus has been quite amazing for me. It's been a great program, and I don't think I'd trade it for any other."
Top
Bethany Elder