Water Management
To provide farmers with sufficient water, the Bajaj Foundation restores rivers, builds checkdams, digs farm ponds and wells, and provides drip irrigation systems. Their integrated approach to water management empowers farmers to conserve and efficiently use our most vital natural resource.
The Problem

The farmers of Wardha need water. Nearly 85 percent of rainfall occurs during the monsoon season. From June to September, torrential rains pound the fields, often causing soil erosion and water-logging. The remaining nine months of the year offer only limited and erratic rainfall. While Wardha District has two perennial rivers, the Bor and the Wardha, a lack of irrigation facilities forces most farmers to rely on rainfall. Water scarcity severely limits agricultural yields throughout Wardha District.
Solutions

The Bajaj Foundation begins by using participatory methods to discover the needs within the community and to identify which solution or solutions will best meet those needs. Bajaj staff then work with the beneficiary group to determine a suitable financial plan. The costs of potential interventions and the resources of the community are both considered in deciding which solution to implement and what proportion of the costs will be paid by the Bajaj Foundation. The community is a vital partner throughout the planning, construction and maintenance of all water-related projects: revived rivers, check dams, farm ponds, wells, and drip irrigation systems.
Revived Rivers
Many rivers and streams become silted by the runoff caused by heavy monsoon rains. As rivers fill with soil, their capacity decreases, causing water to flood nearby fields. Flooding further erodes the fertile top soil needed for cultivation.
The Bajaj Foundation desilts river beds and reconstructs river banks to stop erosion and water-logging. As a result, farms gain productivity and avoid crop loss due to flooding.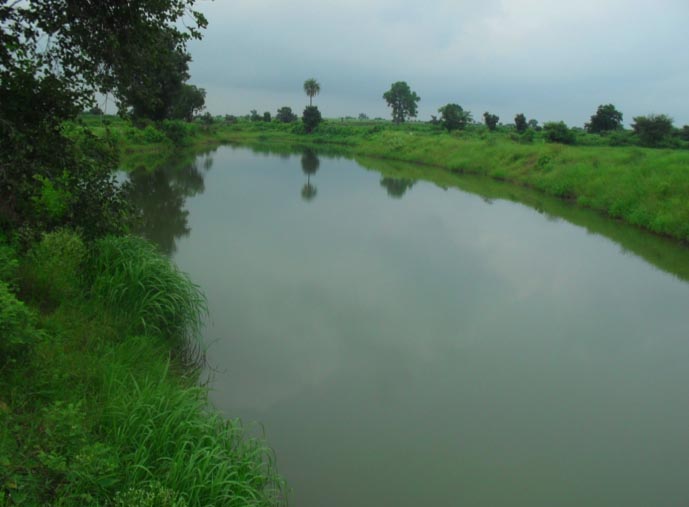 Many farmers can benefit from a single river restoration project. The community-wide impact increases the cost-effectiveness of river restoration.
River restoration can also help replenish the local water table and recharge wells, especially when combined with a small check dam.
Check Dams
Large hydropower dams have earned considerable criticism for displacing communities and damaging ecosystems. While the debate concerning large dams continues, the Bajaj Foundation has demonstrated the potential of check dams, small concrete structures that do not produce power, but rather slow the flow of a small stream or river in order to help restore the ground water.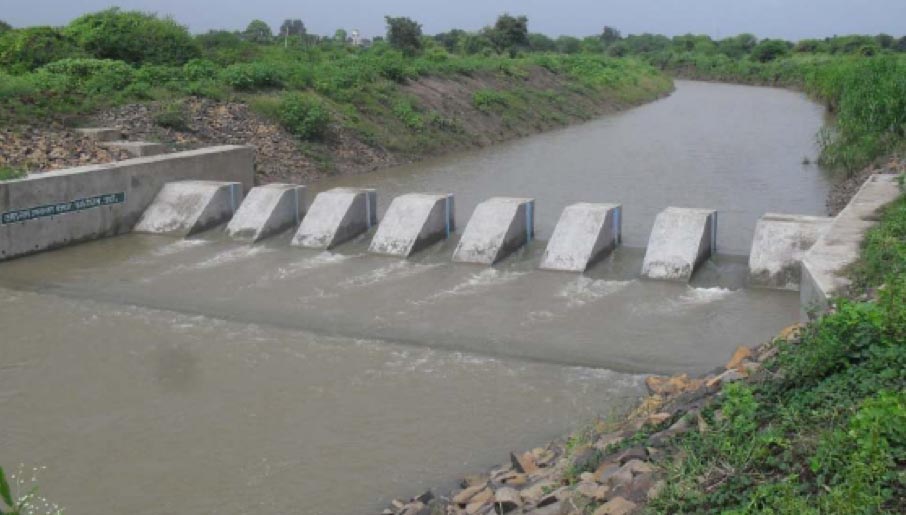 The Bajaj Foundation has constructed over 40 checkdams. These dams have directly benefited over 1500 farmers. In conjunction with river restoration, check dams can replenish the water table and recharge wells.
Farm Ponds

Rivers will need to be continually revived so long as heavy rainfall is allowed to run across fields, eroding valuable soil and clogging nearby streams. Farm ponds prevent soil erosion and enhance the recharge of ground water.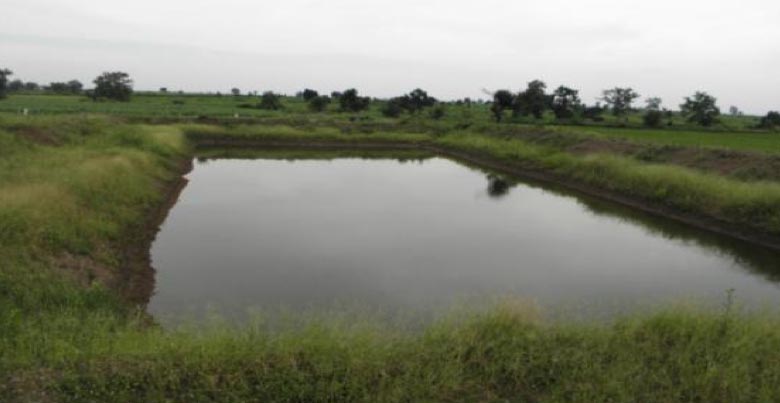 Small ponds some 15 meters wide, 15 meters long, and 3 meters deep, farm ponds are an inexpensive way to contribute to water conservation. The Bajaj Foundation has helped farmers dig over 600 farm ponds.
Wells
Revived rivers, check dams, and farm ponds all help recharge the water table. Without the funds to dig a well, however, farmers would not be able to benefit from such initiatives. The Bajaj Foundation has helped dig over 120 wells, providing crucial access to water for farmers throughout Wardha.
Drip Irrigation
The Bajaj Foundation also helps farmers use their water efficiently. Drip irrigation systems use plastic hoses to bring water directly to the roots of plants. Compared to traditional sprinkler systems, drip irrigation uses water more efficiently and effectively.
How You Can Help

The Bajaj Foundation is working to document and evaluate their water management interventions. Their goal is to improve their programs and to identify best-practices that can be replicated throughout India and in other rural communities worldwide.
If you have an interest in water management or just want to learn more, there are many ways you can get involved. CMU teams have visited revived rivers, check dams, farmponds, wells, and irrigation systems. Whether you are a student or a member of the faculty or staff, the Bajaj Lab can assist you in contributing to the water initiatives of the people of Wardha.