Village Industries
Mahatma Gandhi dreamed of sustainable village industries that would supply employment and purpose to rural people. In today's hyper-urbanized world, when cities are swelling with discontented former farmers, the Bajaj Foundation is working to realize Gandhi's dream.
In hundreds of villages, the Bajaj Foundation is supporting local people to develop alternative sources of income. In combination with sustainable farming, these income-generating projects can provide sufficient profit for rural families to thrive without leaving home.
The Problem
Many villagers struggle to find a consistent source of income. For landless laborers, in particular, finding a consistent source of income is a tremendous challenge. Many are forced to work as day laborers, earning only a meager and volatile income. Landless day laborers typically only find work for ten to fifteen days per month earning approximately 150 rupees per day.
Even those who have land often face long periods of time without significant income from farming. Due to a lack of water and over-reliance on cash crops like cotton, many small farmers find themselves in mounting debt. In the last decade, hundreds have taken their lives in despair.
The Bajaj Foundation takes a holistic approach to providing sustainable economic growth and improved living conditions for rural people. The Bajaj Foundation supports three main types of microenterprise: businesses run by women's self-help groups, village grocery shops, and indigenous cow promotion.
Women's Collaboratives
The Bajaj Foundation has helped establish over 600 women's self-help groups. Many of these collaboratives pool their resources and invest in a collective business. A lentil and spice grinding machine, for example, offers a useful service for local farmers and provides income to the self-help group that operates the machine collaboratively. Business initiatives are a crucial pillar of the Bajaj Foundation's focus on women's empowerment.
Village Grocery Shops
The Bajaj Foundation has helped sixty families begin small village grocery stores. These shops provide income to poor families and offer needed goods to remote communities.
The grocery store program focuses on communities of indigenous people known in India as "tribals." The Bajaj Foundation seeks to identify landless tribal people who lack material resources but have the determination to run a small store.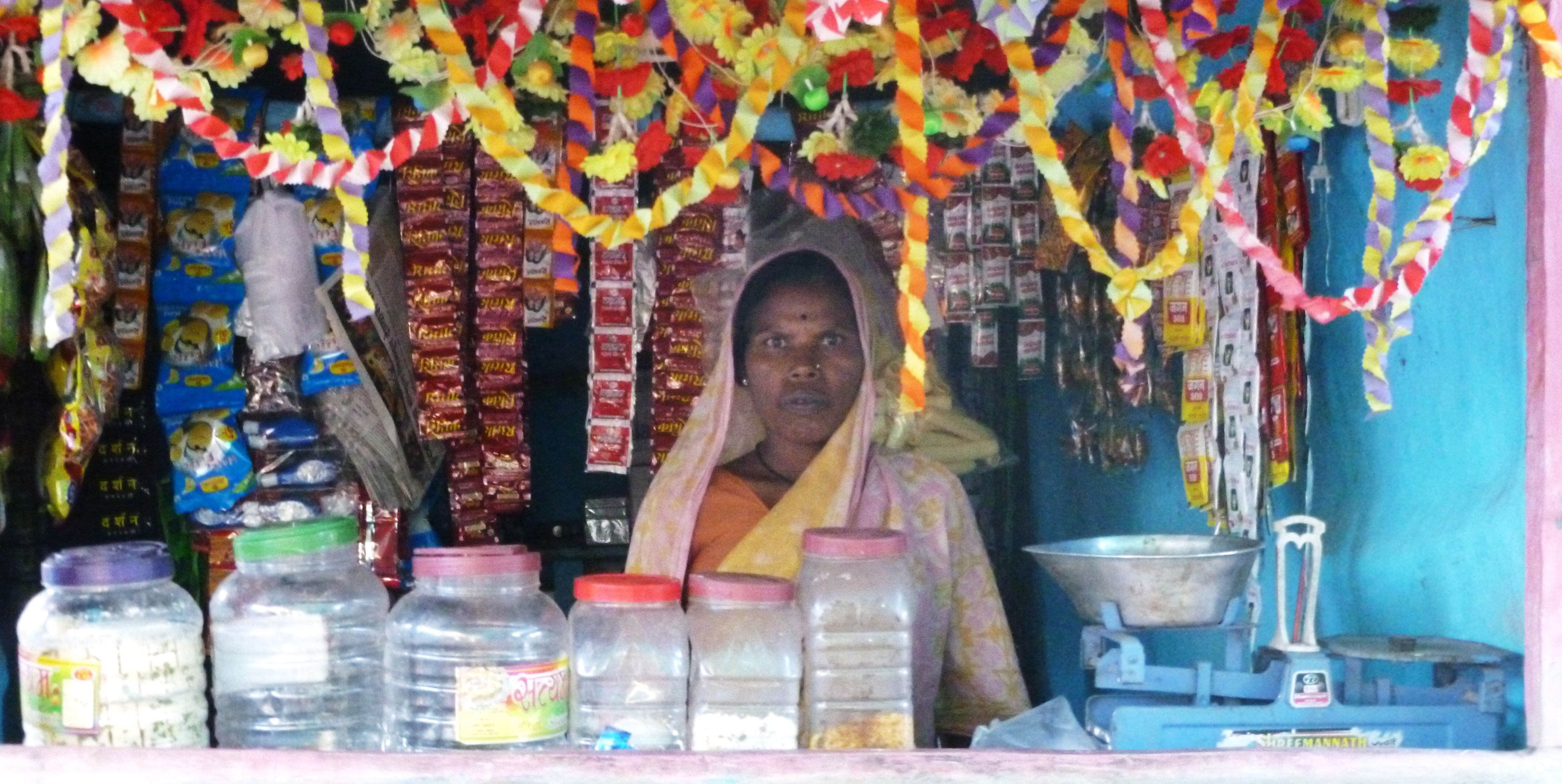 After identifying villagers who are tribal and landless and whose communities are in need of a grocery shop, the Bajaj Foundation selects beneficiaries for a 10,000 rupee ($200) grant to launch a shop.
Most shops earn an average monthly income of 6,000 rupees. In addition to reinvesting income back into the shop, many use their income for daily needs, education, healthcare, life insurance and savings for the future.
Beneficiaries receive skills training in a number of business-related topics such as accounting, marketing, and communications. They also learn how to maintain the shop, purchase materials and meet the demand of their community.
The Bajaj Foundation requires beneficiaries to charge fair prices and asks that the stores do not sell alcohol or cigarettes. Not only do beneficiaries profit from an increase in income, they often achieve a higher social status within the community and are able to pursue bigger dreams for the future.
Indigenous Cows
As an additional source of income, the Bajaj Foundation has helped hundreds of families purchase indigenous cows. These cows often provide families with enough milk to meet their own needs and still have surplus milk that can be sold. On average, each beneficiary earns an average of 100 rupees per day from selling surplus milk.
In addition to surplus milk, cow dung can be sold to villagers who can use it for biogas plants or as organic fertilizer for sustainable farming. Cows also produce offspring that provide further value to the family.
How You Can Help
The Bajaj Foundation plans to scale-up their village industries program to provide extra income for thousands of families. Bajaj staff are also exploring alternative sources of additional income.
If you have ideas or want to know more, there are many ways you can get involved. The Bajaj Foundation is working to improve their programs and to identify best-practices that can be replicated throughout India and in other rural communities worldwide.
CMU teams have visited several village grocery stores and have talked with the families who run them. Whether you are a student or a member of the faculty or staff, the Bajaj Lab can assist you in helping bring new sources of income to families throughout Wardha.