Friday, August 14, 2015
*Olympus PROBE SimSim explores large-scale production at the Electronic Equipment Industry Expo in China
To all the key holders who have ever locked themselves out of a building,
SimSim
has the solution for you. The Project Olympus PROBE has designed an easily installable tool that unlocks doors remotely. The startup aims to implement this technology in the $10 billion AirBnB market.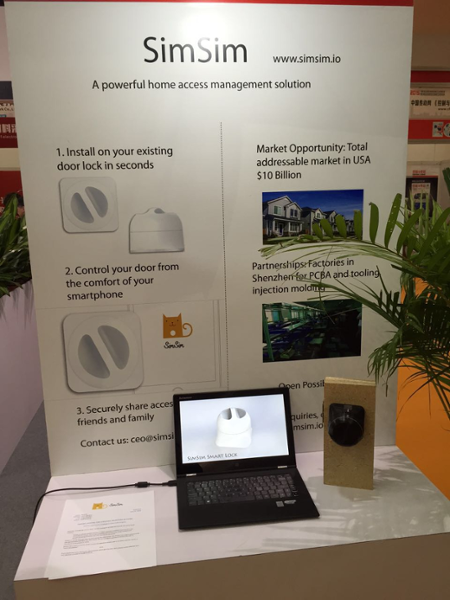 SimSim recently traveled to the Electronic Equipment Industry Expo in Shenzhen, China. Founder Raghav Kandubai, Tepper MBA '15, explains the objective of the trip:

"The expo is hosted by the Shenzhen Electronic Equipment Industry. There are eight representatives in the North American Intelligent Equipment Delegation including SimSim. Teams from other countries like Russia, Europe and Africa are also invited to attend the Expo. The agenda for SimSim's engineer [was] to explore the manufacturing ecosystem in Shenzhen."

Over the course of the Expo, SimSim presented its technology to the many attendants in hopes that the company would find a manufacturer to form a partnership. The event gave SimSim the opportunity to experience the fast-paced manufacturing and technology industry. 

"Everyone seems busy [in Shenzhen]," says Kandubai. "One thing people believe here is whatever you do, do it fast otherwise someone else will beat you to it."

During the expo, SimSim met with manufacturers and toured several factories in Shenzhen, one of China's Special Economic Zones where technology production is thriving. There are many opportunities for partnerships, but as Kandubai explains, it all depending on a good fit.

"Several manufacturers are interested in SimSim. But it finally comes down to whether the manufacturing partner is in alignment with SimSim's long-term strategy. Hopefully, we can find a capable and trustworthy partner that is both interested in investing in us and in taking the responsibility to build an amazing product.

The SimSim team includes Carnegie Mellon University Students from across campus including Andrew Zhang, CMU Mechanical, 2018; Xing Chen, CMU Computer Science, 2016; Tina Park, Industrial Design, 2018; Xiaokai Sun, CMU Information Technology, 2015; Kaifu Wang, CMU 2015; Stowe Hammarberg, CMU Industrial Design, 2016; Brian Yang, CMU Industrial Design, 2017 and Tiffa Cheng, CMU Entertainment Technology, 2016.

SimSim is currently rolling out a beta test of their smart lock with AirBnB hosts in the Pittsburgh area, and will begin taking preorders for its product shortly.
By: Emma Diehl, ediehl@andrew.cmu.edu