November 09, 2022
News Briefs
Three CMU Teams Advance to Post-Season Play; Women's Soccer Hosts First, Second Round Play Friday, Saturday
Carnegie Mellon's vollebyall team and its men's and women's soccer teams have advanced to NCAA post-season play. It's the first time since 2016 that all three teams have been selected to compete in the NCAA championship playoffs in the same year.
The volleyball team, which finished the 2022 regular season with a 20-8 record, will travel to Transylvania University in Lexington, Kentucky, to play Southern Virginia University at 3 p.m. Thursday, Nov. 10. The men's soccer team takes an 11-4-1 record on the road to play Calvin University at 1:30 p.m. Friday, Nov. 11 at Kenyon College. It's the 15th time the men's soccer team will compete in the NCAA tournament — the first time since 2018.
The seventh-ranked women's soccer team will be hosting first and second round action and will play Bryn Athyn College at 1 p.m. Friday, Nov. 11. The appearance in the NCAA tournament marks the ninth in 10 years for the women's soccer program. The Tartans finished the regular season with a 12-2-2 overall mark. 
Learn more about the Tartans and post-season play.
CMU Wins Fall Frenzy Championship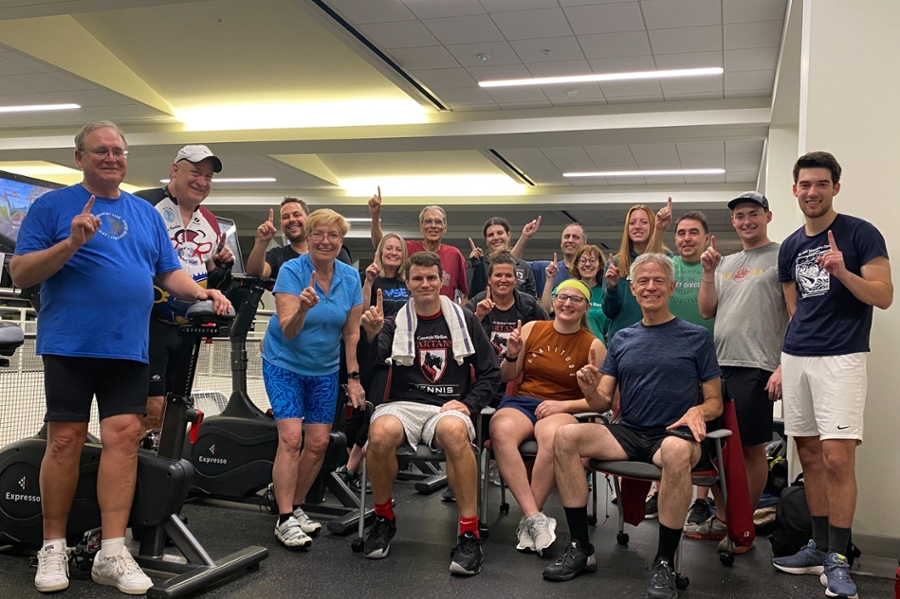 Carnegie Mellon University's Department of Athletics, Physical Education and Recreation has won its first Fall Frenzy, an international month-long virtual bike-riding tournament that included more than 100 teams from schools and colleges across the globe.
CMU's team of students, faculty and staff defeated the University of Nebraska at Kearney in the final hours of a two-day head-to-head match to win its first Golden Spokes Trophy. In the final two days, the Tartans biked 5,642 miles, topping UNK by 232 miles.
Individually, 12 Tartans finished in the top 25 in the event that started on September 28 with 104 schools participating. More than 200 Carnegie Mellon students, staff and faculty participated throughout the month with student Nat McGrath finishing second overall with 553.6 miles ridden. 
"It was the students that brought us over the top," said Pattye Stragar, Carnegie Mellon's Fitness Operations Manager. "We have always had a large faculty and staff representation and it was wonderful getting the students to ride, especially that last day!"
For more information on the Fall Frenzy, visit expresso.com/fallfrenzy
Holt, Rinaldo Named Recipients of Dietrich College Dean's Chairs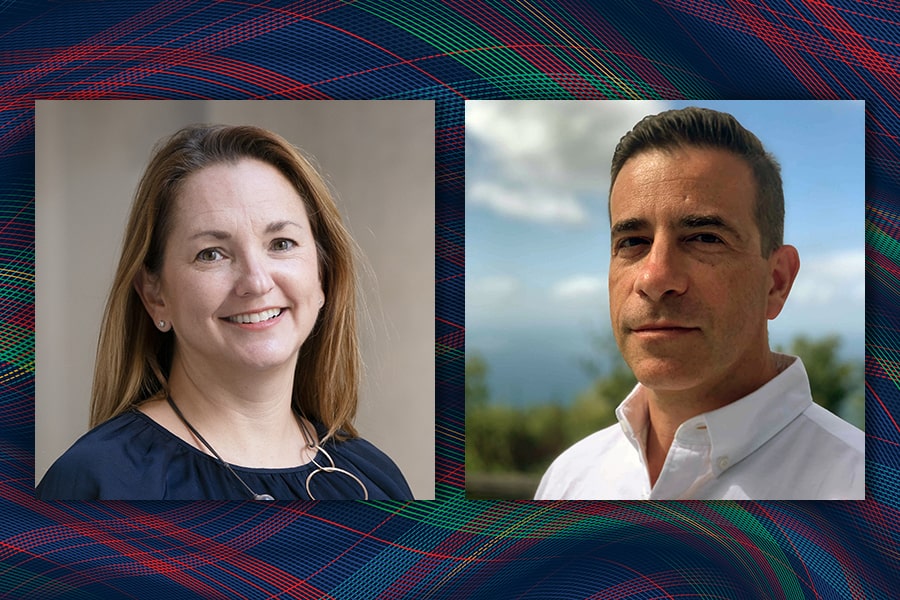 Lori Holt, a professor in the Department of Psychology and Neuroscience Institute, and Alessandro Rinaldo, a professor in the Department of Statistics & Data Science, have been named inaugural recipients of the Dietrich College of Humanities and Social Sciences Dean's Chairs. The chairs recognize senior faculty for eminence in their respective fields and support exceptional research that seeks to improve the human condition.
"Professors Holt and Rinaldo are mid-career rising stars," said Richard Scheines, the Bess Family Dean of the Dietrich College, "and I am delighted that we can recognize their accomplishments with term chairs that support their research, especially as they have both taken on leadership roles in the college. I have been very fortunate to have worked with Ale as Dietrich's associate dean for Research — he is a creative administrator and has a great sense of humor.  We are also fortunate that Lori has agreed to co-direct the Center for the Neural Basis of Cognition — a center that puts CMU together with Pitt to do world-leading research in cognitive neuroscience."  
Learn more about Holt and Rinaldo.
Members of CMU-Q Are Volunteering for the World Cup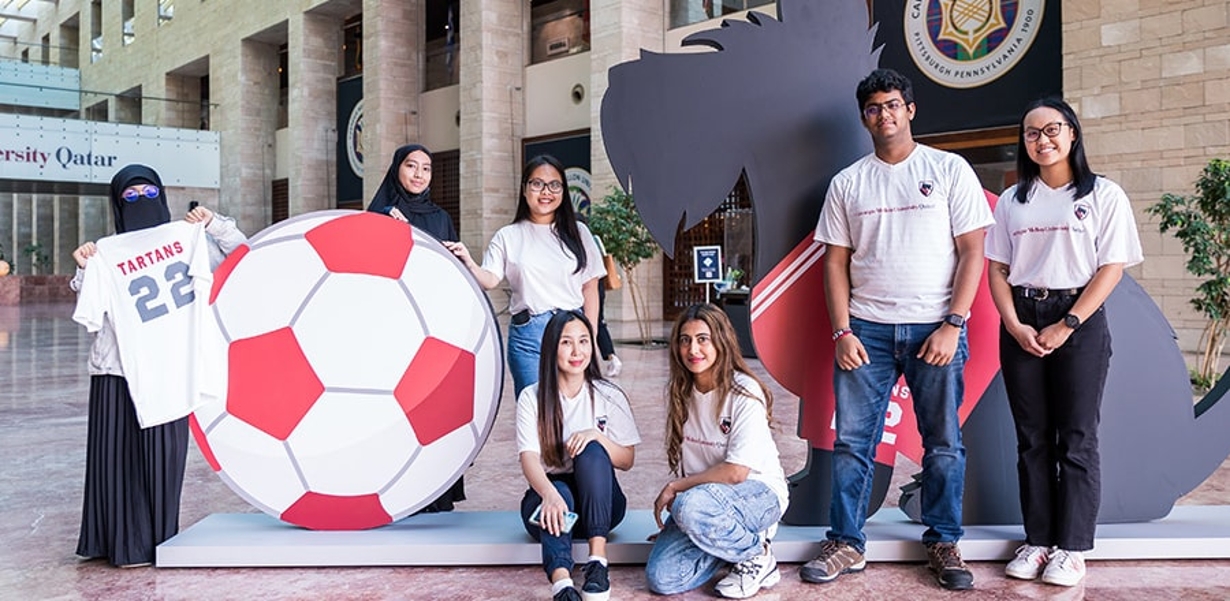 An enthusiastic group of students, staff and faculty from Carnegie Mellon University in Qatar (CMU-Q) are contributing their time and talents to make the World Cup a success. Dozens of CMU-Q community members are working in a variety of areas, including logistics, health and safety, and fan experience.
Some of the volunteers are motivated by their love of football. Jeffy Jan, a business analyst at CMU-Q, is a fan of the Brazil, Spain, Argentina and Portugal World Cup teams, and she is excited to be a transportation team leader for volunteers. "I just wanted to be part of it," she said. For her, the World Cup will be a busy month of volunteering and attending matches. "I have tickets to see each of my favorite teams, and right now I'm just trying to fit it all in."
Stephen Heath, the facilities manager at CMU-Q, is an avid England fan and a long-time volunteer for football events in Qatar. "I do it because I am passionate about football, and I know I can use my talents and background to help." Heath will volunteer as the health and safety team lead for one of the stadiums.
Several students are embracing the World Cup as an opportunity to learn and gain valuable experience. Business administration students Katrina Agcaoili, Yusufbek Nasriddinov and Ravshanbek Salimov, as well as biological sciences student Martin Sikhondze, will be interning with World Cup sponsors. For all four students, the internships are an opportunity to experience how corporations craft their brand image and marketing plan for high profile events.
Learn how others at CMU-Q are embracing the World Cup.
Four From Heinz College Earn Honors from INFORMS
Three faculty members and one Ph.D. student from Heinz College were recently honored by the Institute for Operations Research and the Management Sciences (INFORMS) for their contributions to information systems. Those honored at the October fall conference were:
ERGs Donated Winter Clothing to Veterans Place
CMU's employee resource groups thank all who contributed to their Second Annual Winter Necessity Drive. Thanks to your generosity, the ERGs donated 389 winter necessity items to Veterans Place, a Pittsburgh-based organization that empowers veterans to transition out of homelessness and helps at-risk veterans become engaged, valuable citizens who contribute to their communities.
Children's School Coffee Fundraiser Runs Through Nov. 11
Carnegie Mellon's Children's School is partnering with Building New Hope in a new coffee fundraising effort in which 30% of the proceeds raised will be donated to the Children's School.
Order coffee online Nov. 4-11. Coffee will be available for pick-up at the Children's School on Friday, Nov. 18 or Monday, Nov. 21.
When ordering:
Choose the size, grind, roast, organization, and quantity; and
don't forget to choose "Children's School" as the organization.

Faculty & Staff Reminder: Open Enrollment Runs Through Nov. 14
Open Enrollment for 2023 benefits is underway and ends at 5 p.m. ET, Monday, Nov. 14. Open Enrollment is your annual opportunity to review your benefit coverage options and make selections for the upcoming calendar year.
Elections made during Open Enrollment are effective January 1, 2023, and remain in effect for the calendar year. Open Enrollment is the only time you can change your benefit elections unless you experience a qualified life or family status change.
Enrollment changes can be submitted online through Workday. For information about 2023 benefits, including plan changes, rates, the 2023 Benefits Guide and the Open Enrollment System Guide, visit the Open Enrollment website.
Who's New at CMU?
Carnegie Mellon welcomes the following new staff members this week.
Taqua Elleithy, Research Assistant, Tepper School of Business;

Lauren Sabol, Shop Monitor, Human Computer Interaction Institute;

Susan Baida, Executive Director, CMU/Pitt Collaboratory Against Hate: Research and Action Center, Dietrich Dean's Office;

Evan Lybrand, INI Communications Specialist, Information Networking Institute;

Jack Chipman, Temporary Employment Service, HR Operations;

Kimberly Elenberg, Principal Project Scientist, Robotics Institute – Campus;

Rachel Losego, Temporary Employment Service, HR Operations;

Sean McGuire, Senior Systems Software Engineer, Physics;

Susanna Edwards, Early Childhood Educator, HR Operations;

Alice Lai, Senior Data Scientist, Machine Learning Department;

Brett Dwyer, Temporary User Services Associate, SEI OCOS IT Services;

Connor Regan, Temporary Employment Service, HR Operations;

Daniel Critchfield, User Services Consultant, SEI OCOS IT Services;

Elaine Solomon, Accounts Payable Representative, Accounts Payable;

Jeffrey Hoskinson, Software Engineer, SEI Security Automation;

Julie Brinker, People Ops Partner Projects and Process Improvement, SEI Do HR;

Jacqueline Uranic, Data Curator and Metadata Librarian, Pittsburgh Supercomputing Center;

Kayla Bracey, Program Manager - MCS Office of Diversity, Inclusion, and Equity, MCS Dean's Office;

Ludmila Fedoruk, Temporary Employment Service, HR Operations; and

Vanessa Webb, Assistant Director, Office of Academic Services, Heinz General & Administrative.
Did You Know?
Carnegie Mellon holds the longest active winning streak in all of NCAA football (Division I, II and III) with 16 consecutive victories dating back to last year. The Tartans ended the 2021 season with seven wins in a row and are now 9-0 heading into this Saturday's Academic Bowl at Case Western Reserve University. Go Tartans!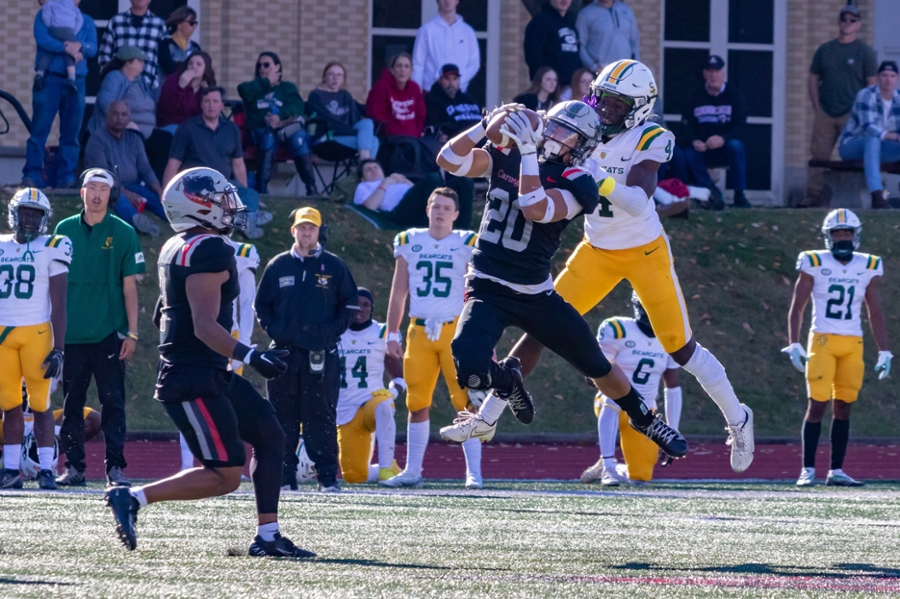 Adrian Williams makes one of his three interceptions in the Tartans' 16th straight victory, a 30-12 win over St. Vincent College on Oct. 29.