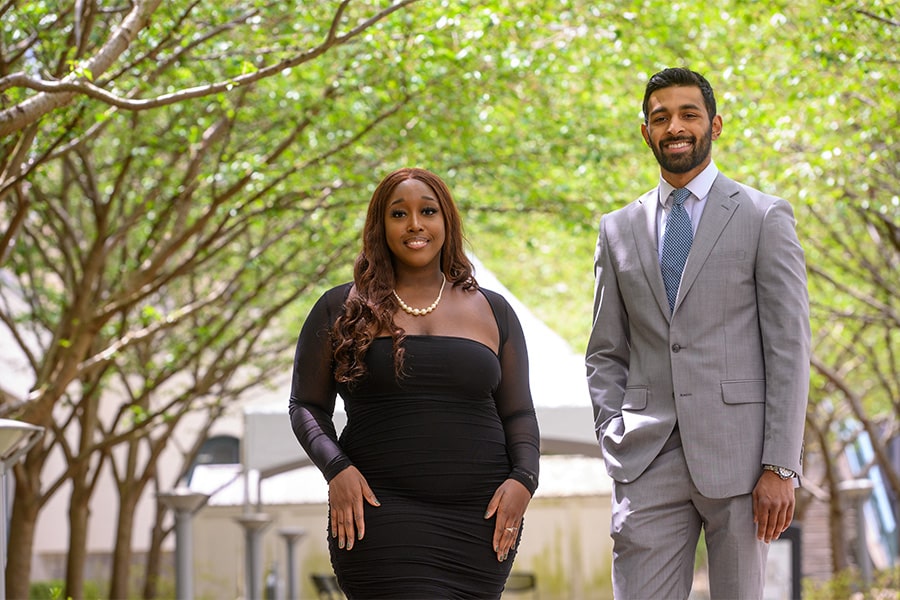 May 11, 2022
Graduates Feel Uniquely Prepared to Face Future
By Kelly Saavedra ksaavedra(through)cmu.edu
Lisa Oguike and Vijay Adipudi will address their fellow graduates from the stage during Carnegie Mellon University's 124th Commencement, expressing gratitude for the skills they developed, connections they made, memories they treasure and challenges that helped them grow.
"As a class, we have overcome a lot together, and I am truly so proud of us," said Oguike, who has earned a bachelor's degree in international relations and politics with an additional major in science, technology and public policy.
"Though our stories are not the same, I hope my speech will illuminate and validate the reality of what these years have been for us: difficult, painful, fun, chaotic and ultimately rewarding," she said.
Oguike, a member of Alpha Kappa Alpha Sorority, is most grateful for the relationships she was able to establish at Carnegie Mellon.
"People made me feel like Pittsburgh was indeed becoming my home. They stepped up for me, showing me that I meant something to someone here," Oguike said. "I will never forget that feeling, and I am forever grateful to Carnegie Mellon for giving me the opportunity to interact with some truly amazing people."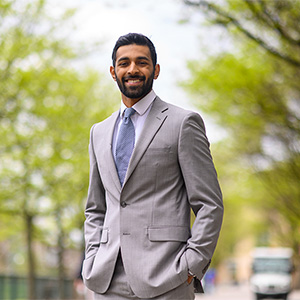 Adipudi, who earned an MBA from the Tepper School of Business with a focus in finance, strategy and sustainability, also values the relationships he developed at Carnegie Mellon, noting his most positive experiences happened just hanging out with classmates in the common areas in between classes.
"I've learned so much in my time here and made many friends and lifelong connections at CMU. I know I'll keep these connections well after graduation," he said. "I'm also excited to start my career after CMU with the tools and skills I've acquired during my time here."
Adipudi enrolled at Carnegie Mellon to develop a strong, quantitative and technological approach to business. As part of the Energy Business elective curriculum track, he worked with Honda to create a business model to help deliver 24/7 green hydrogen power to industrial electricity users. After graduation, he will join BlackRock as an associate within the Financial Institutions Group.
"If there is one thing I have learned here at CMU, it is that widespread democratization of sustainability is possible. The technology exists; it's the people in the decision-making positions that need to be convinced. I hope to be able to use my voice to continue to promote green technology, and ultimately one day be in the position of decision-maker," he said.
Adipudi represented the Tepper School Graduate Student Body as president of the Graduate Business Association (GBA), helping allocate budgeted funds toward professional, social and educational clubs. With GBA, he fostered community and inclusion through hosting class-wide events for full-time, part-time and Master of Science in Project Management (MSPM) students. As an alumnus, he will continue to be active in alumni relations and engagement with the university.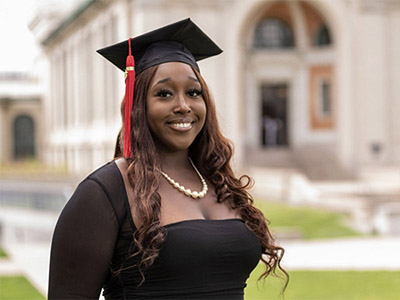 Oguike will pursue a master's degree in international politics at SOAS University of London. Upon completion, she plans to return to the U.S. to work as a global public affairs associate for Google Inc., using her international relations and engineering and public policy degrees in diplomacy.
For two years, Oguike worked as a research associate under Kiron Skinner, the Taube Professor of International Relations and Politics in the Institute for Politics and Strategy. During her senior year, she worked as a Foreign Service intern for the Nigerian mission to the United States Agency for International Development (USAID).
Oguike belongs to numerous organizations and served as an at-large member, senator and director of Diversity and Inclusion on the Student Senate at CMU. She also served on the University's Academic Review/Disciplinary Board and Center for Shared Prosperity, and worked with the Dietrich College Dean's Strategic Subcommittee to create a plan for diversity, equity and inclusion that was published in 2021.
For her work as the chief operating officer of the Pillars of Love Foundation and others, she was recognized as the Strong Women Strong Girls (SWSG) College Woman of the Year in 2020.
"It has been a journey I could not have prepared for, but one I would do over and over again, given the chance. We are uniquely positioned to make a change in our own lives, the lives of others, and overall, in our communities," she said.