May 13, 2019
Caps & Gowns, Hoods & Cords: A Guide to Commencement
By Kelly Saavedra ksaavedra(through)cmu.edu
Media Inquiries
Jason Maderer
Marketing & Communications
This Sunday, several thousand people will process through Gesling Stadium for Carnegie Mellon University's 122nd Commencement Ceremony. Among them will be faculty, students, university leaders and honorary degree recipients.
Nearly all will be dressed in black, but their academic rank will be identifiable by noting a few subtle differences in their regalia.

There are subtle differences to the regalia worn at graduation. 
The bachelor's degree recipient wears a plain black gown with a bell sleeve and a red tassel on the cap, or mortar board, and no hood. 
The master's degree recipient wears a black tassel, a colored hood and a gown that has a visibly odd sleeve. The rear of the sleeve is oblong in shape, square-cut and closed off with a cut-out arc. Hood color varies, depending on the field of academic study. At Carnegie Mellon, the primary hood colors for master's degree recipients are (with exceptions):
Brown or Pink — College of Fine Arts, Heinz College or Entertainment Technology;

Drab (light brown) or Copper — Tepper School of Business;

Golden Yellow — School of Computer Science, Mellon College of Science or Dietrich College;

Lemon Yellow or Peacock Blue — Heinz College;

Orange — College of Engineering or Integrated Innovation Institute; and

White — Dietrich College.
The Ph.D. recipient's gown has velvet facing down the front and three velvet bars on each sleeve. The blue Ph.D hood is longer and wider than the master's hood, and the tassel on the cap is gold.
A feature unique to all Carnegie Mellon hoods is they are lined with Tartan plaid.
Faculty and university leaders who have Ph.D.'s may choose to wear a tam instead of the cap, or mortar board. Various stoles and cords may be draped over anyone's gown. Cords signify academic honors, while stoles may represent athletics or country of origin.
Those in the procession wearing regalia that is not black are likely to be faculty wearing the colors of the school from where they received their highest degree. Four bars on the sleeve indicate the wearer is a sitting president.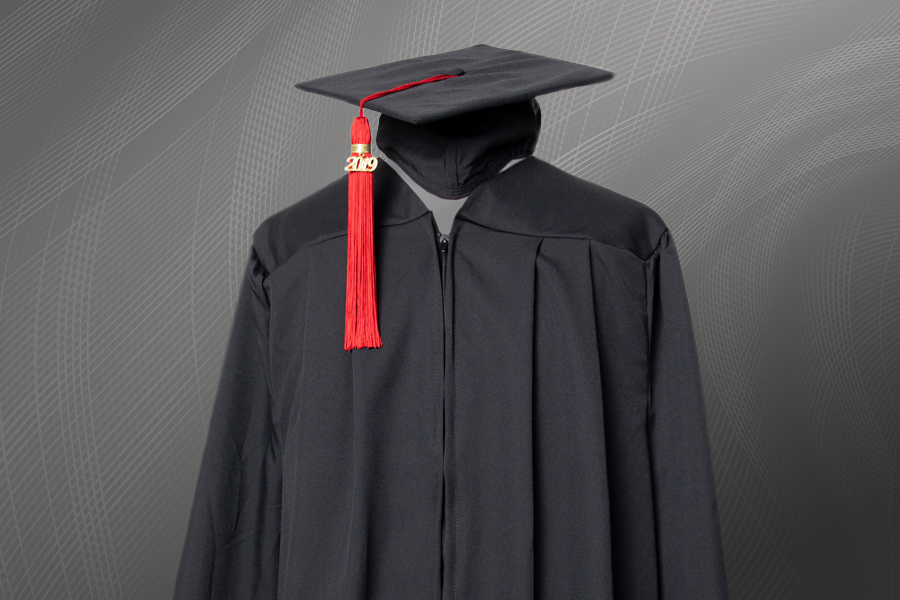 The bachelor's degree recipients will be recognizable by the red tassels on the cap.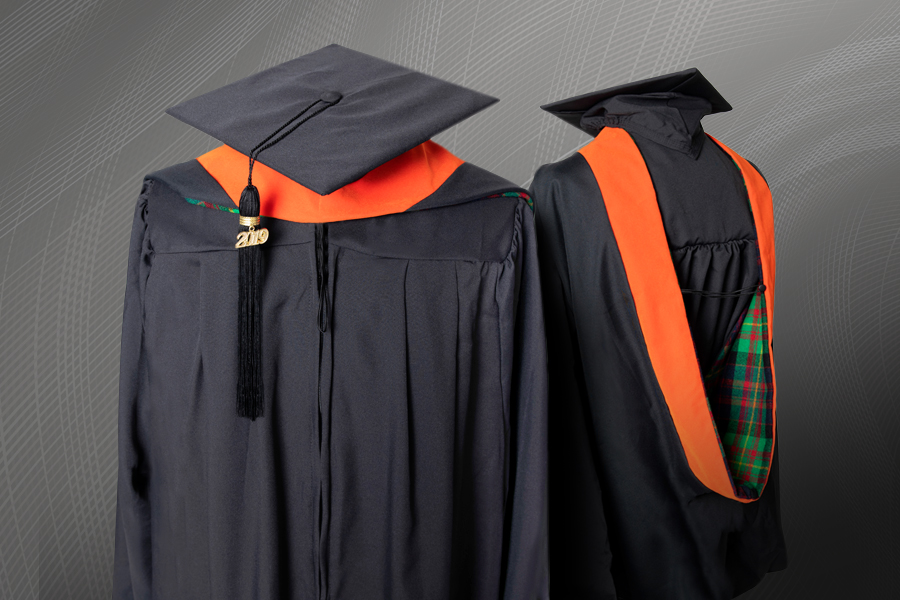 The master's degree recipient typically wears a hood in the color that represents their school or college. The robe has an oddly shaped sleeve.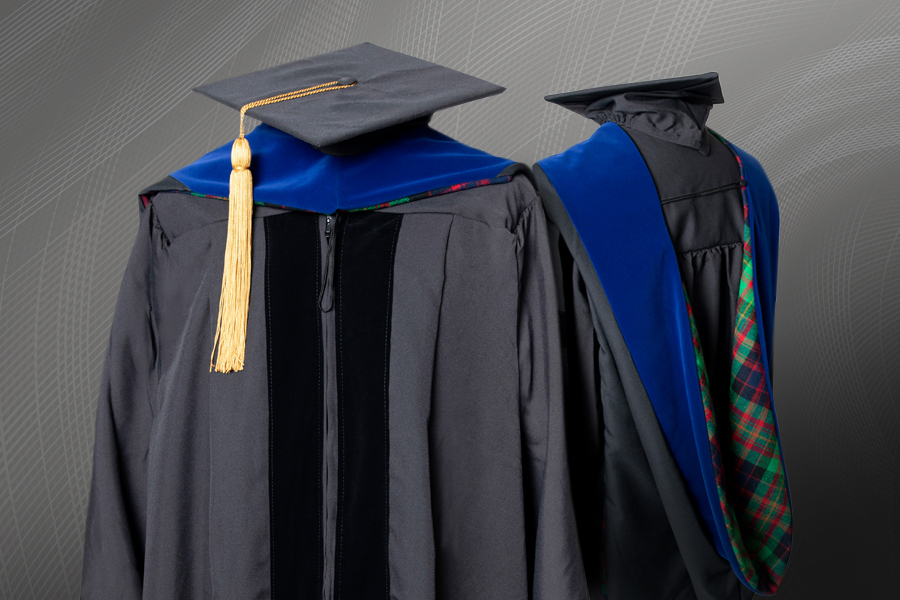 The doctoral degree recipient can be indentified by the blue hood, velvet facing down the front of the robe and a gold tassel on the cap.