July 27, 2022
Personal Mention
Bailey Bowers, a Ph.D. candidate in the Department of Chemistry, has received the 2022 Bhakta and Sushama Rath Graduate Award for her research in environmental chemistry. The award supports a Ph.D. student in a STEM field whose research benefits U.S. industry or societal needs. Bowers' research investigates hazardous "everyday everywhere chemicals." One type of chemical that Bowers studies is per- and polyfluoroalkyl substances (PFAS), which are used in nonstick cookware, waterproof coatings, food packaging, personal care products and firefighting foams. PFAS are often called forever chemicals because the molecules have extremely strong bonds between carbon and fluorine, which makes them persist in the environment long after they are fabricated. Though these properties are excellent for raincoats and nonstick pans, they can be extremely harmful for the environment. "This class of compounds pose some of the biggest challenges among the everyday everywhere chemicals," Bowers said. "A lot of my research has been on developing better methods to measure them, especially in the atmosphere, and developing better methods to remediate them." Learn more about Bowers.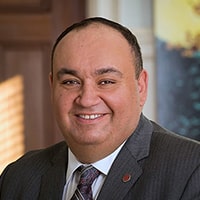 Scott Mory, vice president for University Advancement, has been elected to a three-year term as a trustee of the Council for Advancement and Support of Education (CASE), the global nonprofit dedicated to educational advancement professionals. Mory has been active in CASE since joining the profession almost two decades ago, having served as a former member of the CASE Commission on Alumni Relations and as a faculty member in numerous conferences and webinars, for which he received the CASE Crystal Apple Award for Teaching Excellence in 2014. Since joining CMU in 2015, Mory has been responsible for overseeing the university's overall advancement efforts and for building partnerships with CMU's philanthropic and volunteer communities, including university alumni, parents and friends, charitable foundations and corporate partners. Under his leadership, in October 2019 the university launched its most ambitious philanthropic campaign to date — Make Possible: The Campaign for Carnegie Mellon University — during which more than 57,000 CMU supporters have helped to create 300 new endowed scholarships and fellowships; more than 50 new endowed faculty chairs, including four endowed deanships; new world-class facilities like the Tepper Quad and ANSYS Hall; as well as new planned facilities for science and for health, wellness and athletics. In the Pittsburgh community, Mory is a member of the Andy Warhol Museum Advisory Board and the AHN Cancer Institute Advisory Council. Learn more about Mory.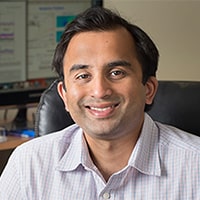 Chemical Engineering Professor Aditya Khair will be awarded this year's AES Electrophoresis Society Mid-Career Award at the Federation of Analytical Chemistry and Spectroscopy Societies' 2022 SciX Conference. The award acknowledges exceptional contributions to the field of electrophoresis, microfluidics and related areas by an individual who is currently in the middle of their career. The nomination points to Khair's internationally recognized research at the leading edge of theoretical fluid mechanics, as well as his outstanding mentorship and service to the AES and other organizations. Khair's research utilizes applied mathematical techniques to solve problems in electrokinetics, fluid dynamics, rheology and colloid science. He deploys these techniques to analyze the dynamics of complex fluids and soft materials under conditions or regimes that cannot be addressed by traditional approaches. He has published 87 peer-reviewed articles, making breakthrough research contributions in a remarkably wide range of topics that include electrophoresis, microfluidic and electrokinetic flows, and ion transport in electrochemical devices. Learn more about Khair.