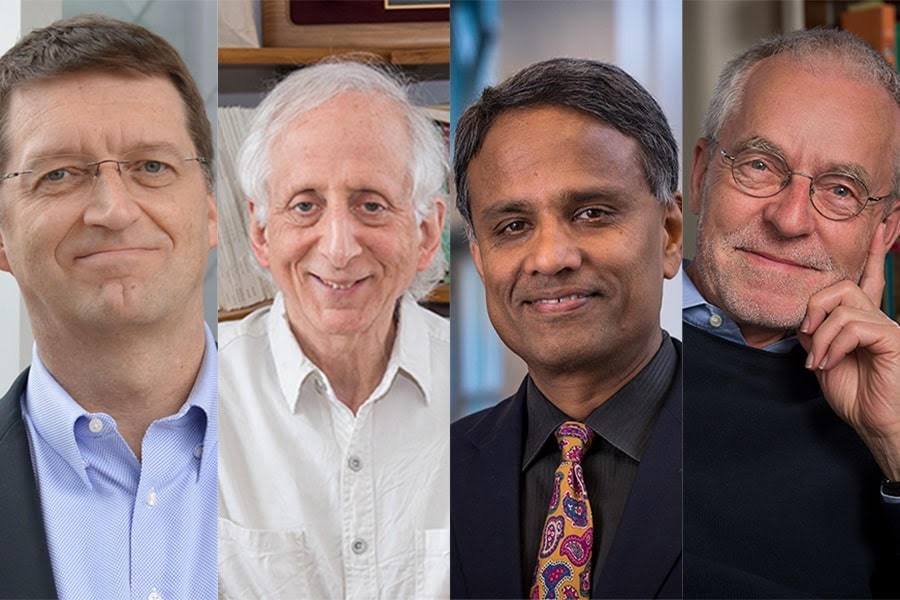 February 02, 2022
News Briefs
Four CMU Faculty Named AAAS Fellows
Baruch Fischhoff, Ramayya Krishnan, Tuomas Sandholm and Wilfried Sieg have been named 2021 fellows of the American Association for the Advancement of Science (AAAS). This lifetime distinction includes 564 scientists, engineers and innovators in 24 scientific disciplines.
Fischhoff is the Howard Heinz University Professor in the Department of Engineering and Public Policy and Institute for Politics and Strategy. His research examines the judgments of experts and laypeople related to personal and public policy decisions involving health, safety and the environment. He has worked on topics as diverse as climate change, intelligence analysis, pandemic disease (including COVID-19), nuclear power, personal safety, trauma triage, breast cancer, pharmaceutical regulation and sexually transmitted infections.
Krishnan has been dean of the Heinz College since 2008 and is the W. W. Cooper and Ruth F. Cooper Professor of Management Science and Information Systems with appointments at Heinz and the Department of Engineering and Public Policy. Krishnan's research has focused on the development and deployment of decision support tools that analyze, interpret and act on consumer and social behavior in digital and networked platforms. More recently, he has focused on developing data driven approaches to help workers acquire the skills required in an evolving labor market. He is the faculty director of CMU's Block Center for Technology and Society.
Sandholm is the Angel Jordan University Professor of Computer Science at the School of Computer Science, co-director of CMU AI, and the founder and director of the Electronic Marketplaces Laboratory. Sandholm's research focuses on the convergence of artificial intelligence, economics and operations research. He and his students have developed the leading algorithms for several general classes of games, including no-limit Texas Hold'em poker. An artificial intelligence they created, named Libratus, became the first AI to beat top humans at the game heads-up. Since 2010, Sandholm's algorithms have run the national kidney exchange for the United Network for Organ Sharing, where they autonomously generate the kidney exchange transplant plan for 80% of U.S. transplant centers each week.
Sieg is the Patrick Suppes Professor of Philosophy in the Dietrich College and a Fellow of the American Academy of Arts and Sciences. He came to Carnegie Mellon in 1985 to co-found the Department of Philosophy with a distinctive interdisciplinary and scientific bent. He served as department head for 11 years, from 1994 to 2005. He was instrumental in creating the program in Pure and Applied Logic, jointly with the Mathematics and Computer Science departments. He initiated the Laboratory for Symbolic and Educational Computing that has been the hub for a number of large computational projects.
Learn more about CMU's newly elected AAAS fellows.
Ujima: CFA Celebrates Black History Month
Black history is American history, yet it is usually discussed only in the month of February and is usually done through a slave or activist narrative. There is so much more to the Black experience, history and culture than trauma. This is not to negate their violent past, but to remind us to honor and celebrate their triumphs, victories and contributions, as well.

The College of Fine Arts honors Black History Month by accepting accountability for our positioning of Black and African American history, culture and narratives within our community. We must do better, and we will. Throughout the 2021 fall semester, the CFA Office of the Assistant Dean for Diversity, Equity and Inclusion sponsored an "Accountability and Allyship" series — five workshops with the intention to foster self-progression, intentional allyship and social responsibility. This work continues this spring, beginning with Black History Month.

This year's CFA theme for Black History Month is "Ujima," Swahili for collective work and responsibility. It is the third principle of Kwanzaa and asserts that a community can only be built and maintained together. Programming will highlight the contributions of Black, the pan-African diaspora and African Americans to United States history and culture, as well as offer opportunities to discuss how we will move forward together with accountability and intentional allyship.
Learn more about CFA's programming for Black History Month.
15 Students Earn Early Induction into Phi Beta Kappa
Fifteen students have been selected for early initiation into Carnegie Mellon's chapter of the Phi Beta Kappa Society, including eight from the Dietrich College. The initiation ceremony will be held in the Posner Center at 5 p.m. ET, Thursday, Feb. 24. The event is open to the campus community.
Founded in 1776, Phi Beta Kappa is the nation's oldest honors society, and it celebrates high achievement in the liberal arts and sciences. There are only 290 chapters affiliated with top universities across the country, and each of those chapters select 10 percent of their school's arts and sciences students to join.
"While election to Phi Beta Kappa at any time is a great honor, early election in the senior year is even more distinctive in that the eligibility criteria are considerably higher than for the more general election held in the spring for a larger number of seniors who will be about to graduate," said Joseph Devine, associate dean for Undergraduate Studies in the Dietrich College and secretary of the CMU Phi Beta Kappa chapter.
See the list of early inductees.
Announcing the Search for the Director of CMU's Institute for Politics and Strategy
Provost Jim Garrett recently announced a comprehensive, global search for the next director of CMU's Institute for Politics and Strategy (IPS), a highly interdisciplinary unit that supports research in areas like international relations, decision science and national security.
This position will provide key leadership in continuing to move forward this dynamic, interdisciplinary department and cross-university institute. The director will provide strategic vision and oversight in different areas of IPS research and teaching, as well as support faculty in their diverse research activities. 
A search committee, chaired by Provost Garrett, will work with the search firm Isaacson, Miller to identify qualified individuals, encourage nominations and applications, and monitor the confidential applicant pool to ensure quality and diversity. They also will actively engage key university stakeholders. Visit the search website for more information.
INTERSECT@CMU Conference to Focus on Sustainability, February 10-11

The fourth annual INTERSECT@CMU Conference will focus on sustainability, the Sustainable Development Goals (SDGs) and the actions we must take to ensure the next generation will live on a more sustainable planet.
During the conference, titled "Innovating a Sustainable Future for All,"  speakers and panelists will discuss urgent issues facing our planet as they relate to cities and infrastructure; peaceful, just and inclusive societies; climate; and resilient and inclusive economies. 
This year's keynote speakers are David Turk, deputy secretary of the U.S. Department of Energy;  CMU Trustee Keith Block, former co-CEO of Salesforce; and Zia Khan, senior vice president for innovation for the Rockefeller Foundation.
Find out more about the speakers and schedule.
CMU To Rise Up Against Hunger Feb. 19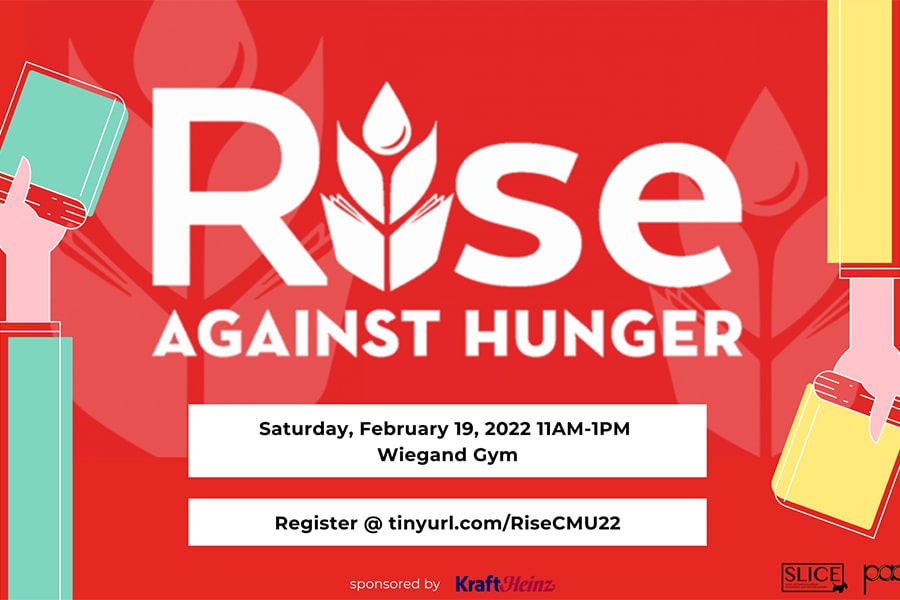 Come help put an end to hunger on February 19! On that day, students, faculty, staff, alumni and friends will have the opportunity to join SLICE (the Office of Student Leadership, Involvement and Civic Engagement), PACE (Partners Allied in Civic Engagement), Alpha Phi Omega, the Kraft Heinz Company Foundation and the Rise Against Hunger nonprofit in packing 100,000 meals for distribution world-wide in a Rise Against Hunger meal packaging event.
This high energy, fun and educational experience is open to families, partners and children. The event takes place from 11 a.m. - 1 p.m. Saturday, February 19 in Wiegand Gymnasium in the Cohon Center. Register today! Children as young as 4 are able to attend. Please note that this event will follow all current COVID protocols at the university.
Join the Campus Race to Zero Waste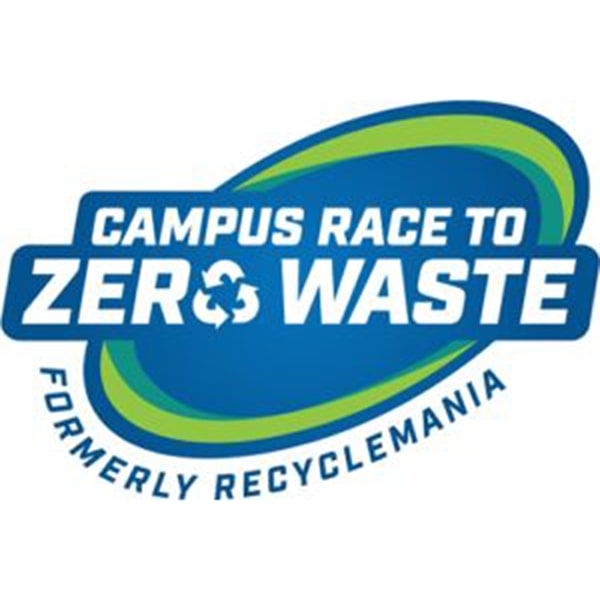 Over the next eight weeks, Carnegie Mellon will once again compete in the Campus Race to Zero Waste (CR2ZW), a friendly competition and benchmarking tool for colleges and universities to promote waste reduction activities to their campus communities. During the 8-week competition, CMU will track how much the campus throws out, reuses, composts and recycles.

CMU will compete in national competitions in the following categories:
Diversion Category - the school with the highest waste diversion percentage. Diversion is determined by the percentage of the total weight of recyclables and food organics diverted from total waste generated.
Stephen K Gaski Per Capita Classic - the school that collects the largest combined amount of paper, cardboard, and bottles and cans on a per person basis.
Food Organics - points are awarded for food waste minimization activities and the amount of food that is diverted from the landfill.
Why participate? Putting less in the trash means we are sending fewer items to the landfill, which means less land is required for waste disposal and fewer methane emissions. Recycling and composting are options on campus to divert waste from landfills. Recycling turns our disposables into new products, and composting breaks down organic material into new soil, which can be used to grow more food. 
Individuals can participate in CR2ZW by consuming less, reusing more and choosing to recycle or compost when you can. Want to do more? Visit the CR2ZW page for a list of events and activities over the next 8 weeks! 
Who's New at CMU?
Carnegie Mellon welcomes the following new staff members this week.
Emily Salerno, Brand and Digital Asset Specialist, Communications Design and Photography Group;
Gwyneth Loughran, Mail/Package Handler, Postal Services;
Jason Sturges, FMS Supervisor/Zone Manager, FMS Operations;
Amy DeFalco, Early Child Educator, HR Operations;
Anthony Gomez, Associate Director, Masters Admissions, Tepper Admissions;
Amanda Shaffer Toth, Research Administrator, Neuroscience Institute;
Brianna Gill, Early Child Educator, HR Operations;
Dominique Stevenson, Video Technician - Institute for Software Research;
Gail Stebbins, Sponsored Research Administrator, Robotics Institute - Campus;
KellyAnn Tsai, Communications Specialist, Modern Languages;
Ryan Gent, Associate Director of Partnerships, CyLab;
Mei-Yu Wang, Machine Learning Research Scientist, Pittsburgh Supercomputing Center;
William Fargo, Senior Category Manager, Procurement Services; and
Sarah Surace, Associate Director, Alumni and Constituent Engagement.
Did You Know?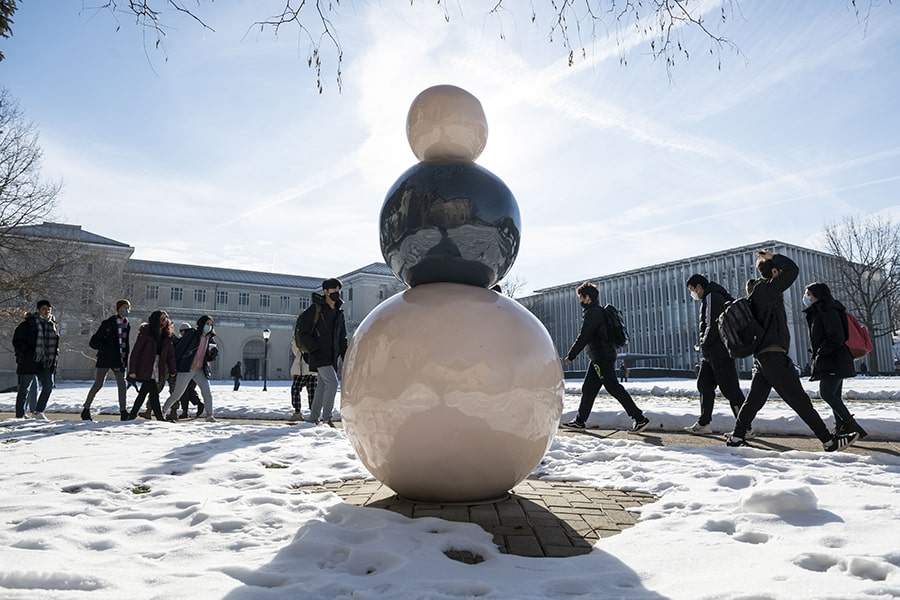 This campus snowman will never melt.
"Snowmen"
Artist: Gary Hume
Donated to CMU in 2004 by Milton and Sheila Fine and located near Doherty Hall, Gary Hume's work often focuses on pure forms with bright and simplified colors, such as in his Snowmen series.