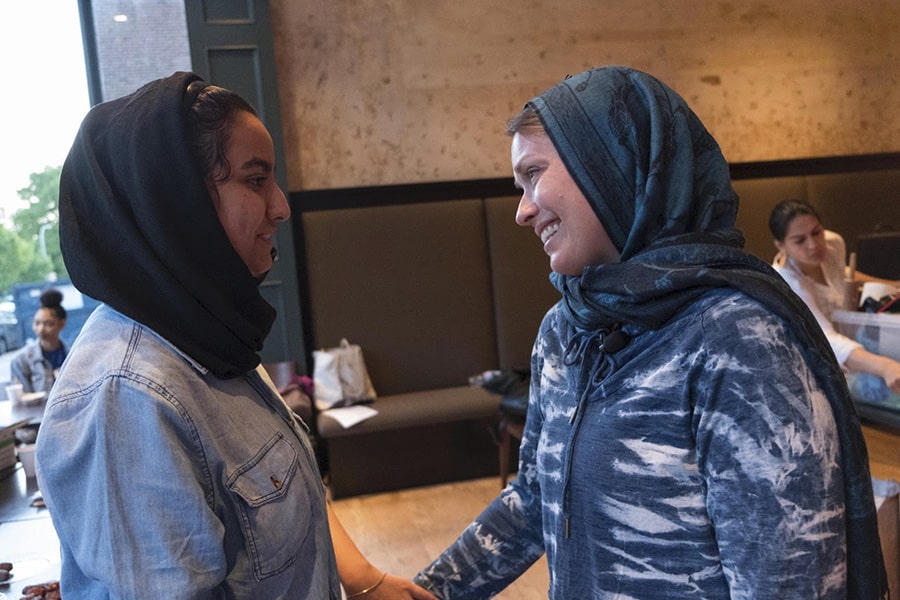 February 09, 2022
News Briefs
'Khuraki' Performance, Panel Highlight Afghan Refugee Experience
When the United States withdrew military forces from Afghanistan in August 2021, Pittsburgh was chosen to be one of 19 American cities to welcome Afghan refugee families. The transition to America, although welcome to most, was not without an adjustment period — especially for female refugees.
"Khuraki: A Celebration of Afghanistan in Pittsburgh," which was developed before the U.S. withdrawal, is a snapshot of a moment in time (2019) when Afghan refugees still held out some hope that there was possibility for them to return home. The interactive theater experience, highlighted by food and music, will be presented at 5 p.m. Tuesday, Feb. 15, in the Cohon Center's Rangos Ballroom. It is free and open to the public. Masks are required. A Zoom option also is available for those not wishing to join in person; all attendees must register online.
The performance also benefits Afghan women in a new foodservice venture with 75 chilled Afghan meals available for pickup for viewers of the livestream at noon at the Center for Student Diversity and Inclusion in A75 of the CUC on a first-come, first-served basis. Hot meals also will be available for pickup for the live audience after the performance. The cooks, some of whom are also subjects of the play, will be there to greet audience members after the show.
At 5 p.m. Thursday, Feb. 17, a panel moderated by Ethan Pullman from the CMU Libraries will convene in the Tepper Building, room 4242. It will also be livestreamed. The discussion will focus on Afghan resettlement in the Pittsburgh area. The panel features Ivonne Smith-Tapia, director of Refugee and Immigrant Services at Jewish Family and Community Services of Pittsburgh; Sohrab Bakhshi, contractor for the U.S. military and former Afghan refugee, who personally experienced the transition when he was brought to the U.S. under a Special Immigrant Visa; and historian Emanuela Grama, associate professor and director of Global Studies at CMU, who will discuss dislocation and its related side effects. The panel is free and open to the public. Masks are required. Attendees must register online.
"Through food, live music and highlights of the Afghan culture, 'Khuraki' helps audiences learn more about what these women left behind, what they've preserved and what their futures hold — including the establishment of a catering company featuring traditional Afghan meals," said M. Shernell Smith, executive director of CMU's Center for Student Diversity and Inclusion.
Find out more about the performance and panel. 
Seeking Students to Make a Social Impact; Apply by Feb. 16
What if you could help prevent the next pandemic? Or tackle other pressing problems like climate change, extreme poverty, global public health, nuclear security, risks from advanced AI or animal welfare?
The Strategic Social Impact Fellowship helps students figure out how they can do the most good with their careers by combining evidence and compassion to find the best opportunities for improving the world. The seven-week fellowship will start in late February and run until April. It will feature weekly discussions and optional socials to think through how you can increase your positive impact through your career.
Visit the Healthy Relationships Week Interactive Exhibit 
Healthy Relationships Week is Feb. 13-19 and the Office of Title IX Initiatives and University Health Promotions invite the campus community to learn about relationships by visiting the interactive exhibit near Wiegand Gym in the Cohon University Center.
Did you know all relationships exist on a spectrum, from HEALTHY to UNHEALTHY to ABUSIVE?  Visit the exhibit and learn about relationship dynamics by writing or drawing the characteristics and behaviors associated with the corresponding portions of the relationship spectrum. And help yourself to some candy, while supplies last!
CMU To Rise Against Hunger Feb. 19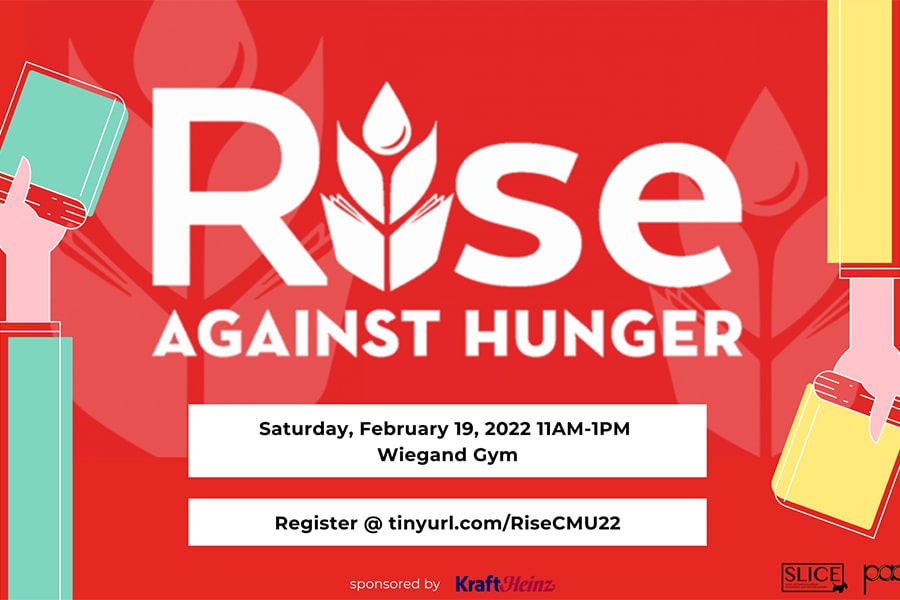 Come help put an end to hunger on February 19! On that day, students, faculty, staff, alumni and friends will have the opportunity to join SLICE (the Office of Student Leadership, Involvement and Civic Engagement), PACE (Partners Allied in Civic Engagement), Alpha Phi Omega, the Kraft Heinz Company Foundation and the Rise Against Hunger nonprofit in packing 100,000 meals for distribution world-wide in a Rise Against Hunger meal packaging event.
This high energy, fun and educational experience is open to families, partners and children. The event takes place from 11 a.m. - 1 p.m. Saturday, February 19 in Wiegand Gymnasium in the Cohon Center. Register today! Children as young as 4 are able to attend. Please note that this event will follow all current COVID protocols at the university.
Construction Views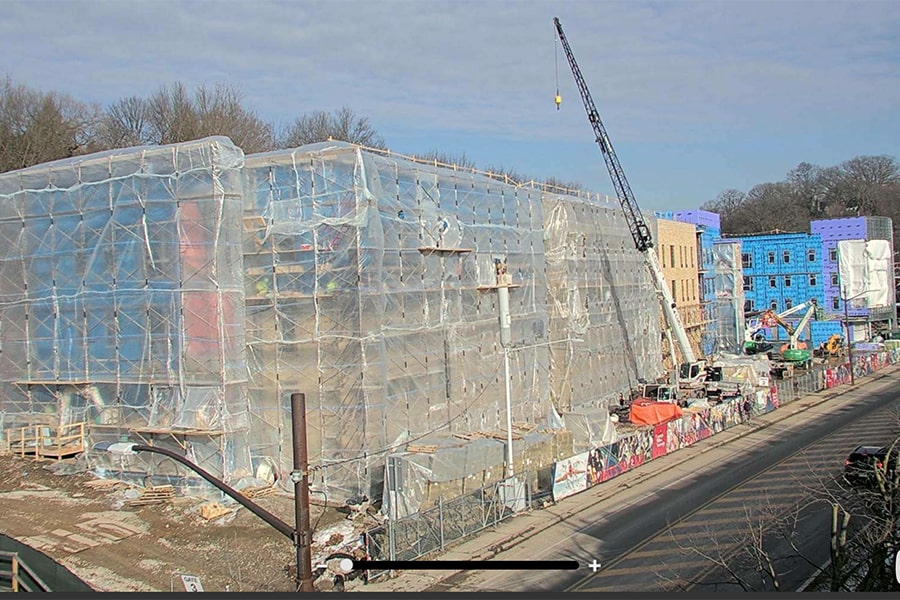 Take a peek at some of the construction taking place on campus through these webcams.
They'll Be "Freezin' for a Reason!"
CMU Police and Campus Design and Facilities Development are again teaming up to support Special Olympics by participating in the Pittsburgh Polar Plunge on Feb. 26.
Proceeds raised in support of the university team will help to provide year-round sports training and competition for thousands of athletes with physical and intellectual disabilities.
CMU's designated plunger this year is Carl Bogerdorfer,  a friend of the CMU Police Department who has secured matching funds up to $10,000. Bogerdorfer will make 24 jumps over 7 hours into the frigid water. Donations to the CMU team are being accepted online.
Who's New at CMU?
Carnegie Mellon welcomes the following new staff members this week.
Brianna Krall, COVID Support Associate - Contact Tracer, Community Health & Well-Being;
Charles Brinkerhoff, Senior Executive Director, Masters Programs, Tepper School of Business;
Jarrin Jeffrey, Coordinator of Community Standards & Integrity and Housefellow – Office of Community Standards & Integrity, Division of Student Affairs, Community Standards & Diversity Initiatives;
Joelen Pastva, Director of Library Services, UL, Ul - Administration, Planning & Assessment;
Katharine Flanigan, Assistant Director and Career Consultant for Dietrich College - CPDC, Career Center;
Michael Giordano, Research Scientist and AfriqAir Executive Director;
Martha Michelle Soto Fernandez, Learning Engineer, Computer Science Department;
Alexander Curtis, Assistant Cybersecurity  Engineer, SEI Mod/sim and Exercise;
Ashley Donaldson, GIS Administrator, Enterprise Space Management, FMS Enterprise Space Data Mgmt;
Amanda Johnson, METALS Mentor, Metals: Masters in Educational Technology & Applied Learning;
Clay Fetterman, Assistant Cybersecurity Engineer, SEI Mod/sim and Exercise;
Chloe Shupe, HR Specialist, HR Benefits;
Jael Rivera, Assistant Cybersecurity Engineer, SEI Research and Prototypes;
Matthew Metz, Director of Student Financial Aid, Student Financial Services;
Nuria Pacheco, Assistant Cybersecurity Engineer, SEI Workforce Development;
Rheana Gray, Associate Cybersecurity Engineer, SEI Cybersecurity Assurance;
Ryan Karl, Security Researcher, SEI Monitoring and Response;
Sitoshna Jatty, Research Assistant, Chemical Engineering; and
Dania Makki, Senior Employer Relations Consultant, Academic Affairs (Qatar).