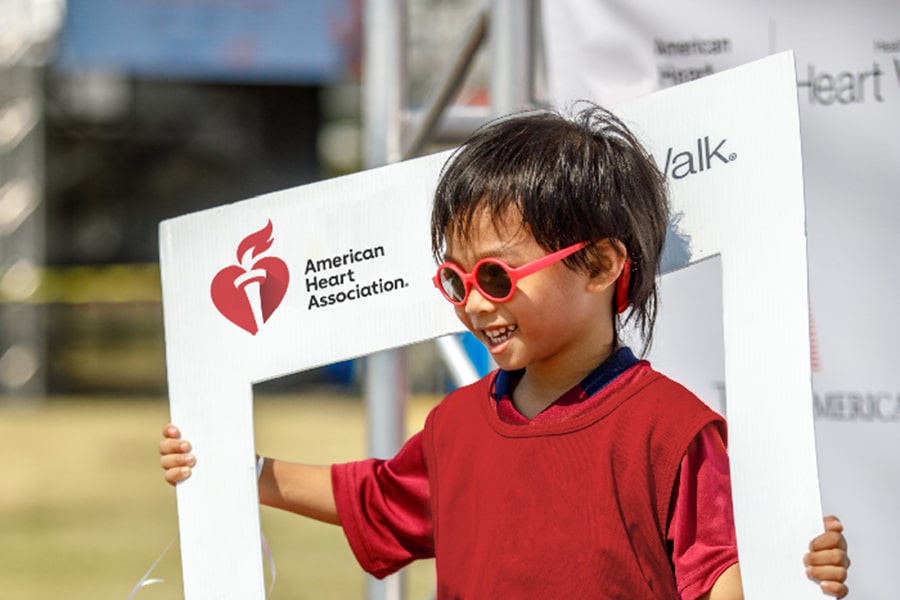 August 10, 2022
News Briefs
Join CMU's Heart Walk Team on September 17
On September 17, Carnegie Mellon University's Employee Resources Groups (ERGs) will sponsor the first CMU Heart Walk team to benefit the American Heart Association (AHA).
The Heart Walk is AHA's premier event for raising funds to save lives from this country's No. 1 and No. 5 killers — heart disease and stroke. The Pittsburgh Heart Walk will take place in Point State Park at 10 a.m. and will include companies, organizations and individuals from throughout the Pittsburgh area.
By participating in the Pittsburgh Heart Walk, you will reap lasting benefits for yourself and help others. The Heart Walk helps to:
Save the lives of kids born with congenital heart defects and adults struggling with heart disease;
Teach thousands how to save lives through CPR training; and
Fund the next heart and stroke medical breakthrough.
Visit the CMU team page to join the team or donate to the team or an individual walker.
Also, if you are not familiar with the ERGs at CMU, please visit the ERG website to learn more and get involved.
CMU-Q Professors Receive Three Grants for AI Research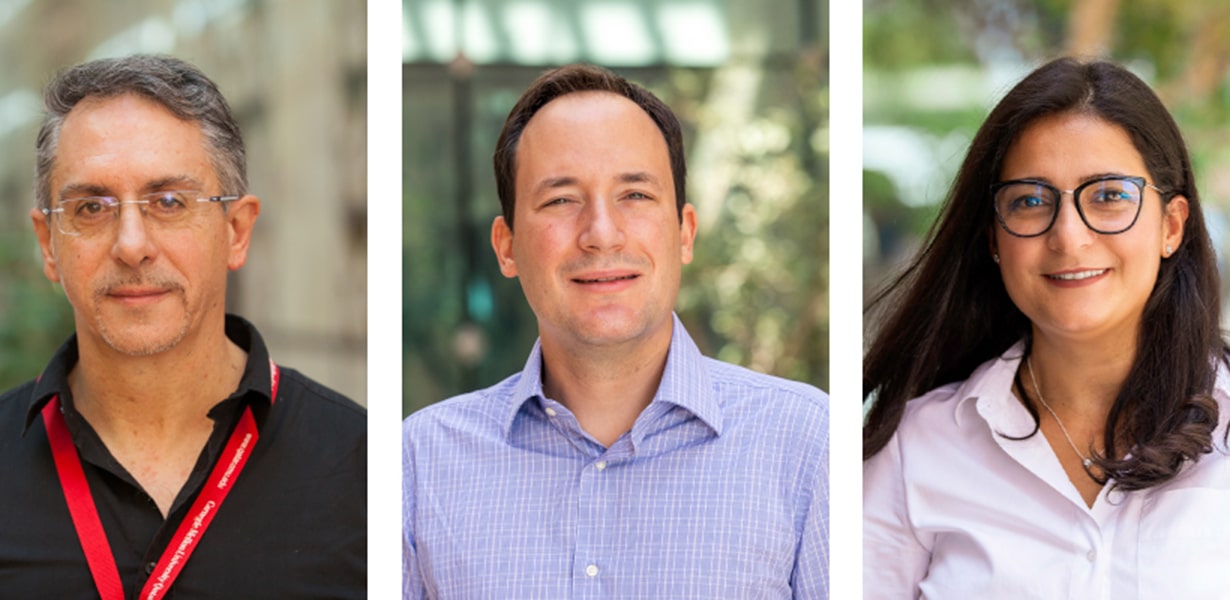 Gianni Di Caro, Eduardo Feo Flushing and Houda Bouamor.
Carnegie Mellon University in Qatar will be using its expertise in artificial intelligence to address the priorities of food sustainability, energy sustainability and Arabic language proficiency in three new grants from the Qatar National Research Fund (QNRF).
Michael Trick, dean of CMU-Q, notes that research is part of the fabric of Carnegie Mellon. "At Carnegie Mellon, we do research that has a real-world impact," Trick said. "These three projects are in priority areas for Qatar, and I am very pleased that our expertise in artificial intelligence will help Qatar achieve National Vision 2030." 
The first project will have a direct impact on the way Qatar's greenhouse farms care for crops. Gianni Di Caro, associate teaching professor of computer science, will be the lead principal investigator on a project to integrate robots and artificial intelligence to autonomously and periodically gather visual data about crops to assess their development, quality and expected yield.
Di Caro and Eduardo Feo Flushing, visiting assistant teaching professor of computer science, will also contribute their expertise in AI to automate the cleaning and monitoring of solar panels in Qatar.
Houda Bouamor, associate teaching professor of information systems at CMU-Q, will be working with lead investigators at Qatar University to develop the first system that automatically scores Arabic essays written by high school and first-year university students to assist their Arabic writing proficiency in the dimensions of style, relevance, organization and development.
Learn more about the projects.
Modern Languages to Launch Enhanced Graduate Program in Applied Linguistics, Second Language Acquisition
The Department of Modern Languages is enhancing its Master of Arts in Applied Linguistics and Second Language Acquisition. The graduate program, a revision of the department's previous graduate program in Applied Second Language Acquisition, offers enhanced educational, research and practical experiences for incoming students. Applications for the fall 2023 semester will open this September 1.  
The Master of Applied Linguistics and Second Language Acquisition is a one-year, intensive program preparing U.S. and international students for a range of careers in language education and research. The program draws on the strengths of the Department of Modern Languages in the areas of second language acquisition, language program administration, cultural studies, pedagogy and technology-enhanced language learning. 
In addition, students have the opportunity to specialize in language learning research and teaching in nine languages: Arabic, Chinese, French, German, Italian, Japanese, Russian, Spanish and English as a Second Language. Graduates will be eligible for employment in educational institutions in the United States or abroad, or may choose to pursue further graduate work in second language studies. 
Learn more about the new program. 
Sullivan and Gordon Earn DOE Award for Atmospheric Research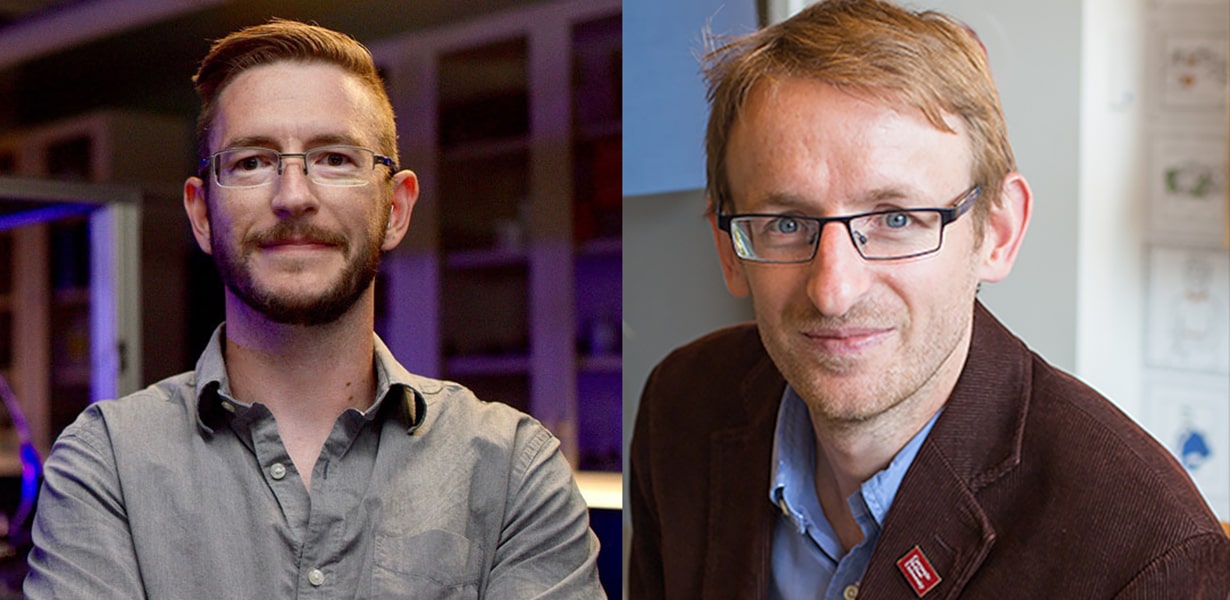 Ryan Sullivan and Hamish Gordon
Professors Ryan Sullivan and Hamish Gordon have received a new atmospheric research award from the Department of Energy aimed at improving climate change predictions. Sullivan and Gordon's research will incorporate their experimental findings and atmospheric models to better understand how wildfire emissions emit ice nucleating particles that potentially have significant effects on cloud microphysics, precipitation and climate. 
"My group made two major findings regarding the sources of ice nucleating particles from our experiments on biomass-burning aerosol: the ice nucleants are mostly new mineral particles produced by the biomass fuel combustion itself, and these minerals can become even more effective ice nucleants through atmospheric chemical aging," Sullivan said. "This new award will allow us to incorporate these new experimental findings into Hamish Gordon's atmospheric models so we can answer the bigger regional and global-scale questions of how wildfires in different regions – driven by climate change – might affect the properties of clouds and the Earth's climate."
Don't Wait, Nominate; Andy Nominations Due August 22

Nominations are now open for the 2022 Andy Awards, Carnegie Mellon's university-wide staff recognition program. Named for Andrew Carnegie and Andrew Mellon, the Andy Awards are a tribute to the spirit of teamwork and dedication embodied by staff at CMU. Individuals and teams of colleagues whose work has had a significant impact on the university are recognized for their outstanding performance and commitment to excellence through the Andy Awards program.
Awards are given in six categories:
Commitment to Diversity, Equity and Inclusion;
Commitment to Excellence - Rookie < 3 years, Veteran > 3 years;
Commitment to Students;
Innovative and Creative Contributions;
Spirit; and
Teamwork and Collaboration - Standing Team and Special Project Team.
Find out more about the awards and how to submit a nomination. The nomination deadline is Monday, August 22.
Attention Undergraduate Students: Tartan Ambassador Program Seeks Applicants for On-Campus Positions
Are you a student who is looking for an on-campus job this fall? If the idea of getting paid to talk about your CMU student experience interests you, you may want to consider applying to become a Tartan Ambassador.
University Communications & Marketing is looking to hire a diverse group of current undergraduate CMU students who represent different schools, programs, years and experiences at CMU. Each paid position will work by connecting and engaging with visitors (primarily prospective undergraduate students) through written communication and events, including in-person and virtual tours and panels.
You can learn more information about the positions on Handshake:
Who's New at CMU?
Carnegie Mellon welcomes the following new staff members this week.
Nicole Vershov, Lab Manager, Center for Behavioral and Decision Research, Tepper School of Business;

Khalid Allouba, Lab Supervisor, Business Administration – Qatar;

Abigail Pinnow, Undergraduate Programs Administrator, MCS Dean's Office;

Christopher Fritsky, ECE Project Lead Media & Instructional Design, ECE Computing;

Christof Schoenborn, Software Engineer, Robotics Institute, NREC National Robotics Engineering Center;

Yao He, Research Assistant, Robotics Institute – Campus;

Fredrica Dennis, Assistant Director for Diversity, Inclusion, Climate & Equity, Heinz College;

Golam Choudhury, Director - OSPO, University Libraries-Deans Office;

Greta Ruperto, Senior Academic Advisor, Electrical & Computer Engineering;

Jiankun Feng, Programmer - Heinz College;

Kelli Maxwell, Associate Dean for Student Success, Dietrich College Dean's Office;

Luigino Croce, Assistant Director of Admission, Undergraduate Admissions;

Mikael Yeghiazaryan, Research Assistant, Robotics Institute – Campus;

Nicole Alston, Gift Administration Specialist, Advancement Info Services, University Advancement;

Nolan Gormley, Research Programmer Analyst, Machine Learning Department;

Sravan Chittupalli, Research Programmer /Analyst, Robotics Institute – Campus;

Shealene Little, Assistant Strength and Conditioning Coach, Athletics & Physical Education;

William Wilson, Test  Engineer, SEI Ssd Continuous Deployment of Capability; and

Yulin Song, Teaching Assistant -  Social & Decision Sciences.