April 06, 2022
News Briefs
CMU Research Takes Center Stage at Three Minute Thesis
Eight doctoral students explained their years of research and its importance in under three minutes during the finals of Carnegie Mellon's Three Minute Thesis (3MT), held last Wednesday in the College of Fine Arts' Kresge Theatre.
First place went to Piyumi Wijesekara from the Department of Biomedical Engineering, second place went to Suzy Li, who is studying architecture in the College of Fine Arts, and third place went to Emma Benjaminson of the Department of Mechanical Engineering. The People's Choice Award — selected by the audience in the theater — went to Mohammad Ayaz Masud, who is studying electrical and computer engineering. Materials science and engineering student Amaranth Karra was selected as the Alumni Choice Award winner by online votes from alumni watching the livestream.
Wijesekara, whose research involves engineering mini-lung tissue to study lung biology, lung diseases and targeted therapies, attributed her success to the timeliness of her topic. Having an accurate lung model is critical to respond swiftly to public health crises like COVID-19 and better prepare for another pandemic.
"Since I'm doing research on a topic that is relevant at this time, that probably made me stand out to the audience and judges," Wijesekara said. "We are still in a pandemic and are in dire need of inventing or engineering models to come up with solutions for this pandemic. Since everyone has gone through this tough time, maybe they can relate to this problem more."
Learn more about 3MT and the winners.
University Libraries Presents "Nuts, Bolts & Wheels: 100+ Years of Buggy"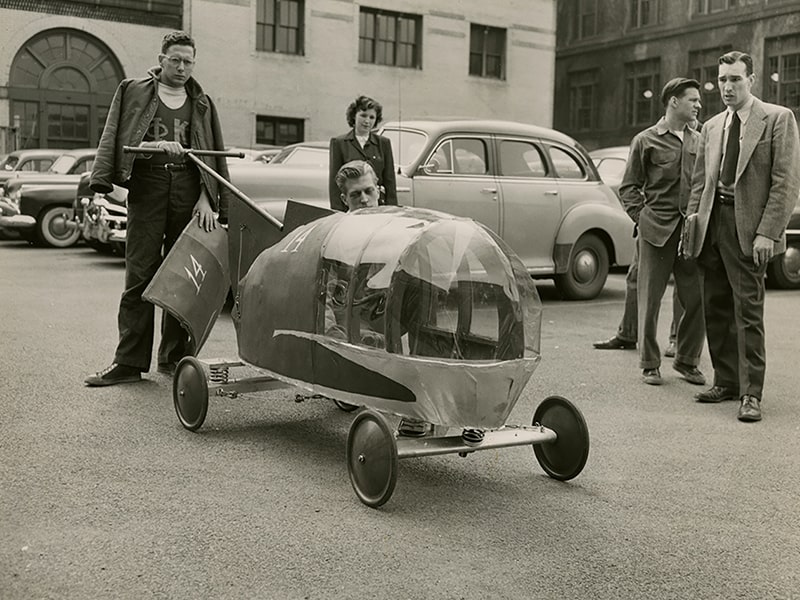 This photo from the 1950s is part of the new exhibit celebrating 100+ years Buggy Races at CMU.
University Libraries is presenting its latest exhibition in the Hunt Library gallery, "Nuts, Bolts & Wheels: 100+ Years of Buggy." On display from April 4 through December 9, the exhibition offers a look back at one of Carnegie Mellon's longest-standing traditions.
Curated by University Archivist Julia Corrin, in partnership with editorial director Brad King of Carnegie Mellon's ETC Press and art director and University Libraries designer Heidi Wiren Bartlett, this exhibition celebrates all of the students — chairmen, pushers, drivers, mechanics, flaggers, baggers and sweepers — who have participated in Buggy over the last century.
Since 1920, the Interfraternity Motor Sweepstakes — which would come to be known colloquially as Buggy — has occurred nearly every year, stopping only for World War II and COVID-19. The exhibit features multiple buggies and introduces visitors to the Buggy culture through personal recollections, photographs, video, and artifacts donated by alumni.
Former Pittsburgh Mayor William Peduto to Join Heinz College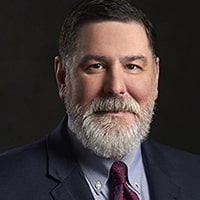 The Heinz College of Information Systems and Public Policy has announced that William Peduto will join the faculty as a Distinguished Executive in Residence. In this position, Peduto, the former mayor of PIttsburgh, will serve as a guest lecturer and co-teach a mini course.

"We are proud to welcome former Mayor Peduto to Heinz College," said Heinz College Dean Ramayya Krishnan. "While in office, Mayor Peduto modernized city government and truly transformed Pittsburgh into a leading 21st century city. We know our students will benefit from his leadership experience as well as his expertise in public policy and management."

Following 12 years as a member of the Pittsburgh City Council, Peduto was elected the 60th mayor of Pittsburgh in 2013 and was re-elected in 2017.

"I am honored and excited for the opportunity to join Heinz College as a Distinguished Executive in Residence," Peduto said. "During my time on the City Council and as mayor, I had the opportunity to work with the university and college on several events and initiatives. I am pleased to formalize our relationship and work together to educate our leaders of tomorrow."
CMU's Girls of Steel Team Qualifies for World Championship

The Girls of Steel robotics team took home top awards at two recent regional competitions and qualified to compete with the best teams around the world, April 20-23, at the FIRST World Championship competition in Houston.
The team received the Regional Chairman's Award at the Buckeye Regional Competition and the Regional Engineering Inspiration Award at the Greater Pittsburgh Regional Competition, both held this month. The Girls of Steel is the only team from Pennsylvania to qualify for the World Championship.
As part of the competitions, robotics teams of high school students design, build and program a robot. That robot then competes against other team's robots to complete specific tasks such as shooting a ball through a series of funnel-like hoops or hanging from scaffolding. In this year's competition, the robot gained points by climbing higher and being able to hang suspended on scaffolding, and successfully making baskets. The Girls of Steel robot, which the team named Lightning McQueen, lit up with a series of colored lights after each successful shot.
"I'm elated that we made it to the world competition," said Elizabeth Crookston, the team captain and a senior at Fox Chapel Area High School. "It's especially gratifying given that we haven't been able to build a robot in person for more than a year because of COVID."
Learn more about the Girls of Steel.
Halal Meals Available During Ramadan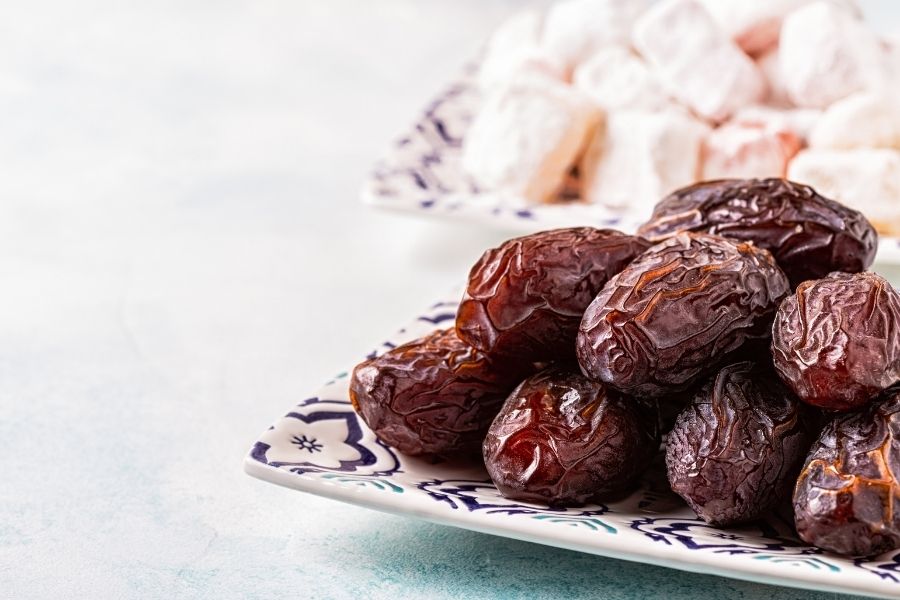 In observance of Ramadan, Iftar meals will be offered daily at Global Eats, beginning Friday, April 1, through Sunday, May 1. Global Eats will be open daily until 9 p.m. with a rotating menu of hot entrees featuring halal chicken or beef, as well as vegetarian options. Along with the Iftar meal, students may pre-order a Suhoor breakfast kit, pre-packaged for pick-up at Global Eats each evening. You can pay for your Iftar and Suhoor meals in Resnik with meal blocks, FLEX, DineXtra, debit/credit or cash. 
Dining space will be reserved in the Cruciform Room in Resnik for students observing Ramadan who wish to eat together.
As always, Halal meal options are also available at El Gallo de Oro, Back Bar Grill and Pom and Honey, located in Rohr Commons - Tepper Eatery. 
Tepper Launches Part-time Accelerated MBA Program
The Tepper School of Business is expanding its MBA program this fall by adding a new two-year part-time program. The Part-Time Accelerated MBA provides a path for individuals with an undergraduate business degree or similar coursework to accelerate their MBA program and reduce tuition in the process.
Students now have the ability to pursue an analytics-focused curriculum in an expedited part-time online format. Qualified individuals who have earned an undergraduate business degree or who have taken specific foundational business courses in the last seven years may transfer credits into the program. They will take refresher coursework in their first semester of the Part-Time Accelerated MBA program and will continue part-time, or they will have the option to convert to a full-time, in-person experience during their second year of coursework.
"In just two years, the Tepper School's Accelerated MBA program will prepare students to manage people, build networks of influence, and inspire others to solve the world's most complex problems," said Kelly Wilson, executive director of masters admissions. "We're excited to offer this new option to advance the careers of next-generation business leaders in a quick and efficient format."
Learn more about the new MBA program.
New Endowed Scholarship to Honor Denis Colwell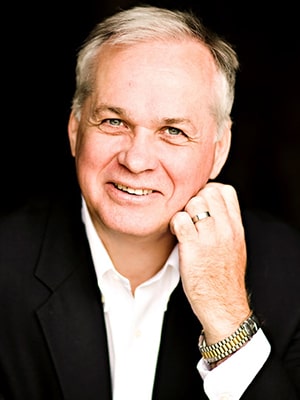 Denis Colwell, the Jack G. Buncher Head of the School of Music, will finish his term at the end of this academic year. His legacy and contributions to the school, however, will be honored in the future through the Denis Colwell Endowed Scholarship. Colwell, an associate professor who served as acting head in 2011 before being named head of the school in 2012, plans to take a year sabbatical before returning to CMU as a faculty member.

Colwell was named the Buncher Chair in 2017, after having served five years as head of the school. A trumpet player, he completed his bachelor's degree at Carnegie Mellon, studying under the legendary trumpeter Anthony L. Pasquarelli. He became assistant head of the school and, at the same time, served as music director of the CMU Wind Ensemble. He also directed and performed more than 1,400 concerts across the United States with Pittsburgh's River City Brass Band.

The scholarship is being established by a group fundraising effort that is led by Carnegie Mellon alumnus and longtime donor Nick Vlahakis and his wife, Kimi. Vlahakis, a Pittsburgh native, earned his master's degree in mechanical engineering. The Vlahakis family has endowed an engineering/science scholarship and named The Vlahakis Recording Studio in the School of Music. During his work with Riccardo Schulz on the studio, Vlahakis met Colwell and said he quickly recognized Colwell's business acumen, organizational skills and genuine interest in people.
"He combines his music skills with business, technology and reading people," Vlahakis said. "I'm excited to be the lead donor for this scholarship for Denis, whom I consider to be a friend and an exemplary person."
Learn more about the scholarship and how you can contribute.
Student Employment Gratitude Day is April 14
The Career and Professional Development Center is hosting a special Student Employment Gratitude Day event on campus for the entire CMU community from 11:30 a.m. - 1:30 p.m. Thursday, April 14. Stop by Cohon University Center's Merson Courtyard for a treat and learn all about on-campus student employment.
Faculty Are Science Talent Search Notable Alumni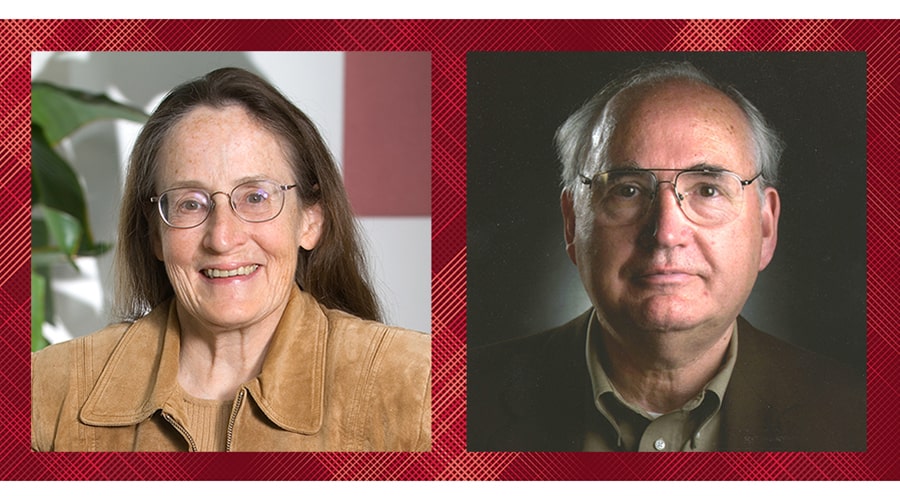 The Society for Science included renowned Carnegie Mellon computer scientists Mary Shaw and Dana Scott in its recent list of notable alumni from the Science Talent Search program. The Science Talent Search is the oldest and among the most prestigious science and mathematics competitions in the country. It started in 1942 as the Westinghouse Science Talent Search to honor exceptional high school students.
Shaw, the A.J. Perlis University Professor in the Institute for Software Research and Computer Science Department, is an alumna of the 1961 Science Talent Search competition. As a professor and researcher, Shaw codified the concepts and principles of software architecture that support the design of modern software and has co-authored popular textbooks used to educate the next generation of software engineers. In 2014, President Barack Obama awarded Shaw the National Medal of Technology and Innovation for her foundational contributions to the field of software engineering. 
Scott, a University Professor Emeritus in the Computer Science Department, competed in the 1950 Science Talent Search. Scott is known for formulating the concept of nondeterministic machines and for founding domain theory. His theoretical work has contributed significantly to many fields and has particularly enriched computer science. In 1976, Scott received the Turing Award, considered to be the Nobel Prize of Computer Science, with Michael Rabin for their work on nondeterministic machines. 
Find out more about the Society for Science.
Impact Showcase Set for April 22
Impact CMU is an end-of-the-semester showcase and celebration of student-led social impact projects on campus. This year, Impact CMU will be an expo of all the projects in the Cohon Center on April 22. There will be an opening ceremony with lunch (food will be provided), voting throughout the day, and a closing ceremony around dinner. Stay tuned for more details.

Volunteers Needed for Take Our Children to Work Day
Take Our Children to Work Day on Thursday, April 28, is in need of campus community members to assist with registration, lunch, chaperone guided tours across campus, and monitor the children waiting to be picked up from Wiegand Gym. The time commitment for each role is detailed below.
Registration volunteers are needed from 10:45 a.m. through about 12:15 p.m.
Lunch volunteers are needed from 11:45 a.m. through 1 p.m.
Track Guides are needed from 1 – 3:15 p.m.
Session Presenters are needed from 1 - 3:30 p.m.
Monitors at pick-up are needed from 3 – 4 p.m.
Since these positions include direct contact with children as defined by the Pennsylvania Child Protective Services Law (as recently amended by "Pennsylvania Act 153") you will be required to obtain certain clearances prior to participating in the event. Information about these clearances and how to obtain them will be provided separately. If you are interested in volunteering in any capacity, please send email to toctwd@andrew.cmu.edu.
Who's New at CMU?
Carnegie Mellon welcomes the following new staff members this week.
Colton Elliott, Sponsored Research Administrator, College of Engineering Research;
Kathryn Leary, Communications Project Manager, Facilities, Infrastructure, & Risk Mgmt;
Brendan Tobin, Temporary Employment Service, HR Operations;
Jose Miguel Cordova Sanchez, Research Assistant, Tepper Faculty Affairs;
Zhize Li, Research Scientist, Electrical & Computer Engineering;
Alice Maunz, Part-Time Registered Nurse, Community Health & Well-Being;
Nancy Foley, Administrative Coordinator, National Robotics Engineering Center;
Alex Adjawi, Director of Marketing and Student Recruitment, Student Services-Heinz-Australia;
Alexandra Elliott, Assistant Director of Student Leadership, Involvement, & Civic Engagement;
Alexander Jackson, Dispatcher, University Police;
Chauncey Henderson, Security Officer, University Police;
Carol Ware, Senior Cybersecurity Engineer, SEI Cybersecurity Assurance;
Elisha Singer, Payroll Manager, Payroll Services;
Kylie Bring, Temporary Assistant Cybersecurity Engineer, SEI Workforce Development; and
Peter Kerwin, Director, Media Relations, University Communications & Marketing.