March 09, 2021
Carnegie Mellon Resumes Athletic Competition
By Mark Fisher mwfisher(through)andrew.cmu.edu
The Tartans are back!
Three-hundred fifty-nine days after the Tartans last competed on the playing field —  a softball game against Skidmore College — the nationally ranked women's tennis team marked Carnegie Mellon's return to athletic competition last Saturday with a 7-0 win over West Liberty University. The match was moved to the indoor courts at the Oxford Athletic Club in Wexford due to cold temperatures. On Sunday, the women's team defeated Slippery Rock University, 4-3.
Men's tennis, women's soccer and volleyball will begin competition within the week, and all Carnegie Mellon teams are planning to resume action this spring. Football will be playing a five-game schedule beginning March 19 at Waynesburg College. The Tartans first home game is at 6 p.m., Thursday, March 25 vs. Grove City College.
"It has been a long wait, and we couldn't be more excited to start," said Director of Athletics Josh Centor. "I am elated for our students and coaches. They will be back doing what they love to do and representing our great university. I so look forward to cheering them on."
The Athletic Department's Return to Play Task Force has been meeting weekly since last spring to prepare and has developed plans following local and national requirements, NCAA guidelines, and the university's risk mitigation protocols. The university's COVID Coordinating Committee formally approved the return to competition in late February.
"I am grateful to our Return to Play Task Force and university leadership for their tireless work and support, and for the way the health and safety of our community has been prioritized," Centor said. "It has taken a lot of work to get to this point, but the passion for our program and what it represents has been clear throughout every level of the university."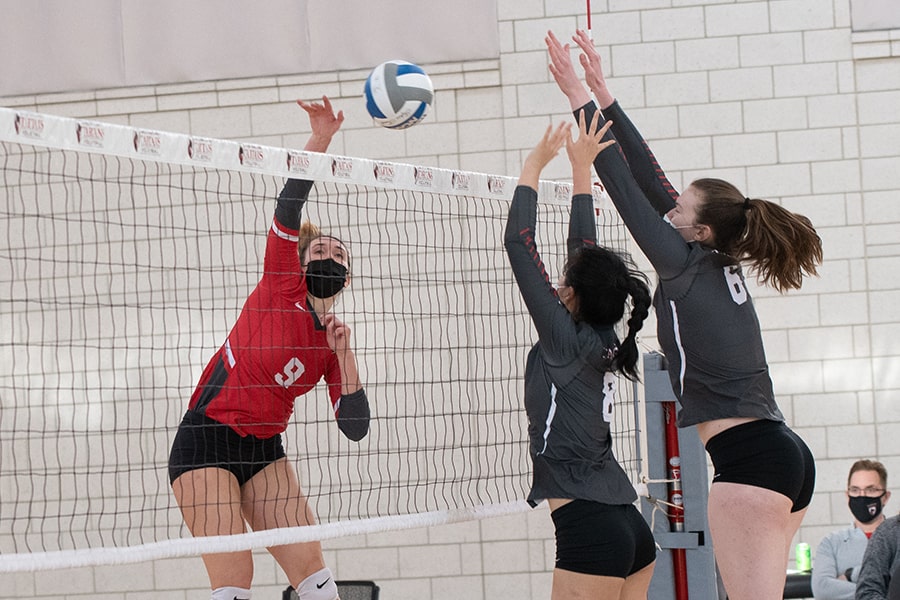 Helena Spencer, a sophomore forward on the women's soccer team, is looking forward to enjoying athletic competition again.
"We haven't been able to play in a physical game for over a year so being able to compete against each other again has really brought back the fun and engaging elements of soccer," she said. "Making it to the NCAA Final Four in 2019 motivates us to put in the work to get back there and win it all. It makes me happy to see everyone practicing safely and gives me hope that we will overcome this pandemic and return to how athletics and academics were pre-COVID."
Liam Walsh, a distance runner on the men's track & field team, had qualified for the NCAA indoor championships for the first time in 2020, but the pandemic nullified his big chance.
"One thing I took away from that experience is to treat every opportunity as if it is my last; many of my teammates did not realize they would never again compete in a Carnegie Mellon uniform," Walsh said. "I am fortunate to have the chance to compete again, and it is safe to say that every Tartan is eager to pick up right where we left off!"
The development of the Tartan Testing Program is providing student-athletes and coaches asymptomatic testing, which is a key component of NCAA recommendations. Programs have been given permission to travel to nearby opponents in Pennsylvania, Ohio and West Virginia.
Women's tennis coach Andrew Girard, who called last Saturday's opening match "monumental," said returning to play is vitally important for the student-athletes and praised CMU leadership for allowing it to happen.
"Their tireless efforts on behalf of student-athletes' well-being have been tremendously uplifting during these difficult times," he said.
Carnegie Mellon does not currently permit visitors on campus, and visiting spectators will not be allowed at competitions the university hosts, either at on- or off-campus venues. Spectators from within the CMU community will be permitted at events in accordance with university guidelines — no more than 25 at indoor contests, and a maximum of 50 at outdoor events. All community spectators will be required to follow all COVID-19 mitigation protocols.
Live webcasts of sporting events will be broadcast when possible. Schedules for each sport have been posted online to their team's webpage. All schedules are subject to change.