June 30, 2021
News Briefs
A Tale of Tails; Researchers Inspired by the Cheetah
Cheetahs demonstrate tremendous precision and maneuverability at high speeds due, in part, to their tails. Researchers at CMU's Robomechanics Lab are using that as inspiration to make its robots more mobile and faster.
The cheetah's lightweight furry tail is known as an aerodynamic drag tail — it acts sort of like a parachute. In nature, aerodynamic drag tails are often used in reorientation tasks, such as turning and recovering after a foot slip, so researchers in the Robomechanics Lab believe an aerodynamic drag tail will help solve problems of robotic mobility.
Researchers in Assistant Professor of Mechanical Engineering Aaron Johnson's lab found that an aerodynamic tail can allow the robot to rotate in air and accelerate faster than a robot without a tail, despite the increase in mass from the tail. This means the robot has better control over its movements like slowing down, speeding up or turning. Ultimately, the research suggests tails are effective for improving robot agility, and when robots move better, they are more effective.
"Tails help to stabilize the robot, which is critical when it is performing difficult maneuvers. We believe that improving robot agility will make our robots better at aiding people outside the lab," said Joseph Norby, a Ph.D. student in mechanical engineering. 
Find out more about the research. 
Nominate a Deserving Colleague for an Andy Award

Nominations are now open for the 2021 Andy Awards, so nominate a colleague whose outstanding work is deserving of this special recognition. This annual program recognizes the remarkable contributions and steadfast dedication of staff members from across the university.

All nomination materials must be submitted by 5 p.m., Wednesday, July 21.
Award recipients will be announced and recognized this fall during the Andy Awards ceremony. Details about the ceremony will be shared via email.

For more information, including details about the nomination process, award category descriptions and criteria, and past winners, visit the Andy Awards website.
Questions? Email AndyAwards@andrew.cmu.edu
Center for Shared Prosperity Names Operations Director, Documentarian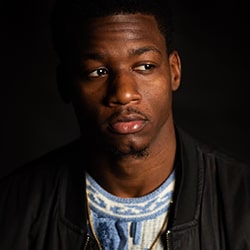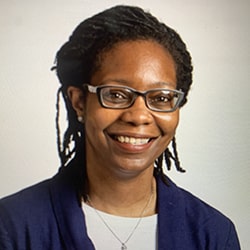 Marlene Williams and Jarrion Manning have joined CMU's new Center for Shared Prosperity (CSP) as operations director and documentarian, respectively.
The Center for Shared Prosperity, made possible by a $30 million grant from The Heinz Endowments, is a new initiative to address longstanding barriers to equity and foster economic empowerment in the greater Pittsburgh region.
Williams comes to the CSP from Uptown Partners of Pittsburgh, a community-based nonprofit where she was the community project manager for two years. A native of Pittsburgh, Williams graduated from Westinghouse High School, and earned her bachelor's degree in elementary education from Carlow University and an MBA from the University of Phoenix. Prior to her role at Uptown Partners, she was a substitute teacher for Pittsburgh Public Schools and worked at CMU's Cyert Center for Early Education for nine years.   
"I am very excited to be part of the CSP team at CMU," Williams said. "We will bridge the gap between the university and the community through existing partnerships and as we build new relationships with local communities and others outside the Pittsburgh region."
Manning has a passion for storytelling through visual media. A former videographer, photographer and performing artist with 1Hood Media, Manning comes to CMU from the Pittsburgh nonprofit digital news organization PublicSource, where he was a producer for the last two years.
A native of Columbia, South Carolina, Manning earned a degree in broadcast journalism with a minor in entrepreneurship from Winthrop University. 
"From website construction to photography to interviewing members of C3, I'll be looking to find ways to share this journey with the world so that hopefully, the community-oriented energy that we are approaching this project with will become contagious," Manning said.
Learn more about the Center for Shared Prosperity and its Community Committee.
Billy Porter Movie Looking for Extras in Pittsburgh
If you think you can pass for a high school student who can dance, now's your chance to be an extra in "What If?" an upcoming film directed by CMU alumnus Billy Porter.
Mosser Casting is looking for people of all races, gender identities, sizes and abilities for various scenes. The scenes won't require actual dancing but will require good rhythm to walk to the beat.
To apply, send current pictures to mosserextras@gmail.com with the name of the high school group that suits you best: Punk/Skater, Jock, Academic, Band, Cheerleader, Gamer or Drama/Art.
CMU-Q Students Win Qatar National Arabic Debate Championship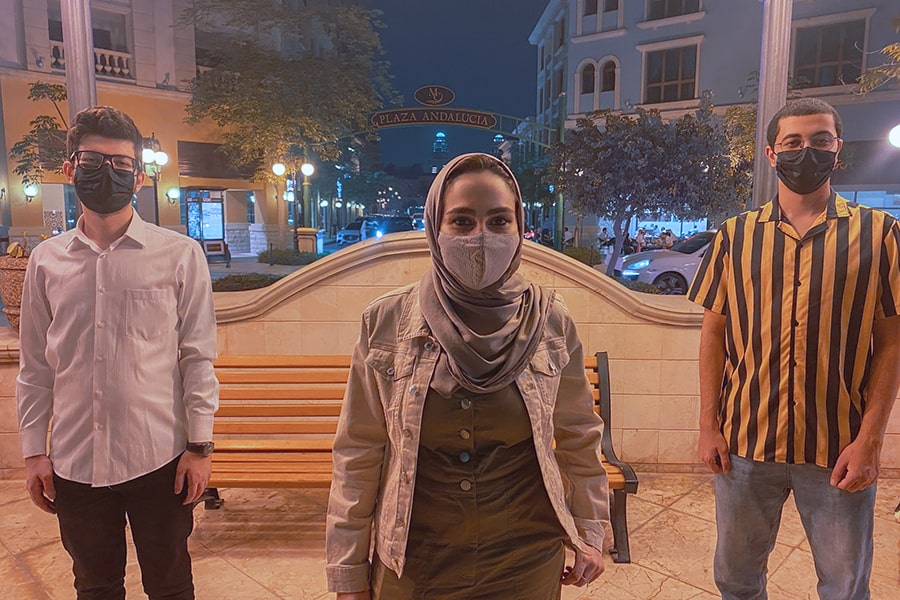 A team of students from Carnegie Mellon in Qatar (CMU-Q) took the national championship title at the 2021 Arabic university debate tournament. 
Rahaf Abutarbush, Ammar Karkour, and Abdullah Shaar swept the first three rounds of the tournament to earn a place in the grand finale against a team from Doha Institute. CMU-Q won the final round in a debate on the topic of social media and free speech. All three team members placed in the top 10 list of speakers.
The rising seniors all study in scientific fields, which is uncommon in university-level debate. Abutarbush is studying information systems, Karkour is a computer science major, and Shaar is pursuing dual degrees in biological sciences and computer science.
Michael Trick, dean of CMU-Q, congratulated the students on their accomplishments. "Rahaf, Ammar and Abdullah are exceptional ambassadors for CMU-Q on the national and international debate stage," Trick said. "They have shown tremendous initiative pursuing Arabic-language debate, and they are an inspiration to other students who want to explore language, culture and thought." 
While CMU-Q has been active in English-language debate for many years, Abutarbush, Karkour and Shaar are the first Arabic-language debate team from an Education City partner university. In early 2019, they competed at the 5th International Universities Debating Championship, hosted by QatarDebate, placing ninth in a field of 107 teams. Later that year, they placed third at the Asian Arabic Language Debating Championship in Malaysia. About 50 teams from across Asia participated in the tournament.
"We approach problems from a scientific perspective. At CMU-Q we learn to solve a problem, then question that solution so we can make it stronger," Karkour said. 
Hammer Named Interim Director of the HCII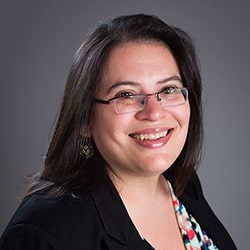 Award-winning game designer Jessica Hammer has been named interim associate director of the Human-Computer Interaction Institute (HCII) in the School of Computer Science.
Hammer will take on the new role while HCII's current director, Jodi Forlizzi, transitions to her position as the associate dean for diversity, equity and inclusion in SCS and reduces her duties as department head. Forlizzi will continue to oversee faculty hiring; the reappointment, promotion and tenure process; staff hiring and budgetary matters. Hammer will lead faculty meetings, attend faculty leadership meetings, and oversee the curriculum and awards committees. Forlizzi will supervise the HCII master's degree programs; Hammer the Ph.D. and undergraduate programs.  
Hammer said her training will help her make sure the department's practices and organizations are best suited to meet its goals.
"We are lucky to do exceptional research and teaching at the HCII. Even better, we get to combine the two to shape the future of human-computer interaction," said Hammer, the HCII's Thomas and Lydia Moran Assistant Professor of Learning Science. "I want to make sure that all members of our community — from our first-year undergraduates to the most senior faculty — can contribute to this mission."
And the Henry Goes to … CFA Announces Staff Award Winners 
The College of Fine Arts named its staff award winners in a virtual Zoom program on June 17. The Henry Awards are named after Henry Hornbostel, the original architect of the CMU campus and first dean of the college. 
And the winners are: 
Rookie Award – Nomi Marcus, School of Music;
Creative Contributor – Alex Young, Miller ICA;
Spirit Award – Joe Lyons, School of Design;
Unsung Hero Award – Darlene Scalese, School of Design; and
CFA Supporter (We Couldn't do it without them): The AP and Tax Team:  Kedar Lincoln, Becky Marcej, Joanne Naylor and Chrissy Moffatt.
CFA also honored the following staff members with years of service awards:
30 Years: Ben Carter, School of Drama; Sharon Johnston, School of Music; Marlene Speranza, School of Drama.
25 Years: Jim Burns, School of Drama, Robert Skavronski, School of Music.
20 Years: Bob Armitage, School of Architecture, Mark Cato, School of Art, Keith Marsh, School of Drama.
15 Years: Margaret Cox, Miller ICA, Rich Kawood, School of Music, Kristin Ward, School of Drama, Sean West, School of Drama.
10 Years: Jane Ditmore, School of Design  (Ditmore is retiring after 39 years at CMU), Vincent Zeng, CFA Photo.
MCS Staff Recognized at Virtual Awards Ceremony
Mellon College of Science (MCS) faculty, staff and administrators logged onto Zoom to celebrate their colleagues' dedication and service to the college from afar on June 8.
Here are this year's MCS staff award winners:
Research Award: The Human BioMolecular Atlas Program (HuBMAP) Data Release Team, PSC;
Merit Award: Brian Johanson, senior HPC system administrator, PSC;
Junior Rookie Award: Colleen Storm, senior administrative coordinator, Mathematical Sciences; and
Senior Rookie Award: Ryan Sablosky, virtualization infrastructure engineer, PSC.
Outstanding Achievement Awards:
Trina Goggins, glassware facility coordinator, Biological Sciences;
Robert Greco, instrument specialist, Chemistry;
Ray Butko, Melissa Powell and Paul Smith, storeroom staff, Dean's Office;
Jeff Moreci, business manager, Mathematical Sciences;
Patrick Carr, business manager, Physics; and
The BRIDGES-2 / Neocortex Deployment Team, Pittsburgh Supercomputing Center.
Project To Assess CMU's Student Information Ecosystem
Enrollment Services and Computing Services have embarked on a joint effort to assess and explore opportunities to strengthen the university's core student systems in alignment with the University's Strategic Plan 2025. Determining factors in launching such an effort include the rapid pace of change in technology and the university's current capacity to address contemporary business needs and evolving technology. 
The S3 (CMU's Student Services Suite) Assessment Project seeks to assess its current student information ecosystem, understand the current landscape of the industry, and identify the recommended future state of its enterprise-serving student information system (SIS) and linked systems.
CMU has engaged Deloitte's Higher Education Practice as a partner in this effort.
Over the course of 12 weeks – from June through September 2021 - the project will:
Engage a broad range of campus stakeholders through a series of interactive workshops;
Articulate a holistic case for the future of CMU's student information ecosystem; and
Estimate Total Cost of Ownership (TCO) for CMU's future student information ecosystem.

Learn more about the project
.
Promote Diversity, Equity and Inclusion; Join an Employee Resource Group 
Last fall, as a result of the Climate Task Force Listening Tours, the Office of Human Resources (OHR) began researching and developing a framework to provide resources and support to employees interested in establishing employee resource groups (ERG) at CMU. ERGs are groups formed by members of an organization to unite individuals to a common cause, improve awareness and engagement, and provide a structured framework and network for members.
To be formally recognized, an ERG's goals must align with the objectives and culture of CMU through self-identifying its purpose and its goals during the application process. Individual membership in ERGs is strictly voluntary, open to all interested individuals, and supports diversity, equity and inclusiveness. Additionally, ERGs act as a conduit for outreach efforts for the local community and for other campus initiatives.
During the ERG development process, the ERG working group researched peer institutions to see what other universities were offering in this arena and sought advice locally from Vibrant Pittsburgh. The team also sought the support of university leadership. Now that the resources have been developed, OHR has received approval to proceed with facilitating the establishment of three pilot ERGs (please note the names are placeholders; the members will determine the names for the groups):
Black Faculty and Staff Alliance
LGBTQ+ Faculty and Staff Alliance
Veteran's Alliance
Please click the link to submit your membership request for an ERG ERG Membership Form.
EHS To Conduct Building

 Fire

 

Evacuation

 Drill

s 
To practice fire safety awareness and preparedness, the Environmental Health and Safety (EHS) Department will conduct building fire evacuation drills in more than 40 academic and administrative buildings this summer. During the 15-20 minute drill, please follow these directions when the alarm sounds:
Never ignore a

 fire

 

alarm.
If a

 fire

 

alarm sounds, evacuate immediately in a safe and orderly manner – do not run.
If needed, turn off any heat sources or equipment, quickly gather personal belongings (i.e. keys, purse, bag) and proceed to the nearest exit.
It is recommended to have at least two ways out. Proceed to the nearest exit. Remember to use the stairs.
When exiting, move at least 150 feet away or further, to a safe location from the building.
Do not re-enter the building until given the all-clear to return inside.
For any ADA assistance during a

 fire

 drill

 

and inability to self-evacuate, shelter-in-place or go to an enclosed stairwell, if safe to do so. Tell someone of your location and ask them to notify the EHS personnel conducting the

 drill

. If you are not sure if the

 fire

 

alarm is a

 drill

, c

all University Police at 412-268-2323 and tell them of your location and situation.
Evacuation drills will be conducted between 9 a.m. and 12 p.m. and will follow the schedule below.
Tuesday, July 6, 9 a.m.: Hamburg Hall, Smith Hall, CIC, Doherty Hall, Hamerschlag Hall, Scott Hall. FMS Building and Wean Hall.
Wednesday, July 7, 9 a.m.: Margaret Morrison Carnegie Hall, Porter Hall/ Baker Hall, ANSYS Hall, Roberts Hall, CFA, Hunt Library, Posner/ Posner Center and HOA.
Thursday, July 8, 9 a.m.: Gates Hillman, Newell Simon Hall, Purnell / Miller Gallery, Cyert Hall, Cohon University Center and Alumni House.
Monday, July 12, 9 a.m.: INI Building, SEI, UTDC, Whitfield Hall, 4721 Fifth Avenue, GATF and TCS.
Tuesday, July 13, 9 a.m.: 205 S. Craig, 300 S. Craig, 311 S. Craig, 407 S. Craig, 417 S. Craig, Mellon Institute and Tepper Building.
Thursday, July 15, 9 a.m.:  6555 Penn Avenue, NREC, PTC, Mill 19.
Warner Hall – drill TBA.
Any rain make-up dates will be scheduled for the following week. If you have questions or concerns regarding these drills, please send email to safety@andrew.cmu.edu     
Piper Moves to Summer Schedule
The Piper has moved to its bi-weekly summer schedule. Upcoming publication dates will be July 15 and July 29. The Piper will resume its weekly schedule in August. 
Who's New at CMU?
Carnegie Mellon welcomes the following new staff members this week.
Debra Dyer, Temporary IT Support Associate, SEI OCOS IT Services;

Mariam El-Esnawy, Research Assistant, National Priorities Research Program (Qatar);

Brent Carothers, Associate Vice President, Budget and Financial Planning, University Budget and Financial Planning;

Calvin Boyle, Research Associate I, Robotics Institute;

Frances Mills, Temporary Employment Service, HR Operations;

Henry Zheng, Vice Provost for Institutional Effectiveness and Planning, Office of the Provost;

Hina Siddiqui, Temporary Employment Service, HR Operations;

Jay D. Manning, Multi−Media Documentation Specialist, Center for Shared Prosperity;

Joshua Lerner, Application Designer, Robotics Institute;

Jeremy Poynton, Assistant Security Researcher, SEI Monitoring and Response;

Magally Miranda, Research Associate I, HCII: Human Computer Interaction Institute;

Megan Johnson, Temporary Employment Service, HR Operations;

Matthew Westphal, Procurement Specialist, SCS Dean's Office; and

Peigen Sun, Research Associate I - Robotics Institute, Robotics Institute.