July 14, 2021
CMU's Aldrich to Coach in Tokyo Olympic Games
By Bruce Gerson bgerson(through)cmu.edu
Gary Aldrich says he's not a patient person, but he knows good things come to those who wait.
When the CMU track coach steps off the plane in Tokyo later this month, his Olympic dream, deferred more than a year ago thanks to COVID-19, will finally come true.  
"It's been a rollercoaster of emotions," said Aldrich of the ups, downs and uncertainties since he was selected by USA Track & Field to coach in the Olympic Games months before the pandemic struck. "It's been pretty crazy, but it's finally becoming a reality. It's a once-in-a-lifetime opportunity — the pinnacle of my career thus far, for sure."
"It's a once-in-a-lifetime opportunity — the pinnacle of my career thus far, for sure."
Aldrich, the first from CMU ever to coach in the Olympics, will guide the U.S. men's team in the shot put, discus, hammer and javelin. This will be the seventh time Aldrich has coached Americans in international competition, including stops in Mexico, London, Toronto and Barcelona. His first Team USA assignment was for the Under-23 North American, Central American and Caribbean Athletic Association Championship in 2010.  
"I kept getting high marks and kept moving up the ladder. I've been very fortunate," he said.
Aldrich will be in Tokyo for two and a half weeks. COVID-19 restrictions will be in place, limiting him to the Olympic Village, where he will be staying; the team's training center; and the Olympic Stadium, the venue for track and field competition. Although fully vaccinated, he and Team USA must undergo multiple testing, wear a facial covering — he prefers a gaiter — and abide by all protocols. No spectators will be permitted at the events.
"It's going to be an Olympic Games like no other. We've had a number of conference calls and we've received playbooks with information from the Japanese Olympic Committee and checklists from the U.S. Olympic and Paralympic Committee. I'm reading up on a lot of material," he said.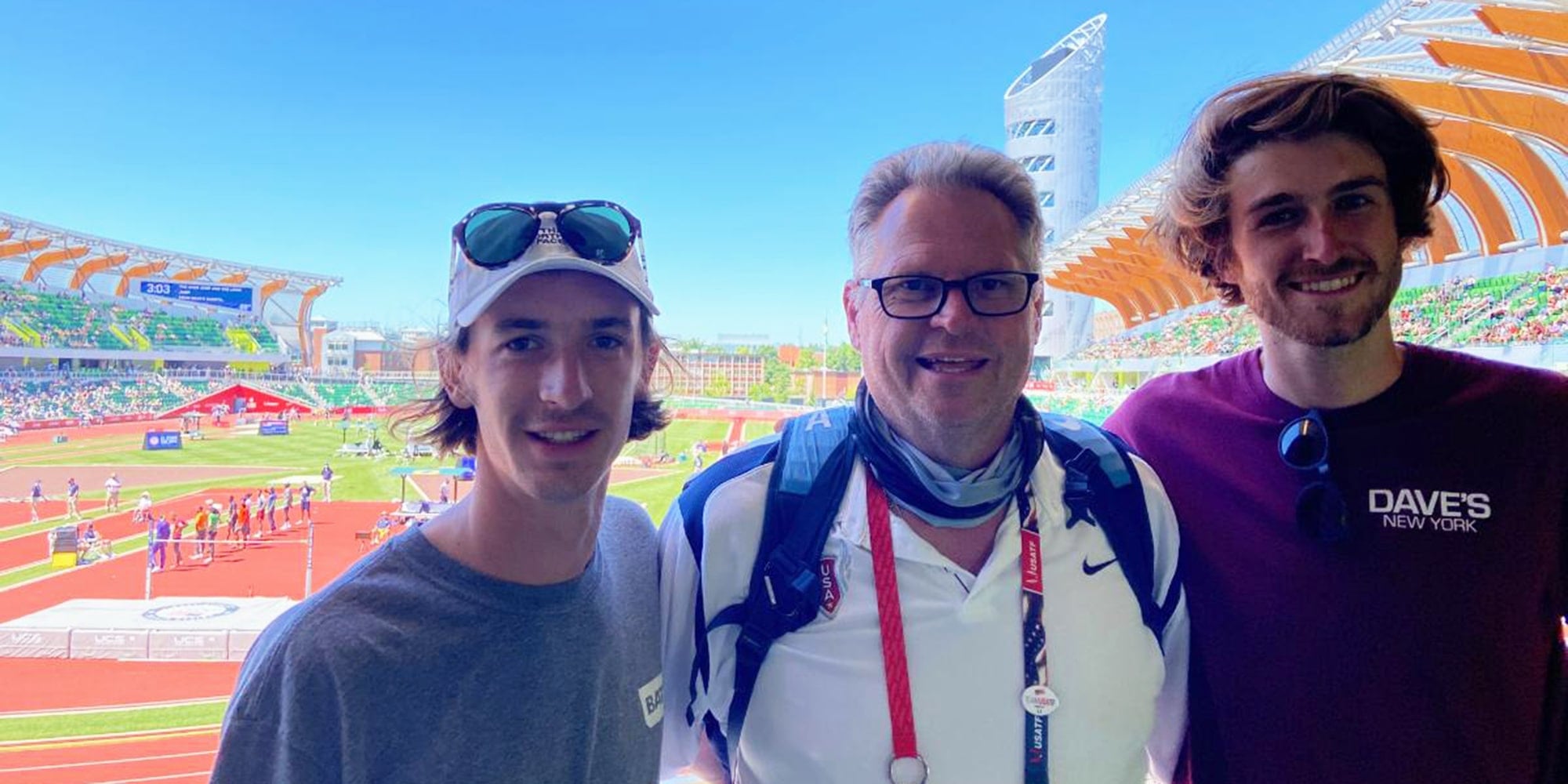 At the U.S. Olympic Trials in Eugene, Oregon, Gary Aldrich met up with 2021 CMU graduates Hunter Hartshorne (left) and Harry Branch-Shaw, who are traveling around the U.S. before starting their careers. Hartshorne and Branch-Shaw competed in the 3,000-meter steeplechase at the NCAA championships this past May as members of the Tartans' track and field team.
Aldrich recently returned to Pittsburgh after two weeks in Eugene, Oregon, where the Olympic Trials were held, the final stage where athletes compete for a place on the team. It was a time to reconnect with athletes he has coached in the past and build new relationships and team chemistry. He coached Rudy Winkler, USA record-holder in the hammer, in Barcelona, and discus champion Mason Finley on several USA teams. It was good to be back together.
"Rudy and I go back around 12 years when he was a junior in high school, and Mason and I are Facebook friends," he said.
Aldrich is in contact with his newly minted USA athletes, making sure they are following the COVID-19 protocols that have been put in place and doing "all the things they need to get to Tokyo."  
"We have to do our own COVID testing within 96 hours before departure and then again 72 hours before departure. It's all done remotely, via your smartphone and apps," he said.
Aldrich will miss the opening ceremony because the Japanese Olympic Committee has prohibited teams from entering Japan until five days before competition in their sport begins. He will arrive in Tokyo on July 25 and is hoping to participate in the closing ceremony on Aug. 8.  
Aldrich has lost 80 pounds and 8 inches from his waistline since last October.
If you're tuning in to the track and field competition on NBC, watch closely. You might spot him on TV should an American finish first, second or third in the throwing events.
"As the event coach, I'll be the one handing the American flag to our medalist before he goes to the awards podium and the national anthem is played. I've been known to have a knack for getting on TV," he said.
This fall, Aldrich will begin his eighth year as head coach of CMU's track and field teams. He has led the teams to six University Athletic Association championships, and seven Tartans have earned All-American honors under his tutelage, including Bram Miller, the NCAA runner-up in the shot put last spring.
While many people put on weight during the pandemic, Aldrich has lost 80 pounds and 8 inches from his waistline since last October. He is looking forward to seeing what CMU's "new normal" will look like this fall and is excited to get his fall track program up and running again.
"I've been incredibly fortunate that kids like Bram Miller have trusted and believed in what I was asking them to do," he said. "I've worked hard, and they've made me look pretty darn good."