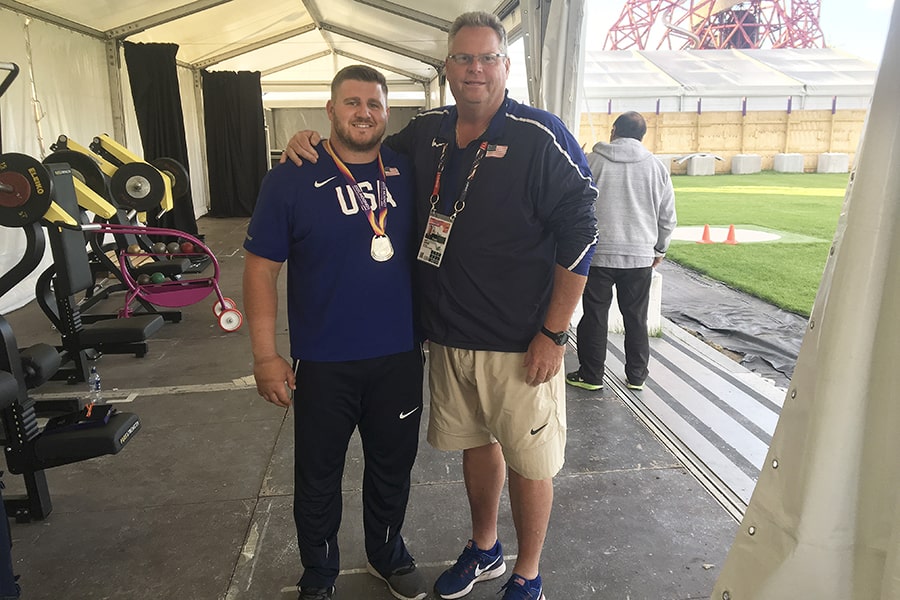 March 18, 2020
CMU Coach's Olympic Dream Delayed
By Michael Henninger mhenninger(through)cmu.edu
Gary Aldrich sat in front of a black and white television screen at his grandparents' house in 1968 and dreamed of one day marching with Team USA in the Olympics opening ceremony. That dream almost became reality this year as Aldrich, head coach of Carnegie Mellon University's track and field teams, was named men's throws coach for the 2020 Tokyo Olympics. 
But then came the coronavirus pandemic. CMU Athletics cancelled all spring sports, professional sports were cancelled and in late March the International Olympic Committee postponed the Tokyo 2020 games to summer 2021, putting Aldrich's dream on hold.
Aldrich is now challenged with adjusting his daily schedule and finding ways to give his athletes a sense of normalcy in the least normal of times. While before, his everyday routine involved writing workouts, preparing the team for competition, being around athletes, and hosting meets, he now has started working from home and sending his student-athletes general plans for each week that include training regimens that don't require weight rooms.
"We found out the season was cancelled with a group of seniors who had qualified for the NCAA Men's Indoor Track and Field Championships in Winston-Salem, North Carolina. Every senior knows their career could end at any time, but leaving before the start of the championships was devastating," Aldrich said.
Aldrich was recruited to coach at CMU 14 years ago by former head coach and alumnus Dario Donatelli. Aldrich had left coaching for 8 years to sell track and field equipment to coaches. It was lucrative, but required he spend more than 40 weeks each year on the road.
"I took a massive pay cut, but money isn't everything! When I look at myself in the mirror, I'm a coach. That's who I am, my identity. I was able to get back to that," Aldrich said. He noted that while some coaching jobs can strain a family, he was actually able to spend more time at home than in his sales role.
"My background is in kinesiology, the study of movement, so it fits with the engineers, and the computer scientists, and the science majors here."
During Aldrich's 14 years at CMU, the men's track and field program has won six University Athletic Association (UAA) Championships (three indoor and three outdoor) and finished second 11 times (four indoor and seven outdoor).
With Aldrich's physical stature, it's no surprise his original sport was football. He enters each room a friendly giant. The only thing more noticeable than his size is his smile. Originally from Massachusetts, he played football in high school and for Slippery Rock University. He started throwing shotput his senior year of high school, and by his sophomore year of college, found he was having more success in track than football. So, he decided to solely pursue track and field.
That decision set his path. He's been particularly happy working with the student athletes at Carnegie Mellon.
"The kids we get are very scientific," Aldrich said. "My background is in kinesiology, the study of movement, so it fits with the engineers, and the computer scientists, and the science majors here. It mirrors what they are."
This won't be Aldrich's first time coaching for USA Track and Field. He has coached throws for six other international teams, including at the 2012 World Junior Track and Field Championships in Barcelona, Spain, and the 2015 Pan American Games in Toronto, Canada.
After the Olympics announcement was made, Aldrich received congratulatory messages from all over campus. His daughter Kate, herself a runner at Slippery Rock University, collected the messages from President Farnam Jahanian and Provost Jim Garrett along with news stories and created a poster board that is on display in Aldrich's office in Skibo Gymnasium.
Aldrich hopes the coronavirus will be in everyone's rear view mirror next year in Tokyo. And he'll be marching with Team USA in that opening ceremony.
"Hopefully me getting this opportunity shows that someone from a small school can still obtain their dreams," Aldrich said. "It's a great chance to represent Carnegie Mellon while I'm there."
This story was updated on March 31.

Have a suggestion for Staff Spotlight? Send it to piperweekly@andrew.cmu.edu.