July 22, 2021
Faculty Score with Dynamoms
By Bruce Gerson bgerson(through)cmu.edu
These Carnegie Mellon all-stars aren't known for their athletic skills, but they're having a ball nonetheless.
Six esteemed CMU faculty members and scientists recognized for their scholarly pursuits are part of Dynamoms, about 30 women over 30 years old who enjoy a friendly game of soccer a couple times a week. Founded by Lorrie Cranor in 2013, Dynamoms is a spinoff of Dynamo, Pittsburgh's premier youth soccer league. A soccer mom back then, Cranor, like her children, wanted to learn how to play the game.
"My kids were playing and I wanted to play with them, but I didn't know how," said Cranor, the FORE Systems Professor of Engineering and Public Policy and Computer Science, director and Bosch Distinguished Professor of the CyLab Security and Privacy Institute, and co-director of the privacy engineering master's degree program. "I wanted a clinic to learn how to play and I discovered how much fun it is."
Joining Cranor in the fun were founding members and fellow CMU faculty Deanna Matthews and Anita Williams Woolley, and Courtney Kase, a researcher at RAND who coached their children in Dynamo and serves as the Dynamoms coach. Marlene Behrmann signed up a couple years later, and CMU colleagues Carol Smith and Kristi Woolsey soon followed.
"There's a core group of women who started at the beginning and are still playing," Cranor said before an early Saturday morning game at the Schenley Park Oval sports complex. "Every year we have more women who want to play. It's a unique thing — there aren't a lot of recreational soccer clubs for women. We have a group that just loves doing this."
In addition to learning the game, what they love most is the exercise, camaraderie and the break it provides from their everyday routines.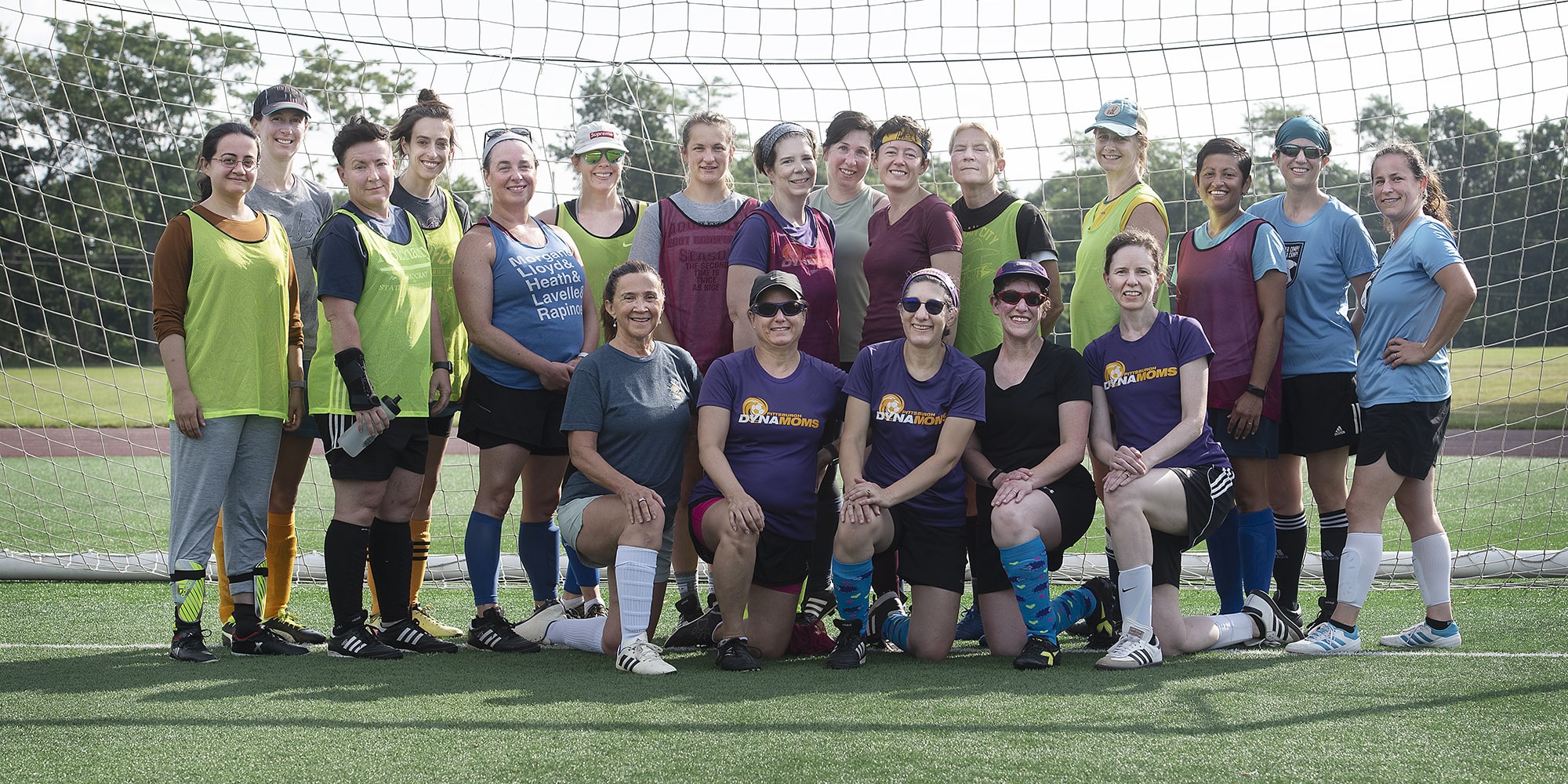 The Dynamoms took a break for a team photo during a Saturday morning game. Back row: Erum Khan, Beth Blackhurst, Pati Beachley, Corrie Anderson, Kitty Julian, Becky Cole, Courtney Kase, Kathleen Fisher, Jacquelyn Cynkar, Ellie Newman, Marcia Schutz, Erica Lloyd, Divya Heffley, Brooke McClendon and Erika Bruce. Front row: Kristi Woolsey, Deanna Matthews, Lorrie Cranor, Carol Smith and Anita Williams Woolley.
Williams Woolley, associate professor of organizational behavior and theory at the Tepper School of Business, has three sons who play soccer and her husband plays, too. She said she's spent millions of hours watching her children play the sport and enjoys the soccer time for herself.
"I tell my kids, 'Mom is going to soccer. That's on the calendar. I don't care who needs a ride,'" said Williams Woolley whose oldest son is a junior chemical engineering and biomedical engineering major and a member of the Tartans' club soccer team. "I just love it. It's the best way to exercise."
Woolsey, an adjunct professor in the Integrated Innovation Institute, moved to Pittsburgh from Arizona State University about five years ago.
"The Dynamoms has been a great place to meet people and make friends," Woolsey said. "I hate running to get in shape, that's boring. But, this is not boring. This is fun, and it gets me up at 8 o'clock on a Saturday morning."
In the fall and spring, the Dynamoms meet two or three times a week. Coach Kase conducts a 45-minute clinic to teach skills and techniques before the group breaks up into two teams for a 45-minute match. In the winter, they usually rent a gym and play indoors, but this past winter they played outdoors due to COVID-19. The day after Christmas they shoveled snow off the Schenley Oval field to play.
"I think playing during COVID was a sanity check for all of us," said Matthews, associate department head for undergraduate affairs and a teaching professor in engineering and public policy. "We were able to get out of the house and see other adults in a safe place." 
Matthews, who is always encouraging her fellow academic advisers to join the group, organized a three-day summer camp for the Dynamoms this past June at Raccoon State Park. Coach Kase conducted instructional clinics and the group played for about five hours each day. 
"The camp was fantastic," Cranor said. "We're already thinking of what we're going to do next year. We had a great time playing soccer and chatting around the camp fire. And we even had pastries and dessert made by one of our players who owns a bakery."
Kristi Woolsey works to get the ball.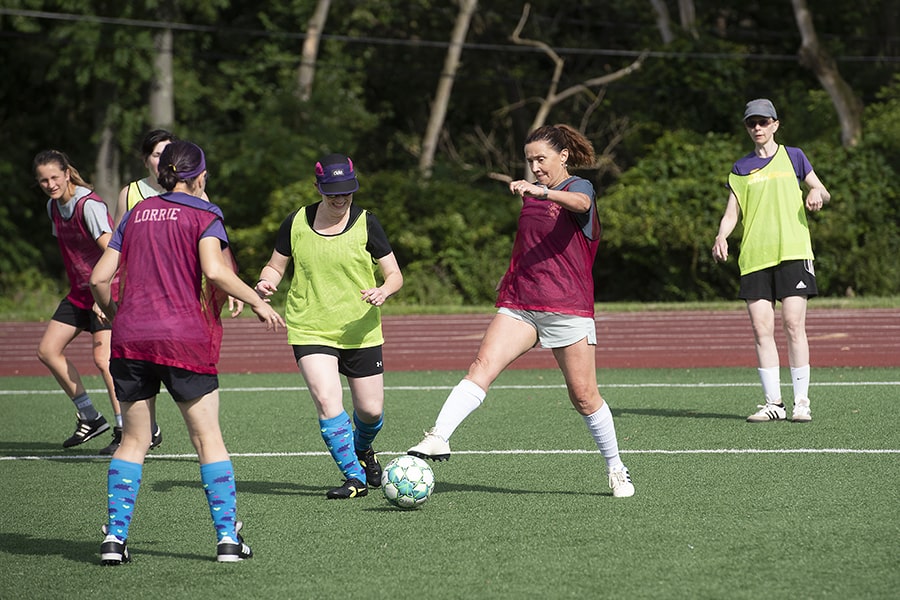 Deanna Matthews gets her leg in the air to receive a pass.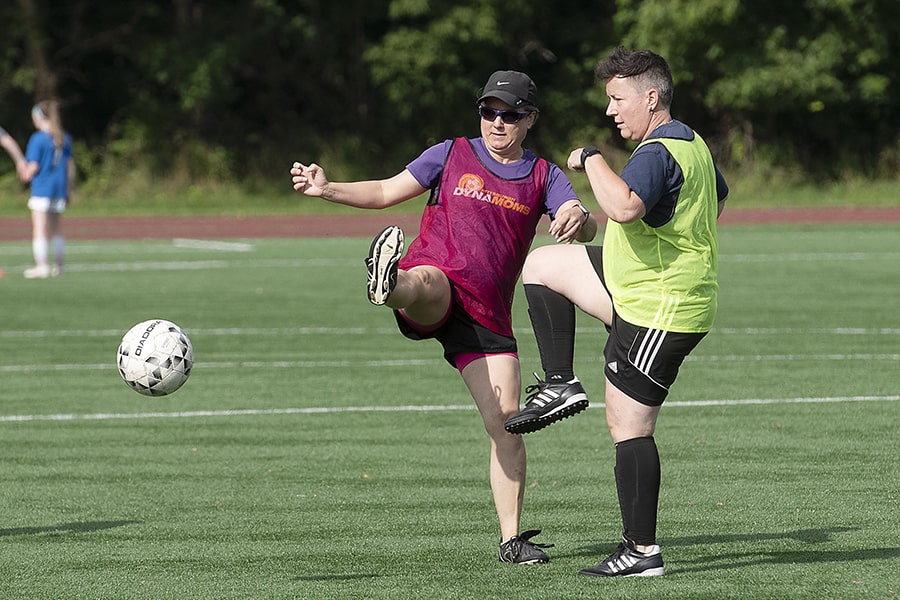 Smith, a senior research scientist at the Software Engineering Institute and an adjunct instructor in the Human-Computer Interaction Institute, called the camp experience "wonderful."
"It was so nice to be able to spend time with people and hang out and be part of a fun, fun weekend," she said.
Behrmann, a native of South Africa who always participated in team sports growing up, was unable to attend the camp, but she said she loves everything about the Dynamoms and plans to attend the camp next year.
"I really love playing, putting on my soccer socks, shin guards and 'boots' (soccer cleats) and playing as hard as I can," Behrmann said. "I have learned a lot through the drills arranged by the coaches, and another huge benefit is meeting and playing with women from all over the city and coming to know their journeys and life experiences.
"How nice it has been to play soccer with my CMU colleagues. It's been great getting to know them in 'real life.' The whole soccer experience has opened a new dimension for me. I am very grateful to the organizers," she said. 
Coach Kase, who grew up playing soccer in the south suburbs of Chicago before moving to Pittsburgh, said the group's skills are progressing "amazingly well."
"They're such a fun group. There's always an undercurrent of encouragement and real camaraderie. I think that's why everyone is so dedicated to it. You leave here feeling that you have 30 friends who want to see you succeed and have fun. As an adult woman, that's an awesome group to be supported by," she said.